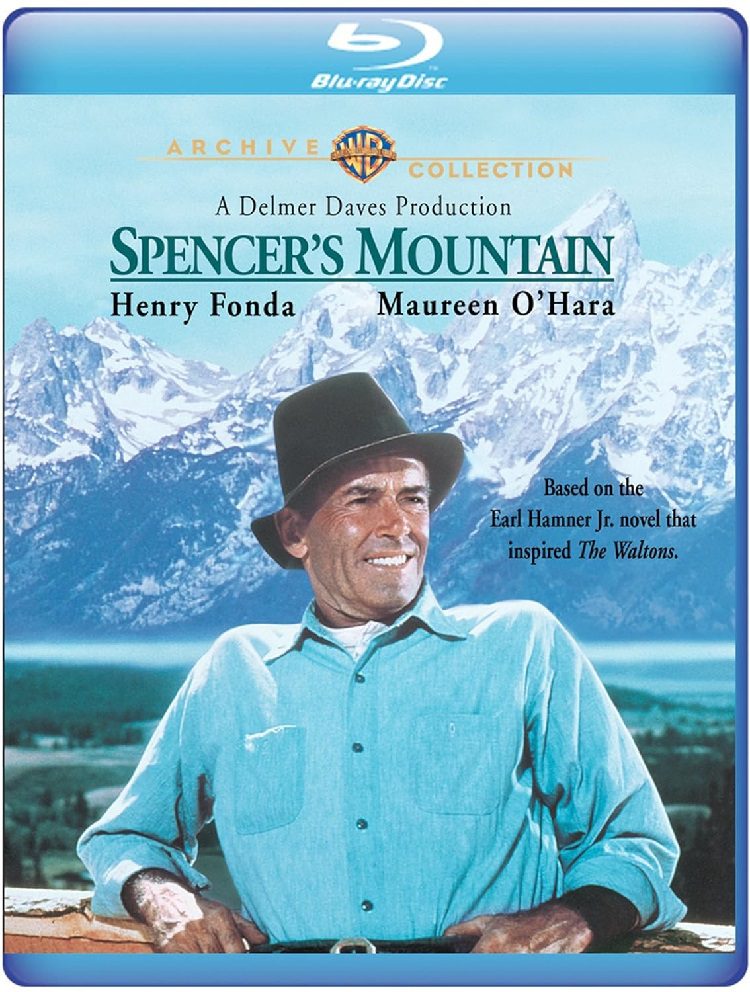 Nine years before The Waltons was broadcast across the nation's airwaves for the first time, Henry Fonda was hard at work building the very homestead the aforementioned TV series would later inhabit. Figuratively speaking, that is. And while the names, places, and events depicted in the 1963 Warner Bros. hit Spencer's Mountain differ vastly from the famous television show it would later inspire, there's no denying the simple country worlds depicted in both incarnations stem from the same Earl Hamner, Jr. novel. Set in rural Wyoming somewhere in the first half of the 20th Century, Spencer's Mountain finds one of American cinema's most irreplaceable icons as Clay Spencer ‒ the eldest son of a very large family who has a pretty durn big clan of his own goin' on at that.
While the rest of the world has been introduced to modern conveniences such as confangled automobiles, one of them there telephone contraptions, or even a li'l 'lectriciy, the Spencer family seems to get on just fine in their tiny little remote cabin. All eleven of 'em. Needless to say, Clay's number one goal is to finally build a bigger, "dream" home up on the family-owned country surrounding their house; a project he and his eight younger brothers finally get around to working on as the film opens. But some things tend to get placed on the back burner for a little too long sometimes, as anyone who has ever lived in a small town or in the country will probably be able to attest to. Especially when modern inconveniences such as working overtime at the local quarry just to support your family tend to interfere. To say nothing of family itself.
In Clay's case, his eldest offspring "Clayboy" (James "Danno" MacArthur) is all set to graduate from high school ‒ a seemingly unimportant feat to most families today, but which is of extreme importance here since Clayboy is A) the only male in his graduating class, and B) the first Spencer to make it that far. But Clayboy simply isn't content with grabbing a diploma before heading off to work at the quarry with dear ol' dad; a sentiment strongly encouraged by the household's headstrong matriarch, Olivia (the great Maureen O'Hara). No, Clayboy intends to continue his education by going to that college place. Alas, although the Spencer family may be rich beyond all belief when it comes to family and a few essential comforts, the whole of their bank account has just recently been depleted for a new saw to build the new homestead with.
And those are just some of the down-to-earth plights our familiar protagonists endure in this, one of the last films helmed by writer/producer/director Delmer Daves. Also appearing in this charming look at old-school rural America before Walmarts and meth labs started popping up everywhere are Donald Crisp as Grandpa Spencer (who really needs a hearing aid), Wally Cox as the town's new preacher whom Clay inadvertently finds an unwitting drinking partner in, Mimsy Farmer as Clayboy's love interest, Hayden Rorke as her quarry-owner father, and Whit Bissell as the local doc. Of course, no self-respecting country flick would be complete without the proverbial small part by Dub Taylor. You may also spot young versions of both Veronica Cartwright and Victor French as some of Spencer's kin.
Speaking of family, there's nothing Clay won't do for his when he isn't imbibin' in the evil spirits ‒ even if it means going the extra couple of miles into the nearest city to harass a college dean about accepting his exceptionally bright boy. But the friendly family factor in Spencer's Mountain wasn't limited to just people on screen, as is evident by some of the uncredited bit players, including Maureen O'Hara's brother James, and an actual local family (with an undeniably strong resemblance to one another!) who fill in for Fonda's younger siblings. Why, the film even tosses in a high school graduation song by Barbara McNair. And those are just some of the little things that go to make Spencer's Mountain so darn memorable, making its recent arrival on Blu-ray from the Warner Archive Collection all the more special.
Presented in its original theatrical aspect ratio of 2.35:1, this Panavision Technicolor motion picture has never looked better than it has on this WAC BD release. The 1080p AVC/MPEG-4 encode sports a nearly-flawless transfer, which the devoted pros at Warner brought to vivid life from a newer HD master. The natural beauty of the land in and around Jackson Hole, Wyoming (where the movie was filmed on location) stands out beautifully here. The film's original optical mono audio has been restored for the feature's accompanying 2.0 Mono DTS-HD MA soundtrack, and is just as perfect as its visual counterpart. Optional English (SDH) subtitles are included, as are several special features: a look at the film's remote Wyoming premiere, some candid junket interviews with our tale's very laid back male leads, and the original theatrical trailer.
Recommended.