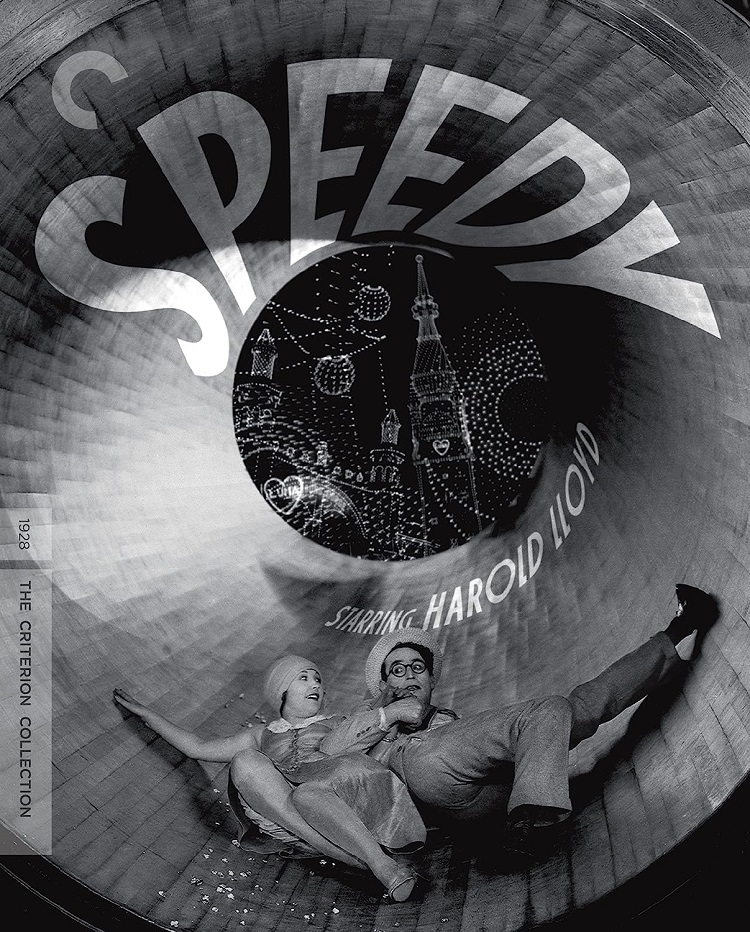 Not only is "Speedy" the title character played by Harold Lloyd in his last silent film and last appearance as his The Boy/Glasses Character, but it also describes the fast-paced lifestyle that was overtaking New York City at the end of the Roaring '20s. Railroad businessmen want to buy out Pops (Bert Woodruff), the grandfather of Speedy's girlfriend's Jane (Ann Christy), so they can make use of the track on which his horse-drawn streetcar runs.
Naturally, it will fall onto to Speedy to save the day. He is a clever fellow, but only seems to put his mind to making an easy life for himself, such as figuring out to get seats on a crowded train car, but he's not able to hold a job, which disappoints Jane but the mishaps he has whether working as a soda jerk or driving a taxi make for plenty of laughs. The latter features a funny cameo of Yankee slugger Babe Ruth.
While it feels like it could be from a different film, there's also a lot of comedy mined from a sequence where Speedy and Jane spend at the day at Coney Island, including a running gag where Speedy gets increasingly dirty.
Back to the main plot, apparently Pops has some type of clause in his contract with the city by which he can continue his business as long as his streetcars make at least one run every 24 hours. The bad guys look to keep that from happening. Apparently they have been pushing people around for quite a while, so it's adorable when a bunch of old men and merchants gather to fight the thugs trying to take over their neighborhood. The fight gets pretty brutal, as the folks on Speedy's side make use of their trade tools, things like bats and hot irons, as weapons.
Unfortunately, the climax didn't make much sense because although Speedy completed a run, he didn't do it with any passengers. He was just driving the streetcar around like a maniac, which likely wouldn't have fulfilled Pop's agreement, but the comedy was clearly more important than the story.
The video has been given a 1080p/MPEG-4 AVC encoded transfer displayed at an aspect ratio of 1.33:1. According to the liner notes, " "This new digital transfer was created in 4K resolution on a Scanity film scanner from a safety fine-grain master positive deposited at the UCLA Film & Television Archive by the Harold Lloyd estate; certain insert segments were scanned in 4K from the archive's preservation negative. The film was restored at Digital Film in Burbank, California." Blacks are inky and there's a very good spectrum of grays present. The image delivers great clarity and depth for the most, although the scene when Speedy rubs Pop's neck is a bit out of focus. Grain is apparent and defects as a result of age and wear are minimal. Most notably, there are a few frames missing just before Speedy shows up at Jane's apartment. The audio is available as a LPCM 2.0 track that presents Carl Davis' score, which he created for the film in 1992.
As far as the extras, "In the Footsteps of Speedy" (HD, 31 min) offers a tour of the New York locations and background info about the film with Bruce Goldstein, founder of Rialto Pictures. "Babe Ruth" (HD 40 min) presents rare footage of Ruth in Hearst Metrotone newsreel footage. It makes for a great collection for buffs of history and Major League baseball. In "Narrated Stills: Deleted Scenes" (HD, 4 min) Goldstein returns to narrate stills from cut scenes. Lloyd's granddaughter Susan narrates "Home Movies" (1080i, 12 min) shot during the time of Speedy's production. Directed by Hal Roach, "Bumping into Broadway" (1080i, 25 min) is the first two-reeler with the Glasses character. This 1919 short comes with a 2004 score by Robert Israel. The commentary track, presented by Goldstein and Turner Classic Movies Director of Program Production Scott McGee, felt more like an inundation of information rather than a leisurely conversation.
Fans of silent comedy should enjoy Harold Lloyd's Speedy especially this Criterion release. The high-def presentation is very appealing and the extras offer a great deal of information of the film and those involved.