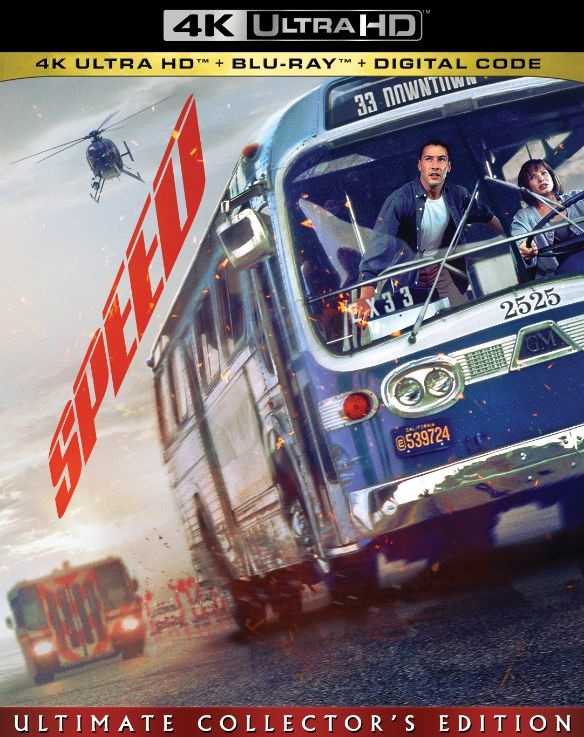 Say what you will about the '90s, and I'll most likely agree with you. Just like the 1980s, it was a time of uncertainty, excessiveness, and unpredictability. It was also a time of new technology, which could definitely be applied to its oversaturation of big-budget, cinematic blockbusters. While I'm not the biggest aficionado of spectacle and action-packed cinema, you have to admit that there were some pretty solid ones to come out of the decade. Speed (1994) is certainly one of them.
If you didn't already know the plot (which for the most part is unoriginal), Keanu Reeves stars as Jack Traven, a Los Angeles police officer, who pisses off Howard Payne (a deliciously campy Dennis Hopper), a retired bomb squad member, after ruining his plans of taking hostages. In retaliation, Payne plants a bomb on a city bus, that blow up if it drops below 50 miles an hour. Jack, with the help of Annie (Sandra Bullock), a charming passenger, have to save everyone on the bus before it explodes, while also trying to track Payne's whereabouts and monitorization.
As I mentioned, the plot isn't the most original, but it actually doesn't sound too far-fetched either. In fact, it manages to comment on the unnatural intimacy of public transportation. It's also a scary thing to think about. Whether you're on a bus, plane, train, or any other public automobile, you don't know if someone has gone crazy and decided to rig it to blow up. The world is a dangerous place to live, so that idea doesn't seem too silly when you think about it. All of a sudden, you could one day just find yourself on a giant public coffin.
What makes Speed work is the believability of the overall situation, and especially the fact that most of the film takes place on the bus. There is enough tension, danger, and personality to fill the screen time. It also doesn't hurt that it has expert direction by Jan de Bont, and amazing performances by Reeves, Hopper, and especially Bullock (who would become a big star because of this and rightly so).
The film has had so many releases over the years, but I think that the new "Ultimate Collector's Edition" 4K Ultra HD/Blu-ray combo pack could be the definitive one, depending on your tastes and budget. The special features include two commentaries (one with de Bont; the other with screenwriter Graham Yost and producer Mark Gordon); breakdowns of action sequences; featurettes on the stunts and special effects; the making of Speed; extended scenes; theatrical trailer/TV Spots, and Billy Idol music video; and more. If you want all the previous special features, then you may want to hold onto the original two-disc Five Star Collection DVD from Fox. But you know what, you can have both.
Whatever release you choose, you're going to able to enjoy a still fun and thrilling '90s popcorn action flick that manages to hold up quite well.
Other releases:
Trances (Criterion Collection): A 1981 music documentary tracing the beloved Moroccan band Nass El Ghiwane that became a sensation thanks to their immediate and political lyrics and soulful sound.
A Ghost Waits (Arrow): An indie hit about a man whose job requires him to clean a house, which happens to be haunted. He ends up falling in love with the ghost he tries to exorcise out of the house.
Judas and the Black Messiah: The Oscar-winning biopic of Fred Hampton (Daniel Kaluuya), leader of the Black Panthers, and William O'Neal (Lakeith Stanfield), the FBI informant who betrays him.
The Last Married Couple in America (Kino): Film legends Natalie Wood and George Segal play a couple who start to have doubts about their marriage when every other couple they know get divorced.