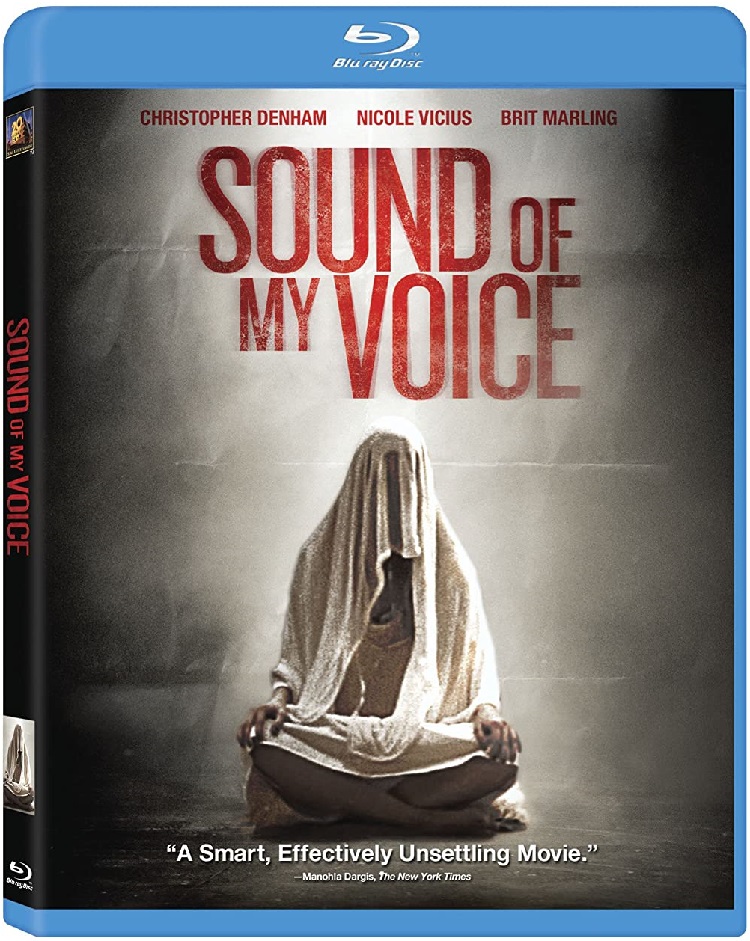 The Film
An impressively controlled and thoroughly transfixing thriller, Sound of My Voice is a film where almost nothing is wasted — no gesture goes unnoticed and only a handful of scenes featuring a federal agent feel superfluous. Clocking in at less than 90 minutes, this is a taut piece of low-budget filmmaking, more focused and ultimately more satisfying than Another Earth, last year's lo-fi sci-fi starring and co-written by Brit Marling, who also co-stars in and co-wrote Sound of My Voice. Zal Batmanglij directs this time around as opposed to Mike Cahill, but there are unmistakable visual and thematic through-lines connecting both films.
In Sound of My Voice, Marling takes a supporting role as Maggie, the serene, delicate leader of a burgeoning basement cult who claims to be from 40 years in the future. Marling imbues the character with a preternaturally disarming nature — so much so that despite her often dubious claims, it feels totally wrong to disbelieve her. A remarkable scene sees her followers asking for a song from the future as some form of proof — she sings "Dreams" by The Cranberries, and yet, it still feels like she's being completely truthful.
Christopher Denham and Nicole Vicius star as Peter and Lorna, a couple who infiltrate the cult's elaborate protective mechanism in an attempt to make an investigative documentary. But their sure-footed skepticism starts to wobble around the same time as their relationship, and their clear-cut loyalties shift in ways that aren't always readily apparent. It's a disorienting move, as the pair begins the film as the audience's stand-ins, always acutely aware of the potential of being found-out, but gradually leaves the viewer unsure of whom to identify with.
The spare, lean storytelling and wholly convincing performances mostly make up for a conclusion that either spills too many of the beans or not nearly enough. It's meant to be a turn-on-a-dime shocker, and it works as that to some extent, but one wishes for a more fleshed-out denouement or something a little more open-ended. Still, Sound of My Voice is a truly distinctive thriller in a sea of generic ones, and that's no small thing.
The Blu-ray Disc
Granted a 1.85:1, 1080p high definition transfer, the Sound of My Voice discfeatures a faithful representation of the film's digitally shot image, with clean and smooth textures, solid and consistent colors and pleasing sharpness and clarity. Low-light scenes are prone to some light banding and haloing, although this is more than likely straight from the source materials. The 5.1 DTS-HD Master Audio track is just fine, offering dialogue up in a crisp, clear fashion and allowing for a few effects to fill out the soundscape.
Special Features
All we get are four pretty negligible EPK-style featurettes, each just a few minutes each. The writing process, production and some light analysis of the film's themes all get discussed, but don't expect to hear anything you haven't before.
The Bottom Line
The future is bright for the multi-talented Marling, and Sound of My Voice is the most convincing piece of proof of that fact to date.