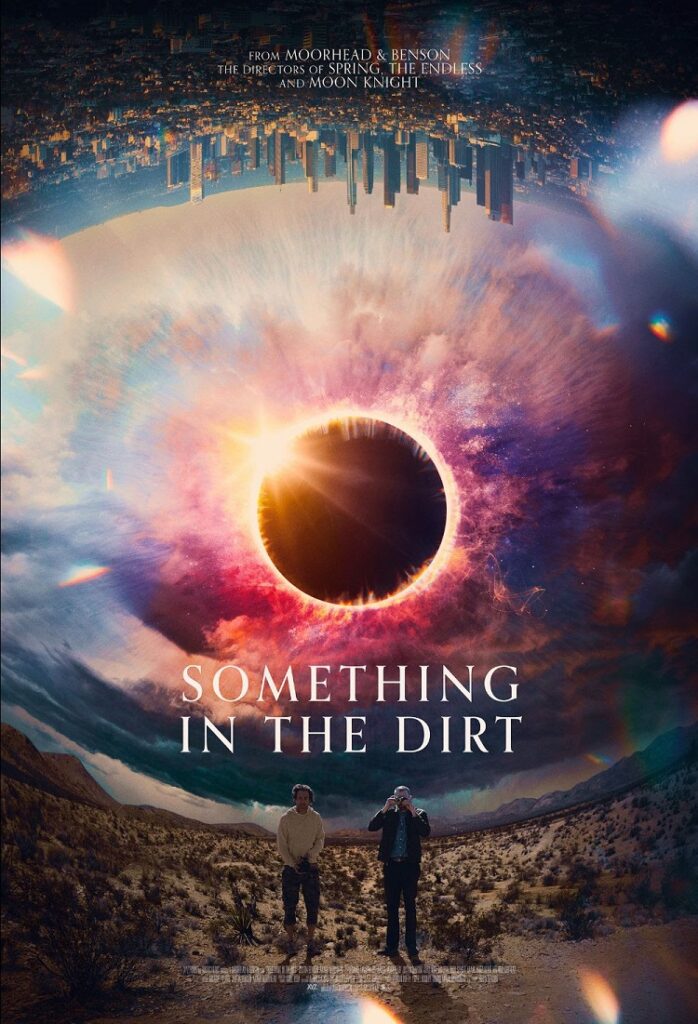 Brilliant and highly original DIY filmmakers Aaron Moorhead and Justin Benson already won my heart with such films as Resolution, Spring, The Endless, and Synchronic, but with their newest work Something in the Dirt, they've made me a diehard fan for life and have perhaps made their magnum opus.
John (Moorhead) and Levi (Benson) are from opposite sides of the spectrum. They meet and become new neighbors at their Los Angeles apartment building where Levi has snagged a no-lease (and no-frills) apartment of his own. They immediately strike up a bond where they tell stories about their pasts, which are both tragic and questionable, and they seem to have much in common as well. One day, in Levi's apartment, they both witness supernatural phenomena. Of course, it weirds them out at first, but then they realize that this could be the break they've both been looking for. So, they decide to document the events, which leads them into an abyss. The deeper they go to uncover what exactly is going on the more their newfound friendship gets tested. They tread in dark and dangerous places that will change their lives forever.
Being a cinematic product of the pandemic, this film plays like a two-hander play. There are other characters that come in and out of at various times, but it is really John and Levi's journey. They're both damaged people (despite Levi's backstory being more harrowing than John's), eccentrics who find themselves at the worst times and they try to do something about it. That is ambition that unfortunately gets the better of them in the end.
It is a very talky film, one that may not be too appealing for many people, but make no mistake, the talk is profound. There are conversations about conspiracy theories, the apocalypse, social media, childhood (where you see home movies of perhaps both Moorhead and Benson in their real lives, which is makes it personal), unexpected coincidences, revelations about their pasts, and much more. It's also about paranoia, which makes it all the more relevant considering the uncertain times we're living in now. I found the reflections to be quite interesting and very enlightening. The film is like a dark sci-fi/horror version of My Dinner with Andre, which makes me love and respect it even more.
Moorhead and Benson are incredible filmmakers, and they're also really good actors. The chemistry between the two of them is spellbinding. One can tell that they have a really solid friendship. This is also apparent in The Endless, where they played brothers revisiting the cult they escaped from.
Obviously, I was so excited when I saw the trailer for Something in the Dirt. Their films are always events, and this one is truly no exception. It's creepy, funny, sad, smart, relatable, and a testament to the magic, power, and importance of indie filmmaking. It's so good that I don't know if Moorhead and Benson can top it, but I can't wait to see what they do next to do so. If you should only see one film this year, let it be this one. It's one wild and wildly entertaining watch.
Something in the Dirt is will be available on VOD November 20.