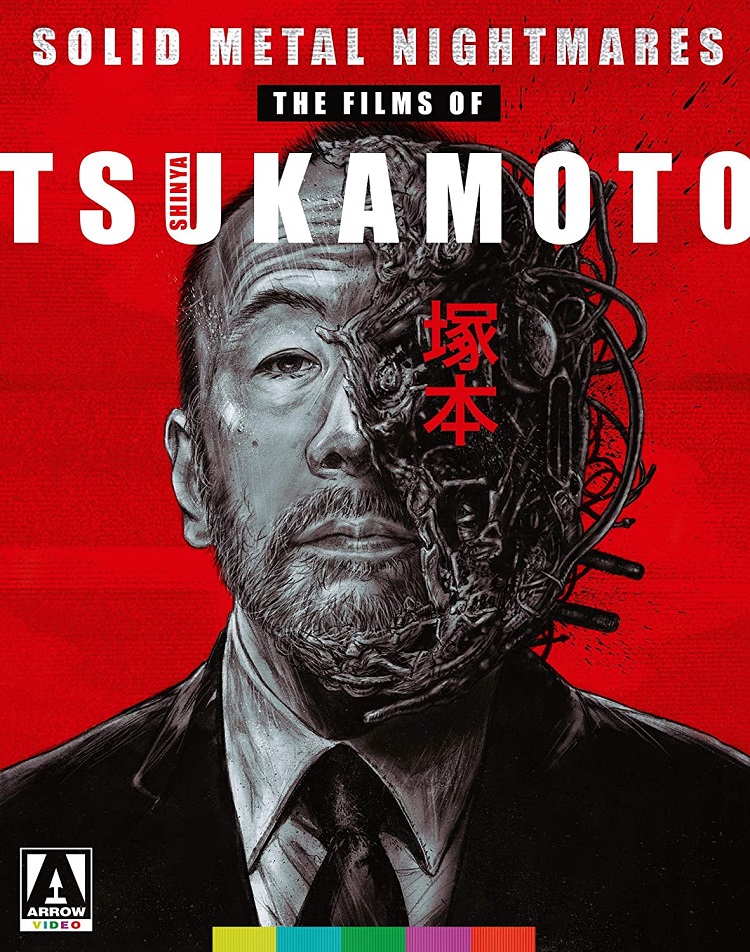 If you've seen one Tsukamoto film, you definitely haven't seen them all, as evidenced by this amazing new box set that houses a dizzying sampling of the many different genres and film formats he has touched on in the past 30 years. As an independent film director, he has the freedom to pursue whatever tickles his fancy at any given time, and as a clearly restless creative force, the results of his experiments presented here are always rewarding.
While he may still be best known in the U.S. for his early black-and-white industrial schlockfest Tetsuo: The Iron Man, the films chosen for this set show that he has the chops to play in any genre, from the blue-and-white psychosexual drama of A Snake of June to the intense Fight Club-esque Tokyo Fist tothe recent full-color widescreen samurai epic Killing. Best of all, there are no duds here, with every film offering some thought-provoking content that makes his work a frequent presence in foreign film festivals. Oddly, a film that didn't make the cut is the third Tetsuo from 2009, but the short Tetsuo prototype The Adventures of Denchu-Kozo is present.
Unlike typical low-budget Japanese genre work that is all flash/no substance, Tsukamoto's fascinating films are more akin to the output of Western indie titans like David Lynch, David Cronenberg, and Jim Jarmusch than his contemporaries flooding the gonzo discount bins. As Tsukamoto explains in one of the set's many interviews with him, he usually gets his inspiration for a film from a single image that comes to him, then builds on it from there to create a plot and settle on a film format. He seems to delight in constantly changing up his medium, ranging from film stock between 8-35mm and even standard definition digital video, aspect ratios between 1.33:1 and 1:85.1, soundtracks from mono to 5.1, and color or lack thereof. While the most recent widescreen full-color films Kotoko and Killing could go toe-to-toe with any top-tier art house movies, there's a certain homemade scruffy charm in the least technically proficient entries such as Haze and The Adventures of Denchu-Kozo that make them no less appealing. He's also highly involved in every aspect of his films, serving as writer, director, producer, editor, actor, and even occasional musician, animator, and effects artist.
The first disc contains the two Tetsuo films and their progenitor Denchu-Kozo, a triple feature of twisted machine man nightmares chock-full of homemade practical effects and animation. Disc two has the urban malaise of Tokyo Fist and Bullet Ballet, unified in their common theme of a regular salaryman (played by Tsukamoto) seeking out danger in the Tokyo underworld, with boxing in the first and gunplay in the second. Disc three is probably my favorite for its variety, with the impressive A Snake of June tracking one woman's coerced sexual experimentation in a very rainy Tokyo to the intriguing Vital following a medical student's grief as he is tasked by sheer coincidence with dissecting his dead girlfriend, to the claustrophobic short Haze starring Tsukamoto attempting to escape a deadly subterranean prison. The final disc contains the beautifully photographed Kotoko and Killing, with the former borrowing from star and pop singer Cocco's own past for a tale of self-harm and hallucinations regarding her son and the latter presenting a straightforward samurai tale.
After watching all ten of the films, I really can't pick a favorite, and I also can't say that I disliked any of them. The first Tetsuo is clearly the most wildly inventive and out there for sheer visceral thrills, but Vital has a really unique concept and the added bonus of a simmering lead performance by Tadanobu Asano, who will forever be best known to Japanese genre film fans as the star of Takashi Miike's Ichi the Killer. The only unifying downside to Tsukamoto's work is his love of shaky hand-held filming, as it gets to be a bit disorienting at times that we might like to keep a better handle on the action.
All of the films have been remastered for this release, with Tsukamoto mentioning in his interviews that he's serving as the archivist in the digital conversions since he owns the works and is deeply invested in ensuring their preservation. The 1080p image quality is excellent in all of the films, while the lossless soundtracks are crystal clear for three PCM 1.0 mono films, two PCM 2.0 stereo films, and five DTS-HD 5.1 Master Audio films.
The box set is overflowing with bonus features, primarily lengthy archival interviews with Tsukamoto for each film as well as a brand new exclusive career-spanning interview that shed further light on his creative process. Japanese cinema expert Tom Mes provides audio commentary tracks for all ten films, with eight of them brand new for this collection, while fellow expert Jasper Sharp contributes a video essay on Tsukamoto's career. There's also making-of footage for a few of the films, as well as footage from the Locarno and Venice Film Festivals including interviews with cast members. The Haze making-of footage is the most revealing, as it shows that the film was even more claustrophobic than it appeared, with the tight sets being constructed and filmed in one very small room. Tsukamoto proves to be an insightful and generous interview subject, happy to discuss all aspects of his process and the trials and tribulations he has to overcome to realize his singular vision.
Arrow Video's box set is a beautiful piece, with four standard Blu-ray cases and a 56-page illustrated hardcover booklet housed in a sturdy slipcase. They even threw in a large double-sided poster with the box set cover art on one side and a similarly styled Tetsuo poster on the reverse. Each disc case has different reversible artwork, colors, and spine fonts, clearly marking them as the unique individual projects they house rather than pieces of a whole. In short, this box set is clearly the ultimate release for Tsukamoto fans in the U.S. and is certain to be a prized keepsake for many years to come.