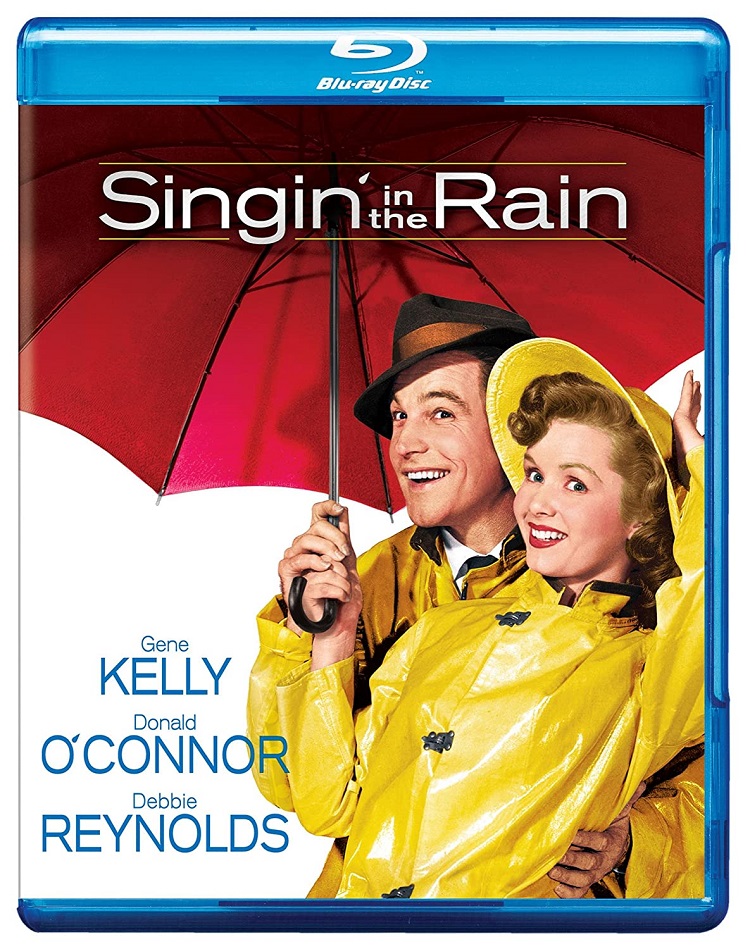 Far and away the most popular American film musical ever made, Singin' in the Rain lives up to its reputation. It may not be the greatest musical in the canon — as far as this humble opinion goes, that would be another Comden and Green joint, Vincente Minnelli's The Band Wagon — but I'm afraid you better not bother with the genre if Singin' doesn't get to you.
There's Gene Kelly's infectious performance as fading silent film star Don Lockwood, Donald O'Connor's breathtaking physicality as accompanist Cosmo Brown, Debbie Reynolds's sweet optimism as aspiring actress Kathy Selden, the gorgeous Technicolor, the sly inside references and the sublime "Broadway Melody" ballet with Cyd Charisse — if anyone complains about the length of this segment and how "it has nothing to do with the story," make them watch the film again.
After putting the various DVD releases of Singin' out-of-print a year or so back, Warner is now rereleasing the film on Blu-ray in honor of its 60th Anniversary. You've got a couple options — another one of those behemoth box sets, which includes a 48-page hardcover book, poster reproductions, a full-size umbrella and a symmetry-destroying box to wedge into your shelf somewhere. In the big set, all the extras from the previous two-disc DVD are carried over, along with a new retrospective documentary. Those looking for something more compact and economical can opt for the single-disc Blu-ray, but you'll be missing out on a number of extras.
Also out this week:
Invasion of the Body Snatchers (Blu-ray): There have been some great remakes of this film over the years, but Don Siegel's 1956 original, steeped in oppressive Cold War paranoia, still stands the tallest. Olive Films offers up the film's debut on Blu-ray, along with a concurrent DVD release.
High Noon 60th Anniversary (Blu-ray): Fred Zinnemann's four-Oscar-winner starring Gary Cooper as a retiring town marshal who must confront an old nemesis also gets a Blu-ray upgrade from Olive Films.
Mean Streets (Blu-ray): A breakout picture for Martin Scorsese and its young star Robert De Niro, Mean Streets marked the beginning of a beautiful working relationship. Warner gives the classic a high-def bump.
Down by Law (Criterion Blu-ray): Jim Jarmusch's follow-up to his exceptional Stranger Than Paradise finally gets a Blu-ray upgrade from Criterion. Tom Waits. Roberto Benigni and John Lurie escape from a Louisiana prison and descend into the swamps.
The Turin Horse: The purported last film of Hungarian master Béla Tarr, The Turin Horse comes to Blu-ray and DVD courtesy of the fine boutique label Cinema Guild.