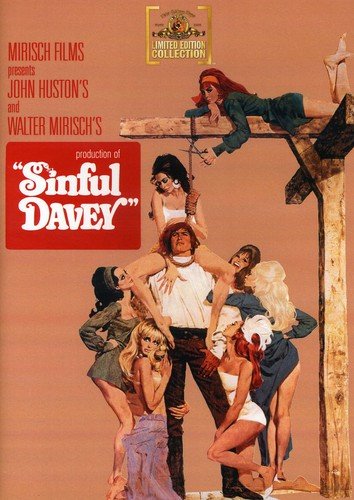 By no means the worst John Huston picture you'll ever see, but certainly nowhere near his top tier of work, 1969's Sinful Davey is an intermittently amusing adventure comedy that never coalesces into anything truly memorable. Reportedly altered without Huston's input after poor testing, the film doesn't seem to possess the raw materials for a much better work anyway. Its greatest asset is a game John Hurt, starring here in his first leading role as Davey Haggart, a Scotsman desperate to live up to legacy of his highwayman father — or at least, the man he assumes is his father; no one seems to have any confirmation of the fact.
As the film opens, a gallows-bound Davey rushes to get his memoirs down on paper, detailing his larger-than-life series of criminal exploits. Trouble is, the subsequent flashbacks aren't thrilling enough to live up to their reputation, but neither are they woeful enough to create some ironic dissonance between Davey's conception of himself and reality. The film's disjointed, episodic nature lacks momentum, and as amiably manic as Hurt's performance can get, the film itself never quite matches up.
Unwilling to live a constrained life, Davey deserts his army post and takes up pickpocketing. He's soon landed himself in jail, but that just provides an opportunity to follow in his father's footsteps even more faithfully, staging a breakout at the very same prison the elder Haggart was once interned in. Stagecoach robbing, jewel stealing and various dalliances with various women follow, leading up to the planning of a spectacular heist under the nose of the Duke of Argyll (Robert Morley) — a feat that would outclass any of his father's escapades.
The law doesn't prove very adept at staying on Davey's trail, but childhood friend Annie (Pamela Franklin) does, urging him at every opportunity to repent from his wicked ways. Franklin's pious beauty proves to be a good counterpoint for Hurt's irrepressible mischief, and character turns from Morley and Ronald Fraser as Davey's partner in crime are quite respectable. Nonetheless, Sinful Davey is never more than a pleasant time-filler. Huston and Hurt enthusiasts should probably give it a look, but there's no need to make it a priority.
MGM's burn-on-demand Limited Edition Collection DVD is merely OK, presenting the film in its original 2.35:1 aspect ratio, but featuring drab, muddied colors, a very soft image and a wobbly telecine — most obvious during the credits but noticeable throughout in a not-quite-stable image. The mono audio has some light hiss, but dialogue is generally clear. The disc also includes the film's theatrical trailer.