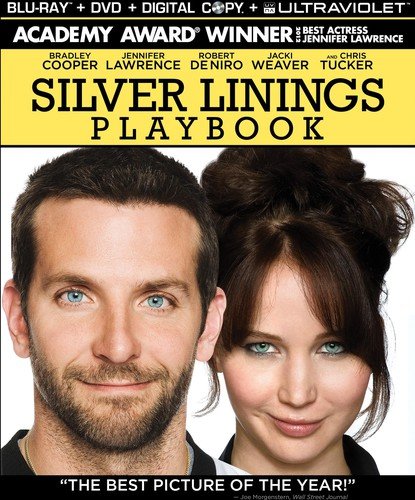 Written by Chris Morgan
The 2012 film Silver Linings Playbook featured a lot of folks whose careers were headed in the right direction. David O. Russell was no longer merely the guy who yelled at Lily Tomlin after the success of The Fighter. Bradley Cooper found fame and fortune starring in The Hangover, even if he will always be "Michael Ian Black's gay lover" in Wet Hot American Summer to some people. Jennifer Lawrence is Katniss Everdeen, which is something even people who know nothing else about The Hunger Games know. The only person not at the pinnacle of their career with a major role in this movie was probably Robert De Niro, who just so happens to be a living legend. So yeah, this movie had a lot going for it, but that doesn't necessarily mean success.
Cooper, playing "against type," stars as Pat Solitano. When the movie begins, Pat is leaving a mental hospital after about an eight-month stay, due to an explosive bout of rage stemming, in part, from undiagnosed bipolar disorder, that led to his life, and his marriage, falling apart. With a newfound positive outlook, Pat tries to get his life on track, and get his wife back. Along the way, he meets Lawrence's Tiffany Maxwell, a young widow with emotional issues of her own. The movie is mostly about their ragged, raw relationship. Also, dancing. And the Philadelphia Eagles. And maybe, just maybe, life. De Niro plays Pat's father, also named Pat, a football addict with some OCD tendencies. Jacki Weaver is his wife. Chris Tucker is also in this movie. He's fine in it, but his mere presence got more attention than it deserved.
However, "fine" would not begin to be enough praise for Silver Linings Playbook as a whole. It is a very good movie, and would have been a great choice, and perhaps the best choice, for Best Picture instead of Argo. The Golden Globes categorized it as a comedy or musical, and some have called it a romantic comedy. It is not. It has romance, and it has comedy, but it is very much a drama. It is no more a comedy than the aforementioned Argo. Just because a movie involves love and relationships and has a few laughs in it does not make it Bridget Jones' Diary.
The script is very strong. The dialogue is well crafted, and the story plays out well for the most part. There is a section just before the climax, when all the key characters find themselves together after an Eagles game, that is clunky and awkward. What stems from it felt a bit ridiculous at that point, but when it played out it was done so excellently it still succeeded. Russell's direction isn't as notable as the script, which he wrote, adapting it from a novel, but it is perfectly fine. He's not the visual auteur that, say, Wes Anderson is, but he knows how to direct a movie well.
While Russell's contributions are worthy of praise, the performances are what make this movie so impressive. The four main actors, Cooper, Lawrence, De Niro, and Weaver, got Oscar nominations, with Lawrence winning Best Actress. Cooper may be known for his comedy work, or silly action stuff (which is not to knock The A-Team), but he is very good as Pat. Sure, playing a bipolar character may fall under the umbrella of "Oscar bait" but the character is still interesting and fully fleshed out, and Cooper is a big part of that. He brings a very interesting energy to Pat through all his emotional turmoil. In a year where living legend Daniel Day-Lewis played dead legend Abraham Lincoln, Cooper didn't stand a chance, but in another year he may have taken the trophy. De Niro is very good, and he could have won without it feeling like a lifetime achievement award. Some questioned Weaver's nomination, but while her part is small she does a lot with it. Plus, she's an Australian playing an American successfully.
All that being said, Lawrence is the clear stand out in this movie. She is tremendous, and more than deserved her Best Actress Oscar. Her performance is extremely engaging. Lawrence's physicality in the role is impressive, and this is not meant in a leery way. This is true whether or not you find her attractive, which evidently many people do. However, her emoting onscreen is what really stands out. She really brings out the emotions of Tiffany, and her eyes well up with tears in such a unique, evocative way. Granted, that may not necessarily be attributable to her as an actress, but it still brings something to the movie.
Silver Linings Playbook overcame its somewhat odd name to get a lot of award recognition, and it deserved it. This was a really good film, engaging and worthwhile throughout. It pretty much runs the gamut of emotions, and hits them all successfully. Plus, it has a great soundtrack. Bonus.