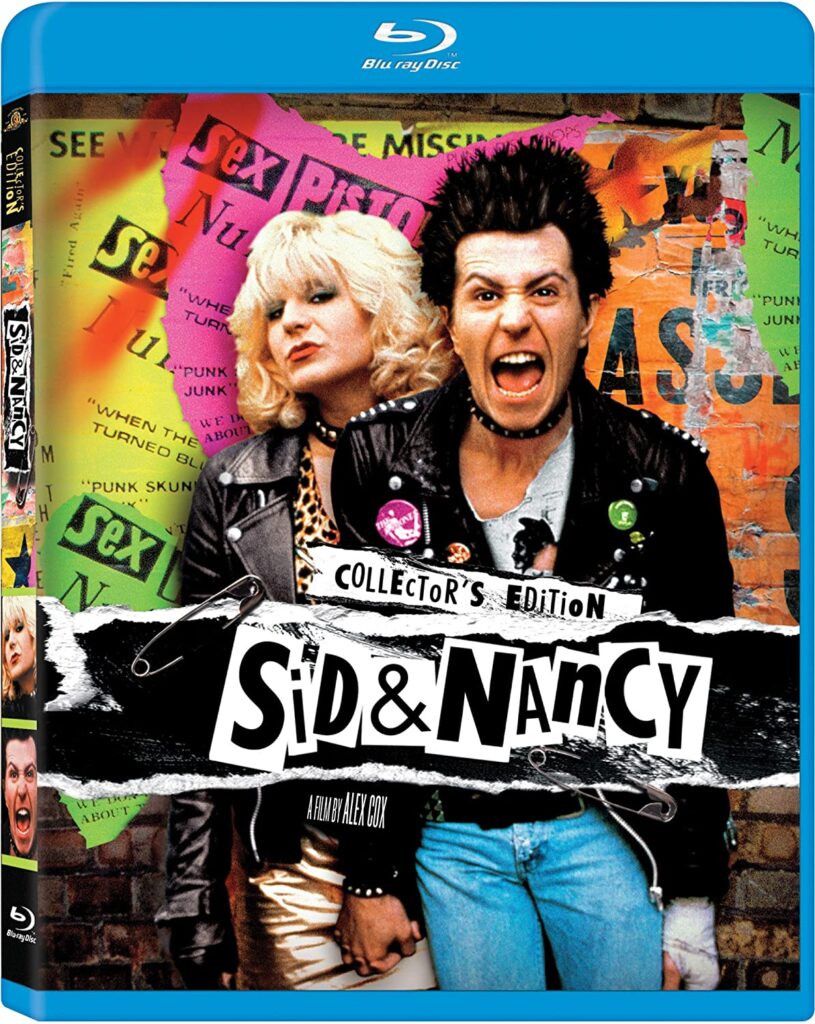 The Film
I had to laugh when reading the back of the newly released Fox/MGM Sid & Nancy Blu-ray, which describes Alex Cox as an "award-winning writer/director," marked with an asterisk and a footnote that reads, "1986: Critics Award, Sao Paulo International Film Festival." You have to dig pretty far to find awards mentions for Cox, a director whose work has seldom resonated with the mainstream and who didn't last long in the major studio-produced film business.
But while he still had a place at the Hollywood table, Cox didn't back down from the defiant energy that characterizes much of his work, and Sid & Nancy is one of the purest expressions of Cox's strengths. Naturally, the film doesn't possess anything resembling a traditional biopic narrative arc, nor does it look to diagnose the psychology of two irreversibly dysfunctional people. It's as blisteringly anarchic as you'd hope for while making room for flashes of humor and strikingly beautiful grace notes.
Cox also gets essentially perfect performances from Gary Oldman as Sex Pistols' bassist Sid Vicious and Chloe Webb as his preternaturally obnoxious girlfriend Nancy Spungen. Webb is uniformly grating and Oldman is a snarling whirlwind of unleashed id, but both imbue the characters with vulnerability around the edges.
Theirs is a relationship doomed from the start, which is made clear by the film's in media res opening on that fateful day in New York's Hotel Chelsea, but further demonstrated by Cox's simultaneously grotesque and sublime imagery. In the midst of the film's primary squalid, unassuming aesthetic, Cox inserts hazily dreamlike moments — Sid and Nancy embrace in an alleyway, surrounded by trash raining from above; Sid delights an upper-crust audience, massacres them and is joined by a bloody Nancy on an illuminated stage. There's no respite from the grime of their everyday life even in fantasy, but here, love reigns supreme.
Of course, love doesn't reign supreme in this story, and Cox keeps the depressing downward spiral front-and-center. With no explanations offered and nary a happily redemptive character in sight, Sid & Nancy might seem like a pointless wallow in the muck to some, but its sharply realized evocation of the punk aesthetic and its characters' toxic love is remarkable all the same.
The Blu-ray Disc
Presented in 1080p high definition and an aspect ratio of 1.85:1, this Blu-ray of Sid & Nancy is an impressive, fairly substantial upgrade from previous DVD versions. The nuances of Roger Deakins's photography are rendered in sharp, clean images that feature healthy amounts of fine detail in both close-ups and long shots. Shadow detail is especially strong, and low-light scenes don't get swallowed up in muddy colors or digital artifacts. A nicely film-like grain structure is visible, but not overwhelmingly so throughout.
Audio has been bumped up to a 5.1 DTS-HD Master Audio track over the film's original stereo option. Music tends to be comparatively louder than voices, which can be difficult to understand thanks to hushed, slurred speech, but this is certainly native to the film itself and not an issue with the mix.
Special Features
Two 15-minute featurettes, featuring a number of music journalists and experts, focus on the connections between the movie and reality and the real-life relationship between Sid and Nancy. These pale in comparison to the extras on the long out-of-print Criterion DVD of the film and are assembled with a nod to some tacky, faux-punk aesthetic, but they're intermittently interesting. The film's theatrical trailer is also included.
The Bottom Line
This is easily the definitive release of the film in terms of picture quality, but get a hold of the Criterion DVD if you can for its making-of, interviews with the real Sid and Nancy and an audio commentary featuring Oldman, Webb and others.