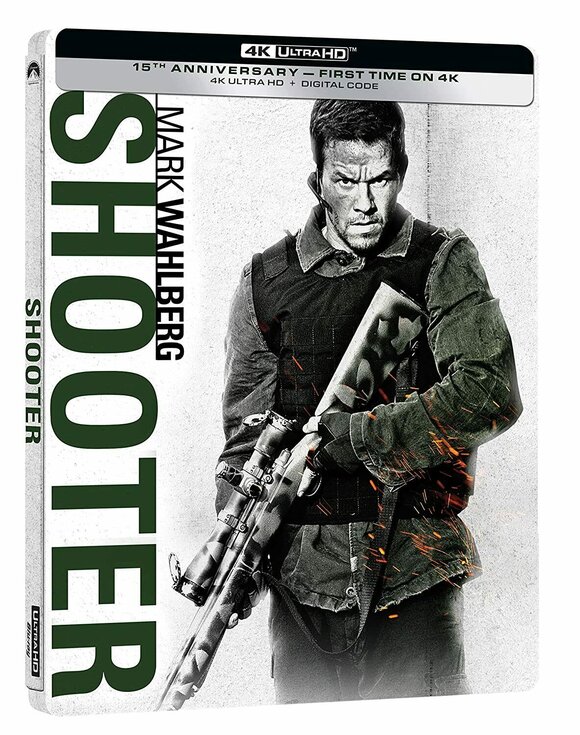 As a mindless piece of action, Shooter is an entertaining ride. Director Antoine Fuqua never seems less than committed to giving the viewer the goods. The film is slick and swift, but it's not as flash-frothy as, say, the best or worst Michael Bay film. And for a certain movie junky, competency isn't enough. There's nothing virtuosic, or weird, or ribald, about Shooter; and for me, I needed more.
Or would that be less?
Playing a disaffected ex-Marine sniper, Bob Lee Swagger (love that name), Mark Wahlberg is just as committed to the film as Fuqua. If Wahlberg, in my eyes, doesn't ever work as a gritty action star of the first rank (he always seems to be underqualified to play a tough guy with balls of brass, and it's hard to pinpoint why), he's at least as believable here as Tom Cruise is in the Jack Reacher films (Cruise being another short, stocky guy who often gets his high-octane action parts over on the strength of his conviction). After an assassination goes haywire, Swagger retires to the woods (and grows a ponytail) in an undisclosed part of the U.S., where a cadre of well-connected bureaucrats from Washington D.C., led by Danny Glover, recruit him for the most important job of his life—to stop the President from being shot. Assume you have a soft spot for MacGyver derring-do and tough guy flix—where we jump from one tense setup to the next—no matter how ridiculous or predictable the turns of the story are (and since I don't want to spoil everything, I will say in this movie you can see [as you have seen in countless other such pictures] much of what happens ahead of time). If those things get you juiced, Shooter scores.
I approach films like this with lower than low hopes, knowing it's best to leave my brain behind and give myself over to the cinematic box of popcorn. As a result, I sometimes respond more warmly when the archetypal elements play with our expectations.
For me, this often comes down to the supporting cast. And Shooter's malicious team of baddies (Glover, Elias Koteas, and Ned Beatty) is easy to root against. However, as the girl of the guy Swagger couldn't save on a past mission, Kate Mara seems glued to the cardboard confines of her character, with little to do. As a disgraced FBI agent nobody believes, Michael Pena makes for a solid if undistinguished sidekick.
Fuqua does fine work with the actors even in the quiet moments. His direction isn't the kind that calls attention to itself. It's serviceable; it's a non-style, I suppose, one that's hard to differentiate from a thousand other action films. That may sound like a backhanded remark, but he has a sound record of satisfying thrillers (e.g., Training Day, Tears of the Sun, the Equalizer films). Shooter, however, never gets weird or encourages the actors to ham it up or bug out (as a psychotic henchy, Koteas has only minor playful moments). The story is by-the-numbers, too, the kind of straight-faced, we-have-every-reason-to-be-paranoid fluff that pales next to other thrillers of disillusionment and betrayal (e.g., Three Days of the Condor, Enemy of the State).
So, the movie's generic—enjoyable boilerplate that moves at a clip. It knows what it is (a cynical shoot-'em-up about a wronged patriot who targets the evil guys in charge); and like Swagger, it does the job. But nothing stands out. It's forgettable.
Shooter's got blanks.
The Paramount Pictures steelbook for Shooter includes deleted scenes and a making-of feature.