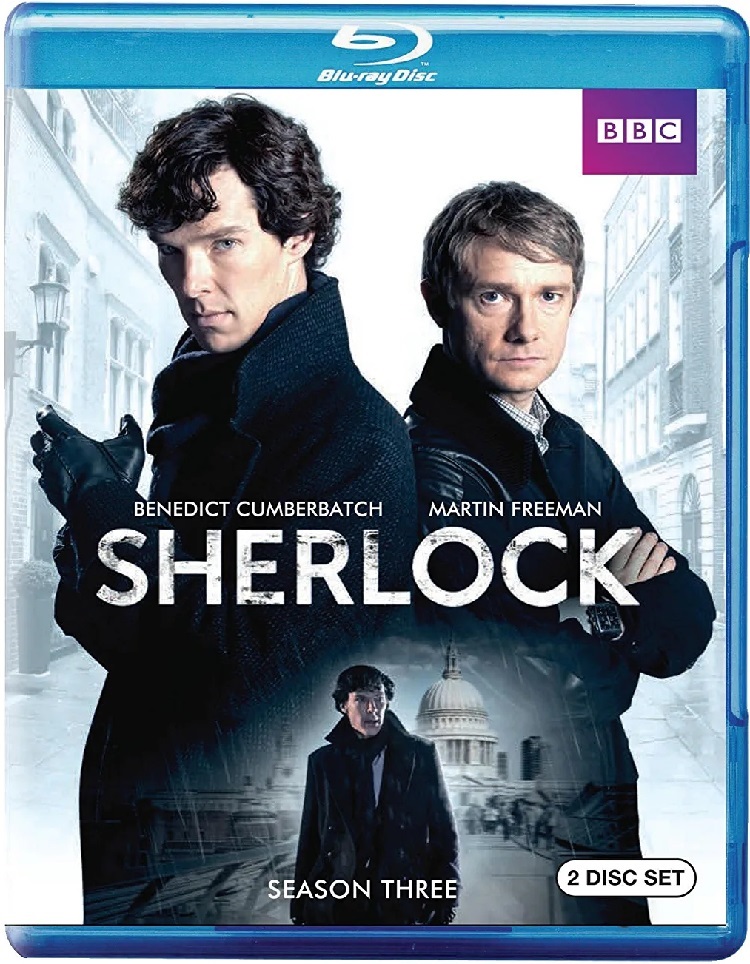 Two years ago, Sherlock creators Mark Gatiss and Steven Moffat left their titular modernization of Sir Arthur Conan Doyle's timeless creation at the edge of a very awkward and uncertain fate, in a season finale that seemed to channel the very vibe of a good ol' Saturday Matinee Cliffhanger Serial. And, while Baker Street Irregulars around the world started spinning webs of fanciful conspiracy in order to explain what they think happened, it was only a matter of time until the two men who constructed what has since become the UK's most watched drama series within the past thirteen years to give us a full, satisfying conclusion – or rather, explanation.
Naturally, just like that last series of Red Dwarf, such an elucidation is not too terribly clear here. As a matter of fact, Gatiss and Moffat appear to take great pride in tormenting their loyal followers by presenting one distorted conspiracy theory from the mindset of one character after another – each just as fanciful and amusing as those dreamt up by the so-called "normal" people out here in the real world. And, of course, that's a good thing: we should be kept on our toes – though I'm not entirely positive if the finale of Sherlock: Season Three should be presented as testimony to such a thing. But more on that later.
Sherlock: Season Three begins with "The Empty Hearse", wherein our beloved Holmes (Benedict Cumberbatch) returns from the dead (or at least, hiatus) – only to discover that a) London is on the verge of being seriously crippled at the hands of an underground terrorist network, and b) his friend and colleague, Dr. John Watson (Martin Freeman) has quite literally moved on. Not only has he moved out of their flat at 221-B Baker Street, but Watson has also become engaged to a delightful woman named Mary Morstan (Amanda Abbington). Worse still, Watson has opted to grow a hideous moustache, firmly believing it is just as fine as he believed his partner was dead.
While the season opener is something of a light-hearted affair, the preceding episode, "The Sign of Three", takes a decidedly lighter approach. And frankly, it works with the subject matter: Watson's marriage to Mary, highlighted by Sherlock's attempts at figuring out how to not only be a best man, but also addressing the bride-and-groom-to-be's friends and family in the humiliating act of making a public speech and coping (along with his brother Mycroft – played once again by series co-created Gatiss) with a visit by his own parents (who are, adorably enough, played by Cumberbatch's real-life parents). Of course, he manages to solve a cast in the process before moving on to a much larger case in the season finale, "His Last Vow" – which brings a contemporary, even-skuzzier version of Doyle's own Charles Augustus Milverton, known here as Charles Augustus Magnussen (Lars Mikkelsen), who is about as easy to hate as this last episode itself. And I mean that with all sincerity, folks.
Starting out like a poor rehash of the series finale of House (which was itself an offshoot of Doyle's character), Moffat manages to twist "His Last Vow" into something so far removed from its source material, that many an easy-going fan of either franchise (be it printed or moving images) have expressed their outrage. Or, at the very least, their complete and utter confusion. And of course, I cannot comment much further than that for fear of revealing any major spoilers – but I will go so far as to say Mr. Moffat could be dangerously close to, as we Americans prefer to call it, "jumping the shark" if he heads through the door he has opened.
In the meantime, however, I wish to express my firm belief that it's just some gimmicky over-dramatic ploy to keep us guessing what will happen in the next season. At least it had better be. (Although it's still infinitely better than having to suffer through another godawful Guy Ritchie/Robert Downey, Jr. movie!)
Literally only days after its initial airing on PBS in the United States, BBC Home Video has released the whole of Sherlock: Season Three to Blu-ray in a two-disc set that features all three episodes along with a few bonus goodies. Sadly, the mini-episode "Many Happy Returns" – a prequel to the third season, which aired in the UK during Christmas 2013 – is not one of these extra-added features. Instead, what we have here are a trio of behind-the-scenes featurettes. But I suppose that will do until we find out what Steven Moffat's been smoking come next season.
Of course, Sherlock: Season Three comes highly recommended just the same. It's still darn good fun.