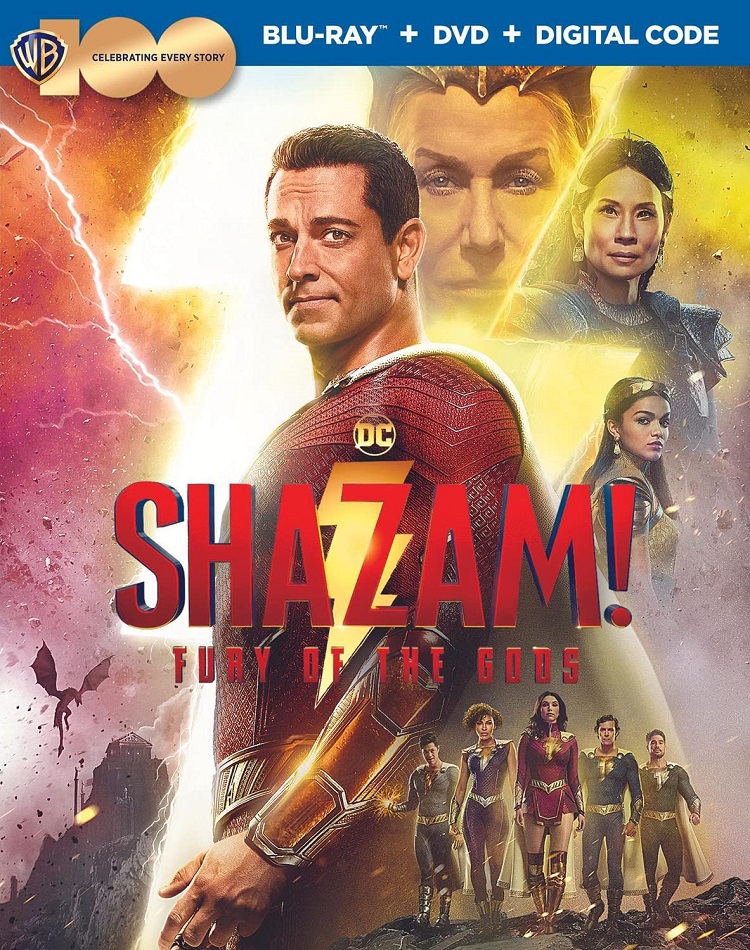 Four years after Shazam!, a charming film starring Zachary Levi as the title character — an adult version of a teenaged foster child named Billy Batson (Asher Angel) who is gifted superpowers by a wizard and who handles them as a teenager would — comes Shazam! Fury of the Gods. Directed by David F Sandberg (who directed the first film) and written by Henry Gayden (who wrote the first film) along with Chris Morgan (Fast & Furious films and Bird Box, among others), Shazam! Fury of the Gods reunites the title character with his "Shazamily," a group of foster kids who he granted superpowers to, including: Freddy Freeman/Captain Every Power (Jack Dylan Grazer and Adam Brody), Darla/Superhero Darla (Faithe Herman and Meagan Good), Pedro/Superhero Pedro (Jovan Armand and D.J. Cotrona), Mary Bromfield/Superhero Mary (Grace Caroline Currey) and Eugene Choi/Superhero Eugene (Ian Chen and Ross Butler).
The film begins at a museum in Athens, Greece, where the Daughters of Atlas, Hespera (Helen Mirren) and Kalypso (Lucy Liu) arrive to look for the Wizard Shazam's broken staff. When they each grab the staff, it gives them powers on Earth, and Kalypso hypnotizes the people to attack each other while Hespera then turns them to stone. They then decide to go after the champions of this world and set their sights on Shazam. Meanwhile, Billy Batson (in Shazam form) visits his pediatrician, who he treats as a psychiatrist, to open up about his worries that he is not doing enough as a hero and that he is concerned about his family drifting apart (and the film shows this when the group meets in their secret lair). In this kid-friendly, family movie, there is a serious subplot about aging out of the foster care system and what happens next that is merely touched upon instead of being explored more deeply, which seems like a missed opportunity.
We first see the "Shazamily" working together to save people on the Benjamin Franklin Bridge, which is collapsing, but when it collapses, they are dubbed the "Philly Fiascos" by the media for not doing more to prevent that from happening. It was nice to see a superhero film take on the collateral damage caused by super-powered beings and have there be some consequences for it, though, much like with the foster kids subplot, the film does not explore it much. That it explores it all though makes it different from most films in the genre.
Batson dreams he is on a date with Wonder Woman, who turns out to be the Wizard instead, who warns him that the Daughters of Atlas are about to attack Earth. Batson talks to Freeman about the message he received in his dream. At the same time, Freeman has become smitten with a girl at school named Anne (Rachel Zegler), who finds out he knows the superhero group. He takes her up on a rooftop where he introduces her to his hero form, Captain Every Power. When she asks how he met Freeman, Captain Every Power replies, "at Comic Con." When Hespera and Kalypso arrive, it is revealed that Anne is actually Anthea, the youngest of the Daughters. The Daughters capture Freeman and imprison him with the Wizard. The Daughters are after a golden apple called the Seed of Life, which Hespera and Anthea (who also has feelings for Freeman) want to use to save their world while Kalypso wants to use it to destroy the Earth. Shazam recruits his foster siblings and, with the help of a sentient pen named Steve, writes a letter (that sounds like it was written by a bunch of teenagers) to try and negotiate for Freeman's release. When that fails, they take on the Daughters head on.
The film is presented in 1080p High Definition and looks great. Audio options include Dolby Atmos-TrueHD and Dolby Digital. The sound is full and the majority of the effects are believable. There are a number of bonus features, including: director's audio commentary, featurettes about the characters as well as The Rock of Eternity (the Shazamily's lair), and deleted scenes.
This is a film that tanked at the box office and which got mixed reviews from critics upon release. It seems to be a setup for the next steps for the Shazam character, assuming there are next steps since the DC Extended Universe has since been completely revamped. Like the first film, it has plenty of charming moments, especially from Levi and Grazer. There is a fun scene where, when trying to come up with a name for the Shazam character, someone suggests Captain Marvel, which is, of course, his original name in the comics. Where it suffers is having too many subplots that don't get the attention they deserve and not enough for Mirren to do. That said, while it is not nearly as good as its predecessor, it is still a fun, family-friendly film that fans of the first one will still find enjoyable.