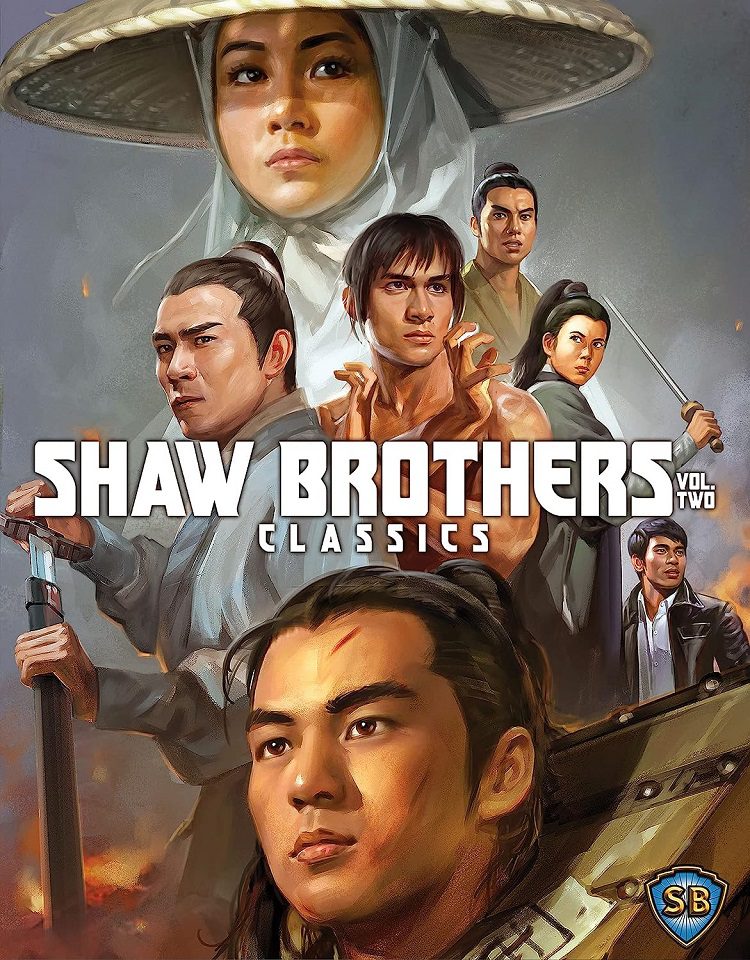 Shout! Factory is elated to bring a new collection of action packed kung-fu tales from the legendary Hong Kong studio to Blu-ray August 15, 2023.  Shaw Brothers Classics, Vol. Two features twelve films from the remarkable filmmakers, never before seen on Blu-ray in North America. Pre-orders can be placed by visiting ShoutFactory.com
Featuring epic face-offs between legendary heroes and hair-raising villains, the box set consists of tweleve films released from 1970-1974. Boasting an exciting array of stars inculding Chen Kaun Tai, Cheng Pei-Pei, Sammo Hung and Ti Lung, the collection includes the films Lady of Steel, Brothers Five, Crimson Charm, Bride from Hell, The Shadow Whip, Delightful Forest, The Devil's Mirrior, Man of Iron, Water Margin, Brides from Hell, Heroes Two and Flying Gulliotine.
The set also contains an abundance of special features inculding interviews and new audio commentaries from authors, critcis, and experts such as Brain Bankston, Chris Poggialia, David West, Ian Jane, James Mudge, Jim Marcovic, Joseph Ellison, Meredith Lewis and Tony Rayns, along with trailers, still galleries and more!
Shaw Brothers Collection Vol. Two Bonus Features
LADY OF STEEL
NEW Audio Commentary by cult film critic Ian Jane
Original Theatrical Trailer
AUDIO: Mandarin Mono DTS-HD Master Audio with new subtitle translation
BROTHERS FIVE
NEW Audio Commentary by James Mudge, Hong Kong Film Critic at easternKicks
NEW Audio Commentary by film historian Brain Bankston (Cool Ass Cinema blog)
Celestial Trailer
AUDIO: Mandarin Mono DTS-HD Master Audio with new subtitle translation
THE CRIMSON CHARM
NEW Audio Commentary by film historian Brain Bankston (Cool Ass Cinema blog)
Celestial Trailer
Original Theatrical Trailer
AUDIO: Mandarin Mono DTS-HD Master Audio with new subtitle translation
THE SHADOW WHIP
NEW Audio Commentary with David West, Critic and Author of Chasing Dragons: An Introduction To The Martial Arts Film
Celestial Trailer
AUDIO: Mandarin Mono DTS-HD Master Audio with new subtitle translation
THE DELIGHTFUL FOREST
NEW Commentary with cult film critic Ian Jane
NEW Audio Commentary with film historian Brian Bankston (Cool Ass Cinema blog)
Celestial Trailer
AUDIO: Mandarin Mono DTS-HD Master Audio with new subtitle translation, English Dub Mono DTS-HD Master Audio
THE DEVIL'S MIRROR
NEW Audio Commentary with film historian Brian Bankston (Cool Ass Cinema blog)
Original Theatrical Trailer
AUDIO: Mandarin Mono DTS-HD Master Audio with new subtitle translation
MAN OF IRON
NEW Audio Commentary with James Mudge, Veteran Hong Kong film critic at easternKicks
NEW Audio Commentary with Chris Poggiali, co-author of This Fists Break Bricks and Brain Bankston (Cool Ass Cinema blog)
An Iron Will – Meredith Lewis, author of Ask for the Moon: Innovation at Shaw Brothers Studios, a 77-minute documentary on the genesis, rise, peak and fall of the Shaw Brothers movie empire
Original Theatrical Trailer
German Trailer
Celestial Trailer
AUDIO: Mandarin Mono DTS-HD Master Audio with new subtitle translation, English Dub Mono DTS-HD Master Audio
THE WATER MARGIN
NEW: Audio Commentary with film historian Brian Bankston (Cool Ass Cinema blog)
The Master: Chang Cheh
Elegant Trails: Ti Lung
Extended Love Scene
Original Theatrical Trailer
Celestial Trailer
TV Spot for the U.S. release SEVEN BLOWS OF THE DRAGON
AUDIO: Mandarin Mono DTS-HD Master Audio with new subtitle translation
THE BRIDE FROM HELL
NEW Audio Commentary by James Mudge, Hong Kong Film Critic at easternKicks
A More Traditional Terror: Hong Kong film historian Tony Rayns talks Shaw Brothers horror films
Original Theatrical Trailer
Celestial Trailer
AUDIO: Mandarin Mono DTS-HD Master Audio with new subtitle translation
HEROES TWO
NEW Audio Commentary with David West, Critic and Author of Chasing Dragons: An Introduction To The Martial Arts Film
Original Theatrical Trailer
German Trailer
Celestial Trailer
AUDIO: Mandarin Mono DTS-HD Master Audio with new subtitle translation, English Dub Mono DTS-HD Master Audio
THE FLYING GUILLOTINE
NEW Audio Commentary by James Mudge, Hong Kong Film Critic at easternKicks
NEW Audio Commentary with Chris Poggiali, co-author of This Fists Break Bricks and Brain Bankston (Cool Ass Cinema blog)
NEW Flying without Wings – actor Kai Kang shares his memories of working with the studio in his first ever on-camera interview
NEW Dubbing Delirium – Joseph Ellison, dubbing artist on FLYING GUILLOTINE for its U.S. release, reflects on the early kung-fu film boom
Original Theatrical Trailer
Celestial Trailer
AUDIO: Mandarin Mono DTS-HD Master Audio with new subtitle translation, English Dub Mono DTS-HD Master Audio
THE DRAGON MISSILE
NEW Audio Commentary by James Mudge, Hong Kong Film Critic at easternKicks
NEW Cutting Comments – Jim Marcovic, editor of many martial arts trailers for U.S. cinemas during the 70s and 80s, speaks about the kung fu film boom
Trailers for some of the films in Shaw Brothers Classics Volume 1 and The Brave Archer Collection (The Jade Raksha, Little Dragon Maiden, Killer Darts, The Flying Dagger, Dragon Swamp, The Brave Archer and His Mate, The Bells of Death, The Sword of Swords, The Invincible Fist and The Thundering Sword
AUDIO: Mandarin Mono DTS-HD Master Audio with new subtitle translation, English Dub Mono DTS-HD Master Audio