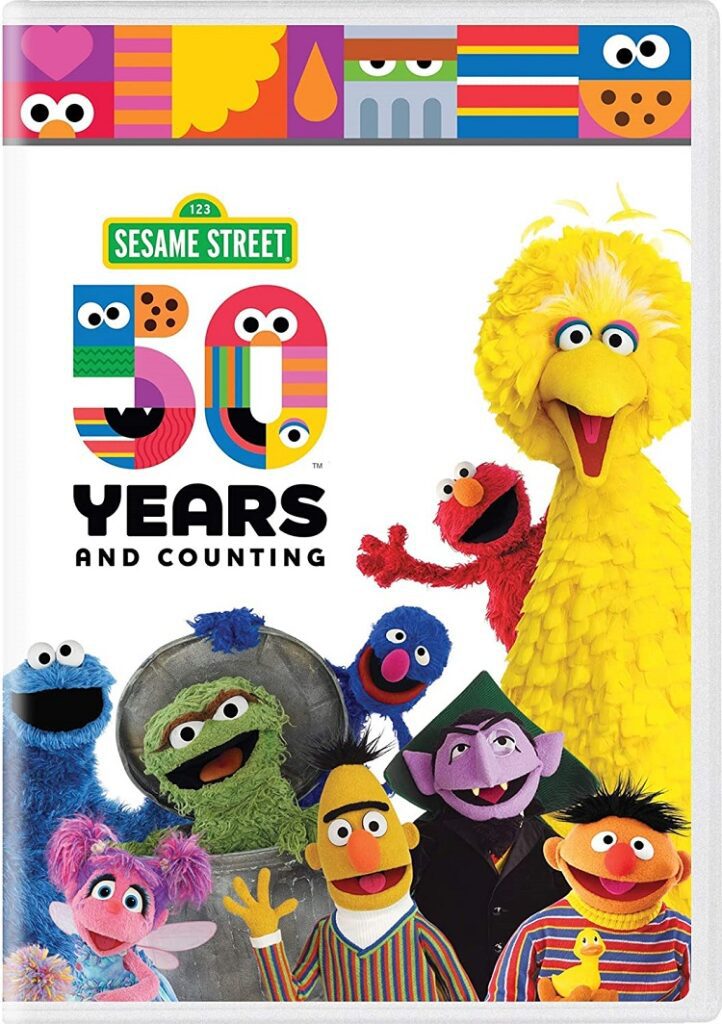 Sesame Street: 50 Years and Counting, available on DVD and as a digital download, celebrates the most successful children's entertainment television program of all time. Although in recent years, there have been dramatic changes due to children's changing viewing habits and economics of producing the show. Sesame Street has been shortened from an hour to 30 minutes and episodes air first on HBO before running on PBS stations and its affiliated websites nine months later. Yet, it still continues its core mission of educating children in entertaining ways.
I was born in 1967 and grew up with the show, which was a combination of sketches on the "Street" and set elsewhere featuring humans and Muppets intercut with short films that were both live action and animated. Each episode focused on particular numbers and letters and offered other lessons about growing up.
The first disc runs 190 minutes and is a collection of individual moments that are presented under chapter titles. For example, the first is "Fuzzy and Blue," which is also a song, and this section includes clips of monsters that fit that description, such as Grover, seen working as a waiter and in his heroic guise SuperGrover, and Cookie Monster singing "C is for Cookie". In 1999, R.E.M. turned their 1991 hit "Shiny Happy People" into "Furry Happy Monsters" with Kate Pierson of the B-52's replaced by a Muppet that looks like her. Working through this disc, it was interesting to see how long some of the older sketches and scenes would run.
The second disc runs 160 minutes and presents longer overarching stories that ran through an episode, such as:
"Gordon & Snuffy Run the Marathon" – The Sesame Street gang goes to root on Gordon running the NYC marathon. Big Bird's friend, Mr. Snuffleupagus, is also running, but at this point, no adult has seem him, so they assume he is imaginary. "Snuffy is Revealed" – Concerned about the message it sent about adults not believing children, Snuffy is finally seen by the adults. Phil Donahue parodying himself is hysterical, though only older viewer will get the joke.
"I'll Miss You, Mr. Hooper" – Will Lee, who had played Mr. Hooper since the show's debut, died December 7, 1982. Rather than ignore this fact by recasting or explaining the character had moved away, the producers created a special episode where Big Bird struggled to understand Mr. Hopper's death, which was surely an issue some children would also experience. The material was handled well and remains effective. Unfortunately, Mr. Hooper doesn't make an appearance in the set.
New-to-me segments include the introduction of characters such as Abby Cadabby, a fairy godchild; Julia, a Muppet with autism; and Bob's Brother, an archaeologist named Minneapolis (Jeff Goldblum). Also, "Around the Corner" – A group of kids and Muppets head to a new playground. It's fun to see other buildings and adults (at least they were new to me) but when they get there, it's not open yet. Comes as a surprise none of the adults they encountered knew. Madeline Khan cuts the ribbon to open the park.
Having to compile a greatest hits for a 50-year-old show is a daunting task and the makers of this collection do a great job considering there are thousands of episodes to choose and the number of viewers the show has had. There were actors and Muppets, familiar and new. There were bits I remembered like Oscar the Grouch singing "I Love Trash" or the short film "There's a Bird on Me" along with bits I am sure other viewers remember like Cookie Monster in "The Biscotti Kid" and Ricky Gervais singing a lullaby about the letter N to Elmo, though the chorus would get quite loud. Another highlight is "Born to Add," a riff on Springsteen's "Born to Run". Unfortunately, there are no extras so for those wanting to learn about the behind the scenes, they will have to go elsewhere.