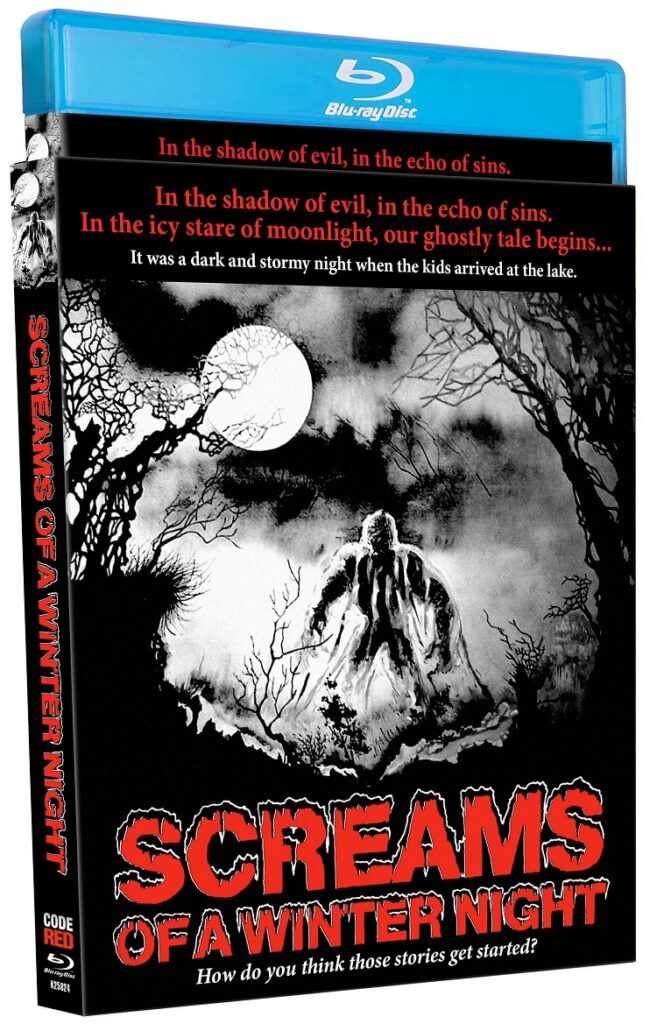 I may be in the majority here, but I liked James L. Wilson's 1979 anthology film (and sole directorial effort) Screams of a Winter Night. It may look primitive but there's something oddly authentic about it that helps rise it above other outings like it, such as The Town That Dreaded Sundown. It's a small, late-'70s cult item that deserves some attention.
A group of college kids go to a remote cabin in the woods (yes, because that's such a good idea in a horror flick) for a weekend. To relieve boredom, they tell each other creepy stories (which many of them play different characters in all of them). The first story is about a couple getting lost in the woods when their car breaks down. They are terrorized by a Bigfoot-like creature. This is a variation of The Hook, a famous urban legend. The second story has three fraternity brothers spending the night in a supposedly haunted hospital. The color green definitely has an important aspect in this one, in an unsettling way. The third and final story centers on a young woman who turns into knife-wielding psycho after an attempted rape. The wraparound story (the main plot) involving the entire group turns out to be most terrifying of them all, where they are menaced by an unseeable force that has kept people away from the area for years.
Yes, it's far from a perfect film, but it has a certain charm to it. The three stories do have equals parts mystery and dread. The ambiguity of it all is a nice change of pace from the usual blood and guts that would dominate horror in the '80s. The cast of unknown actors (including a cameo at the beginning with a pre-Fright Night William Ragsdale as a gas station attendant) gives the film a certain level of realness, meaning that they look and behave like real people, which makes their impending doom in the climax all the more unpredictable and troubling.
What I failed to mention is that there is a fourth story, about a tree witch terrorizing a local cemetery. It was thought to be lost. However, it has been restored to the uncut director's edition, which is available on the new release from Code Red. Also included is the original theatrical cut (without the fourth story); a brief intro by actor Gil Glasgow ("Steve") (in uncut version only); on-camera interview with Glasgow; and trailers (including one for the film itself, The Fifth Floor, The Dark, Street Law, and Conquest).