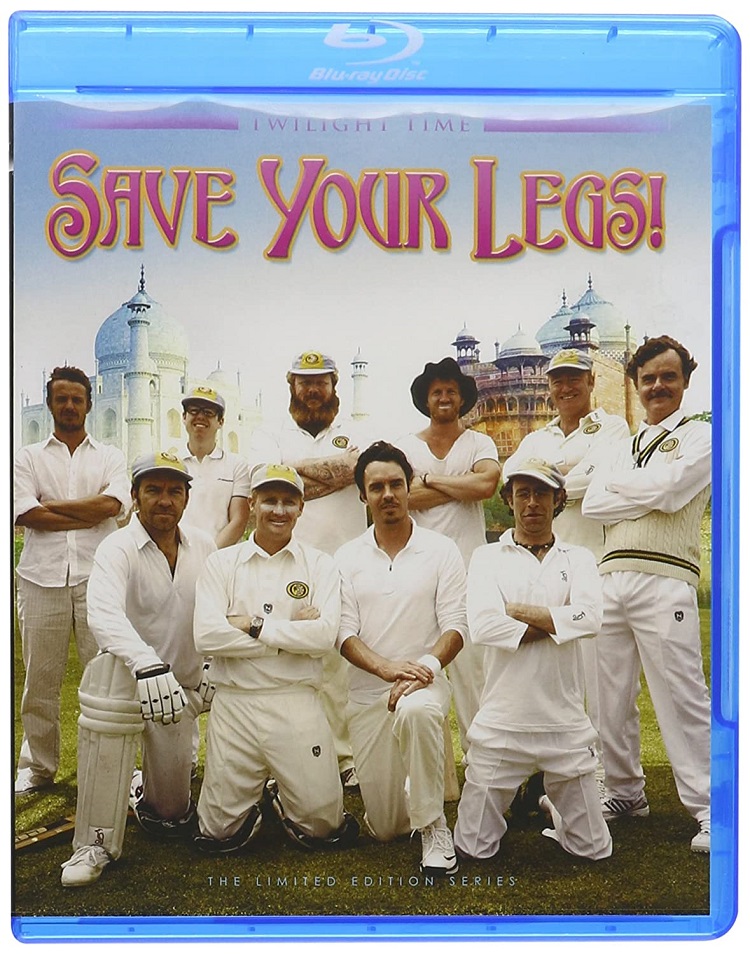 I know what you're thinking: "Twilight Time finally brings us a movie from Australia, and it's about cricket?" OK, well maybe that was only what I myself was thinking as I stood there, looking down at the title in my hands with an overwhelming feeling of ambivalence, to wit I eventually loaded the 2012 Aussie comedy Save Your Legs! into my machine and sat down for something I was – as you may have already guessed – totally and completely uncertain of. Much to my surprise, it wasn't half-bad. It wasn't all that great, either – but then, this photoplay does hail from the continent responsible for unleashing vegemite sandwiches onto the world, and pronounces "beer" "Foster's".
Of course, I know nothing about sports. More so when it comes to something as foreign to an unathletic American as cricket. But I can, however, relate to the concept of a loser – especially one that's a late bloomer. Here, Stephen Curry plays Edward "Teddy" Brown: the nerdiest of nerds with an adoration for what is probably the only international sport to feature both a sweater and a jockstrap, and who presently resides in the garage of his married friend Stavros (Damon Gameau, the Australian Russell Brand), after being dumped by his former love. Unbeknownst to Teddy, Stavros has been asked by his wife to toss the ball-juggling 35-year-old tosser out. But that has to wait first, as Teddy has somehow arranged for his league of relatively unfit misfits to go to India for a tour.
Not only does it turn out that Australia has sports, but apparently, India does too! Who knew?
And thus begins a fish-out-of-water tale set within a coming-of-age-a-bit-late-in-life story. As Teddy's mostly uninterested friends prefer to indulge in the sights, sounds, and smokes that India has to offer, our anti-hero slowly starts to get a grip on the sticky wicket his life has become. It's time to grow up, Teddy – especially when your friends have already started to do so, when there's a hot Indian chick (Pallavi Sharda) with a hard-to-fathom crush on you (hey, most American sports geeks have significant others, right?) and when there's a real jerk of a self-important Bollywood movie star (Sid Makkar) who looks like he just leapt right out of the '90s with a much-more-fathomable crush on her.
Brendan Cowell co-stars and provides the script for this film based on a 2005 documentary (of the same name) that highlighted the actual tour of a low-grade cricket team's tour of India. Naturally, Cowell takes a number of liberties here in order to make his title more of a marketable, cinematic sort of affair, though the running gag of Curry's character constantly having the runs – which sort of redefines Curry sauce in my overstuffed and overwhelmed book of bad puns – successfully reaches the "OK, enough already!" summit faster than most average American viewers will be reaching for the remote when the movie breaks into a Bollywood song-and-dance take on the '70s English reggae song "Dreadlock Holiday" for its finale.
In short: Save Your Legs! doesn't take itself too terribly seriously, and I don't suppose you should, either. If you like sports comedies and are tired of the mundane, run-of-the-mill fare the subgenre usually cranks out, this might be a welcomed change of pace for you. It certainly wasn't my kind of feature, but it managed to hold my interest on a lazy Saturday afternoon quite sufficiently.
Twilight Time brings us the rather new Save Your Legs! to America in a well-above-average transfer (it is a newer movie, after all) that presents the movie in its original 2.35:1 aspect ratio. Accompanying the movie is a DTS-HD MA lossless 5.1 soundtrack, and English (SDH) subtitles are included. An isolated score is available as a 2.0 DTS-HD MA track, and an audio commentary with cast and crew is also on-hand. Additional special features for this release include the original 2005 Save Your Legs documentary, a behind-the-scenes featurette, theatrical trailer, and liner notes by Twilight Time's Julie Kirgo.