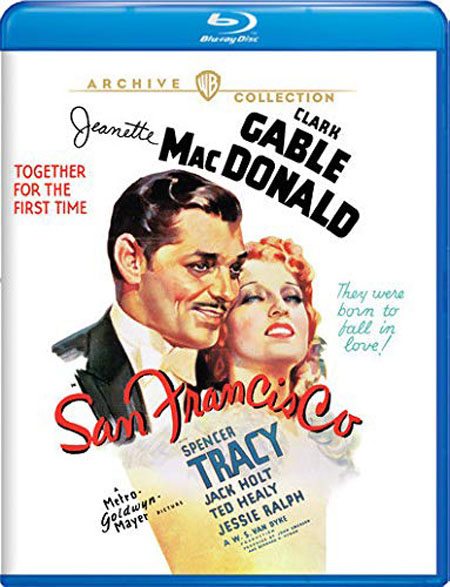 The San Francisco earthquake of 1906 is the backdrop for this handsomely mounted 1936 MGM production, which spends far too much time setting up a soapy melodrama. Beyond the quake itself, though, the lead performances are the show.
Back when the term "movie star" meant something, Clark Gable plays Blackie Norton, a saloon owner who hires chaste Mary Blake (Jeanette Macdonald), a poor parson's daughter, to sing in his nightclub act. Soon, they are an item and she's the toast of the Barbary Coast; but, as Blackie gains political ambitions, Mary lands in a tug of war between him and his business rival and political foe, Jack Burley (Jack Holt). Burley doesn't sweep her off her feet, but he does run the Tivoli Opera House, at which he secures top billing for her. Though Mary is indebted to Blackie, many regard his venue as a place for cheap and disreputable entertainment. He also loses points with Mary when she sees the suggestive posters used to promote her. Between her wish to sing at the Tivoli and the coarse way he treats her as a business proposition, Mary can't be faulted for shifting allegiances. As the film's moral compass, Father Tim Mullen (Spencer Tracy) offers counsel to the sweethearts. Mullen is Blackie's conscience, a sensible man of God who throws a mean punch and knows Blackie from their hardscrabble days as kids.
All this leads to the climax—the earthquake. Part of the tension that undergirds the film stems from us not knowing when the quake will hit. When it does, though, we are ready for it. Since by this point the romance between Mary and Blackie has reached an impasse, it's both hokey and fitting that only a natural act of God can shake things up. Sure enough, the quake is a doozy. In a hard-hitting montage by John Hoffman, the second unit director, the city turns into an apocalyptic wasteland. The earth splits; buildings crumble and explode, striking man, woman and child.
Staged and set-bound though they are, the earthquake and its aftermath are rife with detail. This is sobering and impressive stuff: By today's standards, the FX are crude, but they have a tactile quality. As Blackie searches the rubble for Mary, one can't help but marvel at the breadth of destruction. The weight of his search, and of the lives dispatched, is felt. Gable fills out his character arc with a not-so studly show of emotion—which is very manly indeed. He finds God.
These last 20 minutes are the chief reason to see San Francisco. Still, had the core trio of Gable, Macdonald & Tracy made less of an impression in preceding moments, the final reel would have lacked punch. The film's status (and equivocal success) as a disaster epic aside, you can enjoy it because it's a sturdy and slick MGM production from the 1930s.
Fresh off her hit performance in Rose Marie, Macdonald, who had a superhuman set of pipes, is fetching, and a poor match for Gable. Her character is such a wet blanket that I kept thinking she might have had a deeper impact had she and her role loosened up. And Macdonald sings an awful lot in this picture—too much for my taste. The cumulative effect of those high notes becomes wearying.
In contrast, Gable and Tracy exude great charisma. Gable is astounding, always seeming privately amused by how dashing he is. Still, he seems 100 percent committed to his character; to the things that matter to Blackie most. It's a dress rehearsal for Gable's performance as Rhett Butler in Gone with the Wind. Tracy, too, is a model of ease. Given far less screen time than Gable, he delivers his lines with an inner wink. From conception to execution, Mary Blake gets a raw deal. The more interesting, and believable, romance is the platonic one between Blackie and Father Mullen.
For features, the Warner Archive Blu-ray offers a bonkers cartoon, "Bottles," plus a Technicolor newsreel, "Night Descends on Treasure Island." Combined, these give the viewer a sense of what a night at the flicks might have been like for those in attendance during this era.