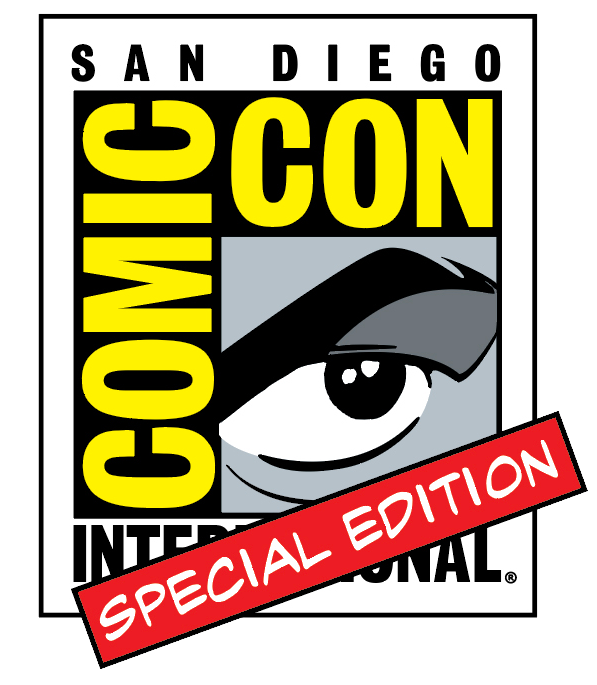 After cancelling their traditional summer conventions of the past two years due to Covid, the folks who run San Diego Comic Con launch their first in-person convention this Friday. The Special Edition is a smaller affair due to multiple factors, such as taking place over the holiday weekend and some still being cautious about traveling and being among large groups of people. As such, the guest list isn't as star-studded, but there are still some engaging panels to see. One always needs a flexible schedule at a Comic Con, but there are the panels I currently plan on attending:
Friday, Nov 26
21st Annual Animation Show of Shows – Room 6DE – 2:00 pm–3:30 pm
The Animation Show of Shows returns with a curated selection of the "best of the best" animated short films created by students and professionals from around the world. Featuring eight films from seven countries. Curator/producer Ron Diamond presents and will lead a post-show Q&A.
Ray, Forry, Ray: Ray Bradbury, Forry Ackerman, Ray Harryhausen, and the Friendship That Birthed Fandom – Room 29AB – 4:00 pm-5:00 pm
Before anyone heard of them, Ray Bradbury, Forry Ackerman, and Ray Harryhausen were three young friends who rode the red car, saw movies together, and contributed to each other's zines. Orty Ortwein (author and docent for the Ray Bradbury Experience Museum) will explain how this friendship enhanced their careers and spawned modern fandom.
Scott Shaw!'s Oddball Comics Really-Truly-Live: The "Wear Your Mask" Edition – Room 7AB – 5:00 pm-6:00 pm
This presentation's timely theme will be "masked" comic book characters! You'll be exposed to an all-new assortment of funny, creepy, goofy, sexy, weird, silly, and bizarre oddball mainstream comics covers featuring masked heroes, villains, monsters, and more in situations that will make you think, "How the !?!#%&!?! did this ever get published?"
Rod Serling's Night Gallery: An After-Hours Tour – Room 8 – 7:30 pm-8:30 pm
Rod Serling's classic 1970s horror series Night Gallery, which spawned the directing careers of Steven Spielberg and Leonard Nimoy and many stars of TV and film, celebrates 50 years. Join the artist who created the original Night Gallery paintings, Tom Wright (director, NCIS, Supernatural), along with Jim Benson (co-author, Rod Serling's Night Gallery: An After-Hours Tour) Taylor White (publisher and proprietor of Creature Features), and surprise guests for a retrospective of the art, horror, and creative legacy of a show that has inspired so many genre creators of today. Benson and White will be previewing an updated edition of the Night Gallery book, Rod Serling's Night Gallery: An After-Hours Tour: A 50th Anniversary Retrospective.
Saturday, Nov 27
100 Years of Visual Effects – Room 3 – 1:30 pm-2:30 pm
This title is a lie! Visual effects has been around for 115 years! Geoffrey Mark (Serenity, The Orville) takes you through the visual language of film and the brilliant minds who created mind-blowing effects to tell the most fantastic stories we all know and love.
Larry Nemecek's "The State of the Trek" Fan Forum – Room 26AB – 4:00 pm–5:00 pm
"Dr. Trek" Larry Nemecek (The Trek Files, Portal 47) will kick things off and referee as you vent or share your thoughts with fellow fans about current Trekland: the changing face of media, fandom, culture—and what it all means for Star Trek. Lower Decks, kid-centric Prodigy, Picard's familiar but dark faces, the evolution of Discovery, old-school Strange New Worlds and the elusive big screen Star Trek 4 are all up for discussion. Also slated as a special edition of The Trek Files podcast, from Roddenberry!
Telling the Story of Comic-Con – Room 29AB – 5:00 pm-6:00 pm
For over 50 years, San Diego Comic-Con has had a profound social and cultural impact. It helped to turn fandom into a force to be reckoned with and provided the setting for pivotal moments in the history of comics and entertainment. A few storytellers have made it their work to preserve and promote the history of SDCC in books, photographs, recordings, and podcasts as a way to connect today's event to its origins and build bridges across generations of fans. Join two of Comic-Con's founding generation, Mike Towry (Comic-Con Memories) and Jackie Estrada (author, Comic Book People), podcast producer Mathew Klickstein (Comic-Con Begins), and author Rob Salkowitz (Comic-Con and the Business of Pop Culture) for a conversation about Comic-Con's roots and ongoing role in 21st-century pop culture.
The San Diego Comic-Con Special Edition Masquerade – Ballroom 20 – 8:00 pm-10:00 pm
Ballroom 20 stage becomes a celebration of cosplay costuming with a fun competition inspired by comics, movies, and other pop culture, with impressive re-created and original design costumes crafted by our talented and creative attendees. Not a dance or party, it's part talent show, part fashion show, with clever stage presentations, trophies, and cash prizes. Always one of the most popular events at our cons, doors will open for audience seating at 7:30, but the line for choice seating will begin earlier. Unlike our usual Comic-Cons, tickets are NOT required for seating. During the judging break, there will be special live entertainment from The Corps Dance Crew, and The Saber Guild performance group. (Overflow seating with live video provided if needed in Room 23ABC)
Sunday, Nov 28
Cartoon Cereal Boxes from Around the WORLD – Room 23ABC – 12:00 pm-1:00 pm
Duane Dimock shows you really weird cereal boxes from around the world and how superheroes and cartoons took over kids' cereal boxes on earth. He starts in 1869, scuttles to 1930s Mickey Mouse, flies to 1940s Superman, then examines the '60s to the '00s while showing big pictures of domestic and foreign cereal boxes. From the past 25 years, Duane has hand-picked the funniest foreign cereal boxes from the shelves of Iceland, Hungary, Japan, Norway, Mexico, Taiwan, Scotland, China, England, and Czechoslovakia.
In the Beginning: The Origin of Comic-Con from the "Kids" That Started It – Room 9 – 2:00 pm – 3:00 pm
In 1969 a group of teenagers came together and helped start what would become the San Diego Comic-Con. Hear how it all began from the "kids" who made it happen. Don't miss this rare opportunity of a gathering of some of the convention's founders! Panelists include Mike Towry, William R. Lund, Dave Clark, and Scott Shaw!, with moderator Jackie Estrada.
Badges appear to still be on sale and the entire programming schedule has been posted. Whether going or not, what panels are you most interested in?