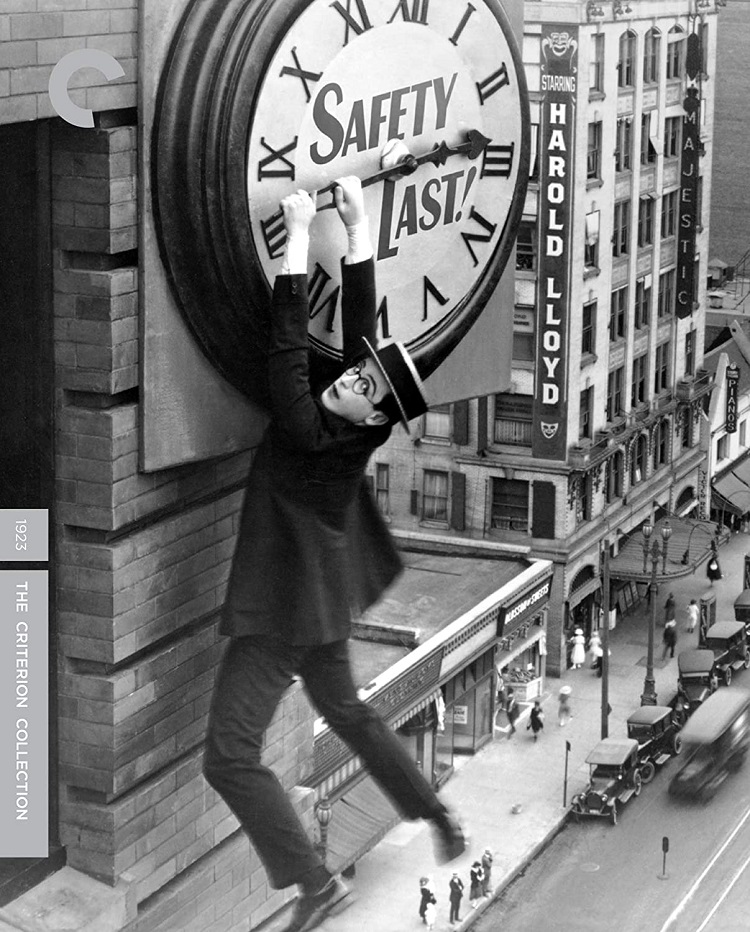 The matter of Harold Lloyd's lack of fame has been of much discussion over the years. He is often cited by film buffs as one of the three masters of the silent comedy era, with the other being Buster Keaton and Charles Chaplin. Yet somehow the Nebraska-born Lloyd is often now overlooked in conversations about the subject, despite the fact that he made more pictures than Keaton and Chaplin combined.
Safety Last!, available now on Criterion Collection Blu-ray, is perhaps Lloyd's most well-known work. The famed clock scene has been often imitated, even in commercials, but most people still aren't quite sure who's responsible for dangling from the timepiece. This 1923 picture is more than just one set piece, however, and its blend of comic thrills is impossible to resist.
Lloyd stars as the Boy, a bespectacled character who is in love with the Girl (Mildred Davis). He will stop at nothing to impress her and we meet him when he's heading out to the big city to make good so that he can marry her. Unfortunately, the Boy has a tough time getting things together and only lands a job as a fabric cutter of sorts at a massive department store.
The Boy lives with Bill (Bill Strother) and together they try and fail to make rent. One day, the Boy has an idea: he's going to use Bill's recently unveiled climbing talents to draw attention to the store. This will not only help him land a much-needed fiscal win, it'll help him land the Girl for good. Unfortunately, just about everything that can go wrong does go wrong.
From the outset, this Fred C. Newmeyer and Sam Taylor-helmed picture is a comedy of errors and exquisitely euphoric pessimism. The thread of darkness is apparent with the first shot of the film, a sight gag that not only leads the audience to the death-defying lunacy to come but suggests somewhat of a sinister yet hanging thread of justice.
Of course, Lloyd's character is another step in the cynical direction. The idea behind his hero, who appears in many of his other pictures with glasses with no lenses in tow, is a play on the idea of the "studious" and "polite" nature of a man with spectacles. The glasses, much like other comic props, served to mask Lloyd and provide him a form of freedom for his character.
In this light, the audience is able to cheer for the Boy and panic when things go horribly wrong. Indeed, screenings of the picture were often parades of screams and peals of laughter at the sights. Lloyd's character must be relevant if he is to be taken seriously when in jeopardy, so it matters that the audience cares about him and what he goes through.
Beyond caring about him, the audience must be able to feel themselves in his shoes. Lloyd accomplishes this not only with his perfect comic timing but with the edifice of Safety Last! itself. We relate to his desires to impress someone and to his spirited insistence on having the Girl believe the very best of him, even to the extent that he deforms his way into the General Manager's office and bosses around other workers above him in the pecking order.
With this in place, the audience can settle into the payback-and-more-payback assembly of this film. Lloyd is never content to simply let one gag linger; each crack gives way to another until there's somewhat of a pile-up. Consider the scene in which he cunningly handles a mob of zealous ladies at the fabric counter, for instance.
Safety Last! is an iconic film in more ways than one. Its much-discussed climb is indeed the vital moment, but there are smaller things at play as well. The relationship between the Boy and Bill borders on the very stupid, with a particularly hilarious scene involving a cop and a shove. Is it a coincidence that the two ill-starred roomies in 1994's Dumb and Dumber are christened Harry and Lloyd?
There's also the matter of the endangered lunch, with some immaculate camerawork showing various food items disappearing as the Boy's dough goes the way of an admittedly stereotypical scam artist. Lloyd's riposte to his snarling appetite is a belt-notching triumph, at least for the time being, and it underscores his desperation to please the Girl.
The Criterion Collection Blu-ray of Safety Last! delves into these and other elements of the picture with a horde of bonus features, including commentary by critic Leonard Maltin and Lloyd archivist Richard Correll. The commentary is very insightful, especially when it comes to the technical details of the climbing sequence.
There are also three newly restored shorts (Take a Chance, Young Mr. Jazz and His Royal Slyness), plus a 108-minute documentary that explores Lloyd's relationship to his craft and digs into the explosive injury that made scaling the façade all the more challenging. An introduction to Safety Last! by Lloyd's granddaughter is interesting for its personal recollections, while Locations and Effects deals in the magic behind the "thrill pictures."
The Blu-ray transfer is fantastic, especially for a film from 1923 that hasn't always been treated with care. The restored 2K digital transfer is up to Criterion's usual high standards and looks clean, coming as it does from the 35mm print from Lloyd's archives. The picture is presented at the variable frame rate of 22 frames per second, which helps it comport with Carl Davis' score.
Speaking of the score, this Blu-ray release offers two options: one is Davis' 1989 restoration score and the other is from organist Gaylord Carter from sometime in the late 1960s. The former offers a fuller experience and even interjects the ticking of a clock for a little aural colour, but there's something neat about the minimalistic organ score as well.
Also included is a booklet by critic Ed Park, providing the final touches on yet another wonderful release by Criterion Collection. Fans of silent comedy would be well-served to pick this Blu-ray up while time is still on their side.