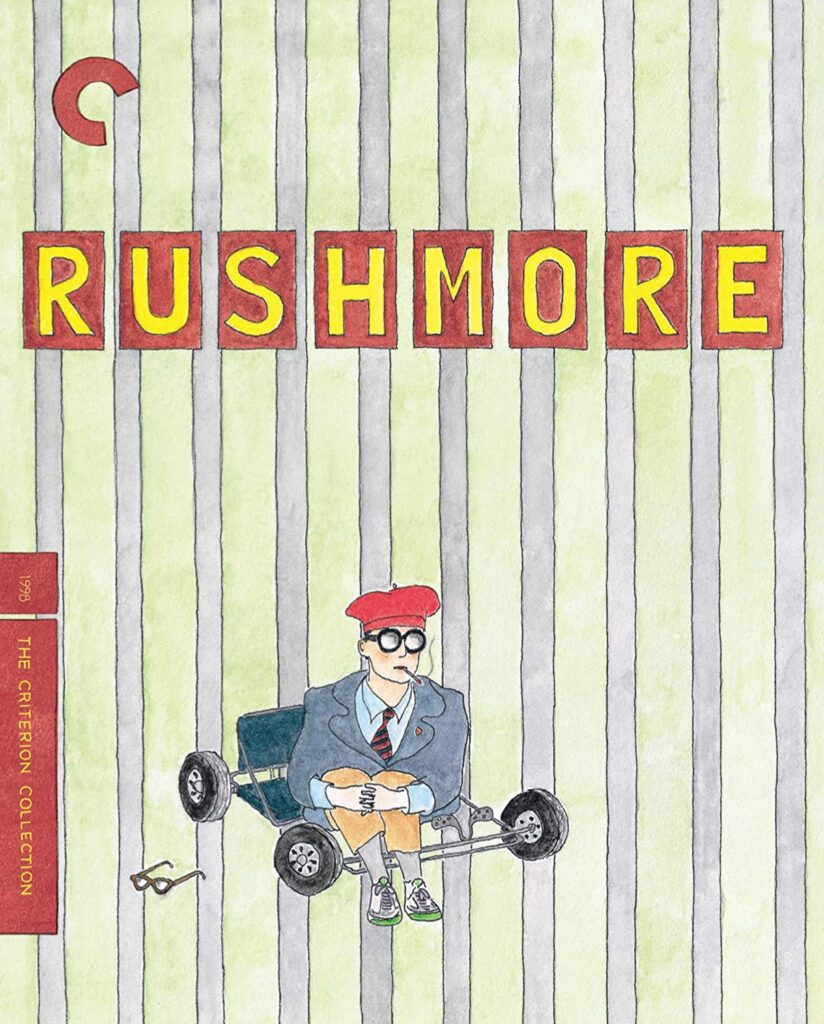 The Film
By and large, there's been quite a backlash against the films of Wes Anderson, and even though I'm a fan, I'll admit it's not entirely undeserved. I don't buy the idea that his specific brand of highly designed twee dysfunction is subject to steeply diminishing returns (his weakest film, The Life Aquatic, sits right in the middle of his filmography), but it is true that actual human emotion can get squeezed out by all the overtly manufactured elements of Anderson's style.
But that's not at all the case with Rushmore, Anderson's sophomore feature and in my estimation, the perfect distillation of everything that makes him a worthwhile filmmaker. Jason Schwartzman's Max Fischer is a character that Anderson pushes to the edge of precociousness and obnoxiousness, but he undercuts that with a beautifully observed sense of melancholy that makes the film so much more than unfettered whimsy.
Max Fischer is one of the preeminent faces of prep school Rushmore Academy, where he has his hand in everything from beekeeping to calligraphy. He's also, as Brian Cox's headmaster dryly intones, "one of the worst students we've got." Max is obviously a bright kid, but Anderson doesn't oversell the paradox within. He allows the character to be obsessed with appearances and his own projected ego, and slowly reveals the layers of sadness that may have gotten him there.
Max finds a kindred spirit in Herman Blume (Bill Murray, in the role that sparked his brilliant mid-career reinvention), a wealthy industrialist depressed by the state of his marriage, his meathead kids, and his empty upper-crust life. At the same time, Max strikes up a friendship — and what he hopes will turn into romance — with widowed first-grade teacher Miss Cross (Olivia Williams), and despite her continued rebuffing of his age-inappropriate advances, Max presses on. Coexisting with his questionable conception of himself is an admirable outsized ambition, seen in the elaborate school plays he writes and directs.
Too often forgotten when discussing the film is Mason Gamble, who plays Max's impressionable young friend and chapel partner Dirk Calloway, and provides some optimistic comedic leavening to the more conflicted characters around him. After all, Rushmore is a perfectly pitched comedy no matter how melancholic it becomes, with Anderson and Owen Wilson's script understanding that the pair isn't mutually exclusive.
Anderson has always had an eye for gorgeous composition, and his widescreen images, progressing through the passing of seasons, are no exception here. But nowhere does one feel that a carefully crafted aesthetic crowds out the human comedy and drama in Rushmore, which becomes more resonant with every viewing for me.
The Blu-ray Disc
Happily, Criterion has finally got around to upgrading this early release, and it offers a vast improvement over the 2000 DVD, which was perfectly acceptable for the time, but didn't feature great sharpness and had a lot of digital noise. This 1080p high definition transfer presents the film in its original 2.35:1 aspect ratio, and improves tremendously on the DVD. The color palette, especially deep reds and blues, is rich, and the image has an excellent film-like sense of fine detail. Images are sharper and clearer, and while there are a few marks visible, there's very little damage to be found.
The back cover of the disc designates the film as the "director's cut," a description that was not found on the previous release. But as far as I can tell, the film hasn't been altered in any way.
The audio is presented in a 5.1 DTS-HD Master Audio track that features excellent clarity and a decent use of the surrounds. The track is at its best when pumping out the array of British Invasion tunes on the soundtrack, all of which sound great here.
Special Features
Criterion ports over all the extras from the previous release, starting with an audio commentary from Anderson, Wilson, and Schwartzman. There's also a nearly 20-minute making-of, directed by Anderson's brother Eric Chase Anderson, which offers a cursory and humorous look at production. An episode of The Charlie Rose Show featuring Anderson and Murray has the two discussing the origins of the project and how Murray got involved, with much of the focus being put on Anderson's status as an up-and-comer in the film world.
One of the best extras is the collection of 1999 MTV Movie Awards promos that feature Max Fischer's acting troupe performing theatrical parodies of Armageddon, Out of Sight, and The Truman Show. The disc also includes audition footage for several of the young actors including Schwartzman, storyboards, and a film-to-storyboard comparison, a photo gallery and the theatrical trailer.
The package also includes an insert with an essay by Dave Kehr and a poster with a hand-drawn map of Max's world, illustrated by Eric Chase Anderson.
The Bottom Line
For fans of the film, this is an essential upgrade, and for the Anderson doubters, this is a must-see on the potential path to reevaluation.