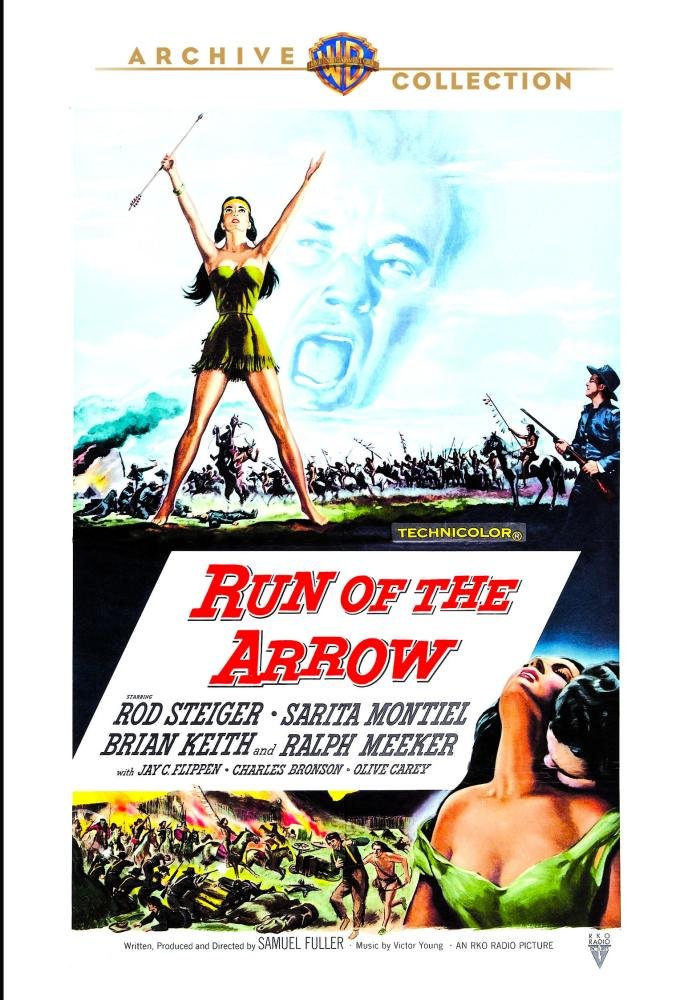 A simple surf through the today's news channels should painfully remind you human beings don't see eye to eye on a great number of things. This, of course, can lead to war and an unending hatred and fear of people whose cultures are dissimilar to our own. But if there's one thing most film aficionados and historians will agree on, it was filmmaker Samuel Fuller's ability to pen a great story – especially when it came to depicting man's inhumanity to man. With Run of the Arrow, 1957 western produced by RKO Radio Pictures (hey, check it out: it's the RKO logo in widescreen and in color!) and subsequently released by Universal Studios, the late writer/producer/director brings us a tale of war, hate, and fear. But in a typical Samuel Fuller "tabloid" style, naturally.
Here, Rod Steiger – a revered performer who can either be breath of life or the kiss of death for the motion picture he is cast in, depending on how much a director lets him overact (see: The Specialist) – plays an Irish Confederate named O'Meara, who is only too eager to shoot down a Yankee any time of the day. And that's precisely what he does at the very beginning of the film: gunning down an exhausted Union officer from afar before rummaging through the fallen soldier's pockets for food. When he discovers his victim is still alive, however, he – for reasons even he doesn't understand – takes the wounded man to the local doctor's tent. Said medical setup happens to be Appomattox, at precisely the same time General Lee had surrendered to General Grant.
Firing the final round of any war is certainly not something most men can claim credit for, but in this instance, O'Meara has fired the very last shot in the American Civil War. While his family and friends commemorate his last shot by taking the old bullet and refashioning it into a new one, complete with an engravement, O'Meara is inconsolably bitter. Leaving his old life behind, the disillusioned Irishman heads West, where he makes the acquaintance of a drunken Sioux-born scout for the US Army named Walking Coyote (Jay C. Flippen). Needless to say, the two get along admirably – and over an undisclosed period of time, Walking Coyote teaches O'Meara – a man in search of a new country – the Sioux tongue.
And the timing for the conclusion of the language lesson couldn't be any better, as soon, local Sioux warrior Crazy Wolf (H.M. Wynant) captures the pair – sentencing the white man and traitorous Sioux to death. Walking Coyote instead requests he and his just-as-doomed comrade from another culture be permitted the Sioux's Run of the Arrow challenge: wherein both men are given a fleeting chance – literally – as they attempt to outrun Crazy Wolf's arrows, barefoot. It isn't pretty, but the young Sioux woman (Sara Montiel, with a voice provided by Angie Dickinson) who secretly rescues O'Meara is. In fact, O'Meara takes her as his wife when he asks Tribe leader Blue Buffalo (Charles Bronson) to join the Sioux. (Wow. It's almost as if this movie inspired Dances with Wolves or something!)
As more unestablished time passes, O'Meara is assigned to be a scout for a troop of US Cavalry men who wish to erect a fort in Sioux territory. At the head of command is the rational, sensitive Captain Clark (Brian Keith, in a wonderful Obi-Wan Kenobi-ish part), who makes an effort to find O'Meara's lost sense of love for his fellow (white) man. Then there's the hate-filled Lt. Driscoll (Ralph Meeker, at his least meekest), who – if nothing else – is angry that he was the last soldier of the Civil War to have been shot down by a Rebel (guess who)! While the fort building plan is a relatively simple one, complications arise when Crazy Wolf lives up to his name and goes rogue on the palefaces. Matters grow much worse, however, once Driscoll takes over and decides to stray from the plan just so he can start a war with the Indians.
Young Billy Miller plays a mute, harmonica wielding Sioux boy (shades of Charles Bronson's later iconic character in Sergio Leone's Once Upon a Time in the West?), Frank DeKova plays an elder Sioux leader, former B western star Tim McCoy (this time sporting his Colonel title) has a well-billed bit part as a General, and Olive Carey delivers a fine cameo as Steiger's mother in this vastly underrated, well-made B western that makes up for its use of animated flying arrows by being the first feature to use blood squibs. Despite the casting of heavily bronzed white actors as Native Americans (it was the '50s, after all), the Sioux characters do not speak in broken English – which only adds to Fuller's (still relevant) underlying commentary about discrimination. Joseph Biroc provided the Fuller-esque photography, and Victor Young wrote the score.
The Warner Archive Collection brings this seldom-seen work from Samuel Fuller to DVD in a Manufactured-on-Demand release that presents the fascinating feature in its original widescreen aspect ratio with a decent mono English soundtrack. No bonus materials are to be found here, but that shouldn't dissuade Fuller fanatics or students of psychology from scouting this one out. It sure beats checking out the latest headlines in the news, that's for certain.
Recommended.