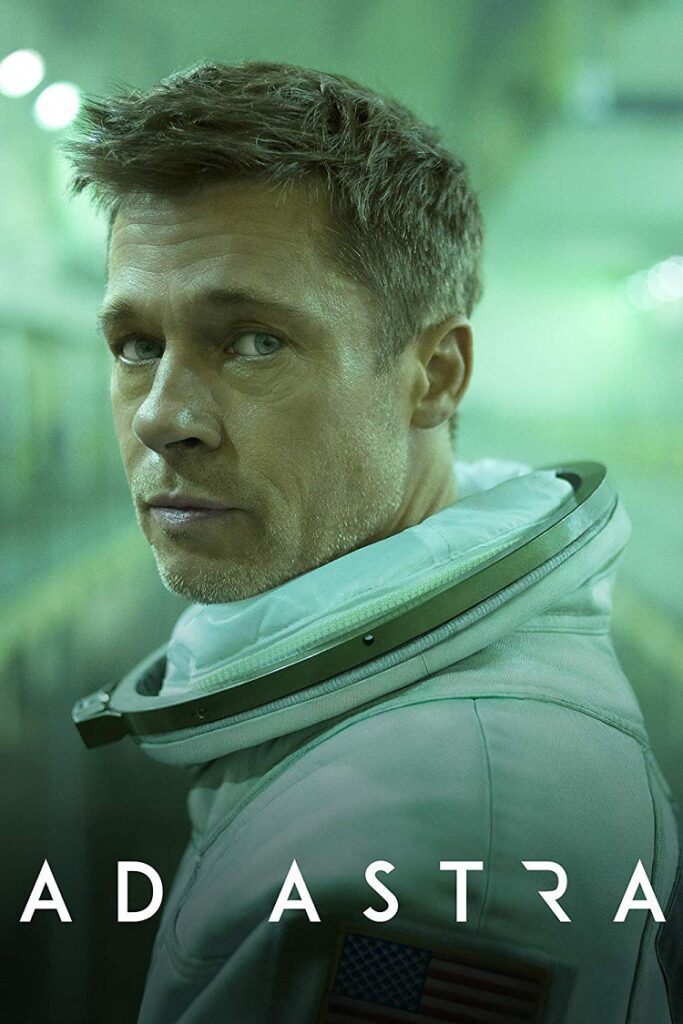 I have a few friends that I go to the movies with regularly. One prefers the luxury theatres, so this Saturday we chose to see Ad Astra at the Cinepolis in Ranch Santa Margarita CA. Ticket price with online booking fee: $22.00. Another $10.00 for a small portion of Zebra Popcorn. You can subtract Ad Astra from your "Movies to See" list.
Roy McBride (Brad Pitt) is the current go-to guy when it comes to all things space, and in Ad Astra, he needs to get to Mars to make a phone call. Earth is being hit by power surges that seem to be related to a mission helmed by Roy's dad (an underutilized Tommy Lee Jones), who has long since been thought dead, at least by Roy. So, Roy needs to go to Mars to call daddy. Mars, along with the Moon, is now colonized in what we are told is the near future. Not sure how they define "near," but ok.
Along the way, Roy runs into space pirates and killer monkeys. He reaches Mars, makes what had to be a toll call, and eventually decides that he needs to go to Neptune to find dad. This turns out to be unfortunate for the crew of the ship heading to Neptune who try to stop Roy.
Ad Astra isn't horrible, it's just slow. So slow that they need to work in the killer monkeys for some excitement and blood. Some will appreciate the special effects, performances, and the story of man's search for meaning, or the story of a man becoming his father. For me, eh, let's see what else this weekend had in store.
I enjoy Cinepolis, but, with Regal now offering unlimited movies for $23.50 a month with its Subscription Pass, it seems like too good of a deal to pass up considering it also includes a 10% discount on food. Not only economical, but conscious clearing for people that would pay for one movie and then sneak into another one, or more. Not anything I was particularly proud of, and I always rationalized it based upon the cost of food, but ultimately, I am much happier using the Regal Unlimited Subscription Pass. I'm also much happier not having to lurk around waiting to see which seats would be open for the next movie. Some guy would always come in late and tell me I was in their seat. I of course would just look at my date and say, "I told you we were in the wrong row. I'm sorry sir, she's drunk."
So, with my Regal Unlimited movie subscription pass loaded on my phone, I headed out to see some movies on Sunday. I chose the All Access option with a 12-month commitment and I plan to get my $282's worth before the year is out. The pass worked great and was easy to use. Unfortunately, the movies did not work
Good Boys is bad. I laughed a few times in the first 15 minutes but 12-year-old boys handling sex toys and dropping F-bombs got very old very fast and eventually made this 90-minute film seem much longer. Many such bits went on too long because there was no other material in the movie. When it gets to the point that the boys are running across a busy freeway, I started to wonder why I was watching this. Certainly not for the performances or storytelling. Writers Lee Eisenberg and Gene Stupnitsky, who also directed, took the easy way out and then tried to make us care about the boys at the end.
Having no luck this weekend with movies that were on my "movies to see" list, I tried one that I had not heard of but that fit into this afternoons schedule. Villains isn't bad; it's interesting, and frustrating. A young couple robs a gas station and then run out of gas a few miles down the road. So, it's a comedy? No. They break into a house in hopes of stealing a car, only to run into the sadistic occupants. The story is good, but it just never quite works. The couple is a bit to clownish at the start of the film and thus it is difficult to care about them later. Dan Berk and Robert Olsen wrote and directed the film, and certainly had a good idea, but as I was watching it, I kept thinking what a good Tarantino movie it would make.
No movie to recommend after this weekend, but I do like the Regal Unlimited movie subscription so far. To see if I get my money's worth, I'm going to track it here as I review the movies I see.
Trip #1 Savings (One ticket* 12.00) + (Concessions discount 10% off $16.50 combo = $1.65): $13.65
Savings to date: $13.65
Regal Unlimited for 12 months: $282.00
*To track this accurately; we must assume that I would have continued with my reprehensible behavior of only paying for one ticket.