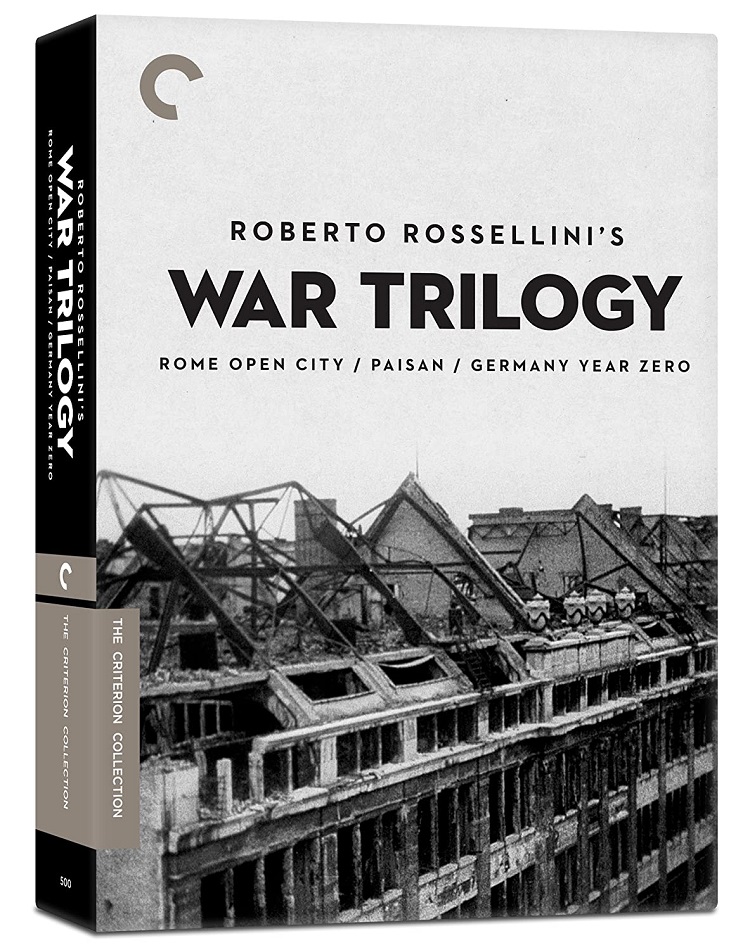 In reaction to what many were experiencing in Italy under Mussolini and after World War II, the Italian neorealism movement sprung up in which artists told stories of the common people's struggles. The realism of the films was enhanced by the use of non-actors as well as shooting on location. Alongside works by Luchino Visconti (Ossessione and The Earth Trembles) and Vittorio De Sica (Shoeshine and Bicycle Thieves), director Roberto's Rossellini had some of the movement's first and most important releases. Collected and released as Roberto's Rossellini's War Trilogy, the Criterion Collection has given Rome Open City, Paisan, and Germany Year Zero high-definition upgrades.
Set during the Nazi occupation of Italy, Rome Open City explores the Resistance, showing the bravery of its members, the evil of the occupiers, and those stuck in between them just trying to survive. Giorgio and Francesco are known Resistance fighters. They get help from Don Pietro and other priests, but local law enforcement defers to German authority, allowing entire apartment buildings to be emptied of its occupants in their search for the rebels. Rome Open City offers a tense tale about those fighting for their freedom as they are never certain who they can trust. Information about them can be a commodity or a curse. The film is rather brutal, refusing to shy away from the violence and murder used by the Nazis to control the Italians.
Paisan is an absorbing anthology set during the liberation of Italy by the Allied Forces. In Sicily, a young woman named Carmela helps out a group of U.S. soldiers that have landed to take on the Germans. In Naples, a kid named Pasquale takes advantage of Joe, a drunk U.S. soldier. In Rome, another drunk U.S. solider tells Francesca, a prostitute, about the woman he fell in love with six months ago when he first arrived. In Florence, two people run through the city, which is under attack by a sniper, in an effort to reconnect with loved ones across the Arno River. Back in Rome, a Catholic monastery opens back up and three U.S. chaplains ask to stay, but the monks are befuddled when they learn one is Protestant and one a Jew. The last sequence takes place in Northern Italy as the fight wages on and captured POWs learn what the Germans think of the Geneva Conventions. Like reading a short story collection, Paisan creates empathetic connections to the characters in short periods of time. Regardless of whether they are true, the stories and the characters come across authentic as if the viewer is looking through a window into the past.
Set in post-WWII, Germany Year Zero finds the citizenry of Allied-occupied Berlin dealing with the impact of having lost the war. Families live on top of each other sharing apartments. The main character of the film is Edmund, a 13-year-old boy, who strives to work and hustle to make money for his family since his father is bedridden, his mother dead, and his older brother, who fought for Germany, is hiding out from authorities. Edmund interacts with Herr Henning, his former teacher and a Nazi, and the man's interest in Edmund is perverse. He has Edmund sell a recording of Hitler on the black market. Henning also has talks to Edmund about how the weak should be dealt with in society, which has a great impact on Edmund.
Germany Year Zero offers a powerful portrait of a populace suffering for the sins of its leaders. While the Nazis certainly got what was coming to them, it's hard not to sympathize with Edmund and others who were stuck in the middle. With German society having allowed evil to flourish for so long needing to start over, as the "year zero" of the title indicates, in terms of the rules in which it will proceed, bad people, like the pedophile Henning, still have time to act and cause damage. The plot's ending delivers an unexpected, heartbreaking twist.
Rome Open City has been given a 1080p MPEG-4 AVC encoded transfer displayed at an aspect ratio of 1.37:1. According to the booklet, "This new digital restoration of Rome Open City was created in 4K resolution from the 35 mm original negative and a 35mm fine-grain positive preserved at Cineteca Nazionale in Rome." The brighter the scene the more clarity and details in the image, although the sides of frames appear out of focus. Whites are bright and blacks inky, although the latter crushes in low-light scenes.
Paisan has been given a 1080p MPEG-4 AVC encoded transfer and is also displayed at an aspect ratio of 1.37:1. "This new digital restoration of Paisan was created in 2K resolution from a 35mm fine-grain positive preserved by Cineteca Nazionale, with the consultation of Tag Gallagher." The film opens with archival footage. In the Sicily sequence, there are many scratches. Also, when the soldiers are walking with the girl, the light fluctuates, causing vertical streaks that appear like light bleeds on the negative. Hairs pop up, and there are a lot of black scratches. When a fire is put out at night during final sequence, the whole frame looks covered in splotches for a bit.
Germany Year Zero has been given a 1080p MPEG-4 AVC encoded transfer displayed at an aspect ratio of 1.33:1. "This new high-definition restoration of Germany, Year Zero was created from the 35mm fine-grain positive. Thousands of instances of dirt, debris, scratches, splices, and warps were manually removed using MTI Film's DRS, while Digital Vision's Phonex was used for jitter, flicker, small dirt, grain, and noise management." Blacks can crush, such as when Edmund finds teens in a basement. There are noticeable white scratches. When Edmund is walking around outside after death of his parent, the image looks grainier, as if its being shot through a screen. The grain resembles posterization on edges of light and shadow in the room where the girl sews.
For the audio, "the original monaural soundtrack [of Rome Open City] was remastered from the 35mm optical soundtrack negative. The original monaural soundtrack [of Paisan] was remastered from the 35mm optical soundtrack positive. The monaural soundtrack [of Germany Year Zero] was remastered from the 35mm original soundtrack. Clicks, thumps, hiss, hum and crackle were manually removed using Pro Tools HD and iZotope RX." During German Year Zero, there's a clear hiss on the audio.
The Special Edition Features for the following discs are:
Rome, Open City
Commentary – Recorded in 1995, film scholar Peter Bondanella, author of The Films of Roberto Rossellini, gives an authoritative look at the film and context about its making.
Introduction by Roberto Rossellini (HD, 3 min) – Made for Roberto Rossellini Presents, a 1963 French television series presenting his films, the director talks about the film's making, trouble with a distributor who didn't like the film, and showing it at Cannes.
Once Upon a Time… "Rome, Open City" (1080i, 53 min) – A 2006 documentary about the film and Rossellini. Notables appearing through archival interviews include director Federico Fellini and actresses Anna Magnani and Ingrid Bergman.
Adriano Apra (1080i, 12 min) – Recorded for Criterion in 2009, film historian and teacher Apra, who has devoted much of his career to Rossellini and his films, discusses Rome, Open City and its making.
Rossellini and the City (1080i, 25 min) – From 2010, author Mark Shiel (Italian Neorealism: Rebuilding the Cinematic City) discusses Rossellini's depiction of the urban settings in Rome, Open City, Paisan, and Germany Year Zero, >using film clips and archival photos to illustrate his points.
Father Virgilio Fantuzzi (1080i, 5 min) – From 2009, Father Virgilio Fantuzzi, a film critic and friend of Rossellini during the last period of his life, discusses the director and the role of religion in Rome, Open City.
Paisan
Introduction (HD, 3 min) – Also from the '63 French TV series Roberto Rossellini Presents mentioned above.
Adriano Apra (1080i, 17 min) – From the same session as above, Apra discusses Paisan and its making.
Rossellini at Rice University(1080i, 14 min)-From 1970, excepts from a video-taped discussion between Roberto Rossellini and faculty members about his films. Leading the discussion is James Blue, then director of Rice Media Center. Rossellini's mic levels are too high so his audio is slightly distorted.
Into the Future (1080i, 31 min) – A video essay by Roberto Rossellini scholar Tag Gallagher, who analyzes The War Trilogy within the contexts of the director's body of work and the historical moment in which they were made.
German Year Zero
Introduction (HD, 4 min) – Also from the '63 French TV series Roberto Rossellini Presents mentioned above.
Italian Credits and Prologue (HD, 3 min) – The Italian of the film opened with Italian-language credits and a voice-over prologue, which are presented here.
Roberto Rossellini (1080i, 66 min) – This 2001 documentary directed by Carlo Lizzani, co-writer/assistant director of Germany, Year Zero, traces Rossellini's career. It includes archival interviews with Ingrid Bergman, Francois Truffaut, Martin Scorsese, and Federico Fellini.
Letters from the Front: Carlo Lizzani on Germany, Year Zero (1080i, 23 min) – In this podium discussion from the Tutto Rossellini conference in Pesaro, Italy, in June 1987, Lizzani discusses his role as assistant director on the film He also reads excerpts from letters he wrote from the film's set to his friend Antonello Trombadori, an art critic and influential member of the Italian Communist Party, who helped get him the job.
Adriano Apra (1080i, 13 min) – From the same session as above, Apra discusses Germany, Year Zero and its making.
Paolo and Vittorio Taviani (1080i, 8 min) – From 2009, the directing team, whose Padre Padrone won Cannes' Palme d'Or in 1977 when Rossellini was president of the jury, speak about the profound influence his films have had on them.
Roberto and Roswitha (HD) – From 2009, this illustrated essay by German film scholar Thomas Meder, author of a book on Roberto Rossellini's Paisan, and writer Klaus Mann, present evidence that Germany, Year Zero was a labor of love and came about partly as a result of Rossellini's relationship with Roswitha Schmidt, his mistress from 1942 to 1946.
Roberto's Rossellini's War Trilogy epitomizes the Criterion Collection's mission statements of "gathering the greatest films from around the world and publishing them…with supplemental features that enhance the appreciation of the art of film." They are essential cinema worth watching and worth learning about because of the impact they had. The high-definition upgrades assist the former and the supplements assist the latter.