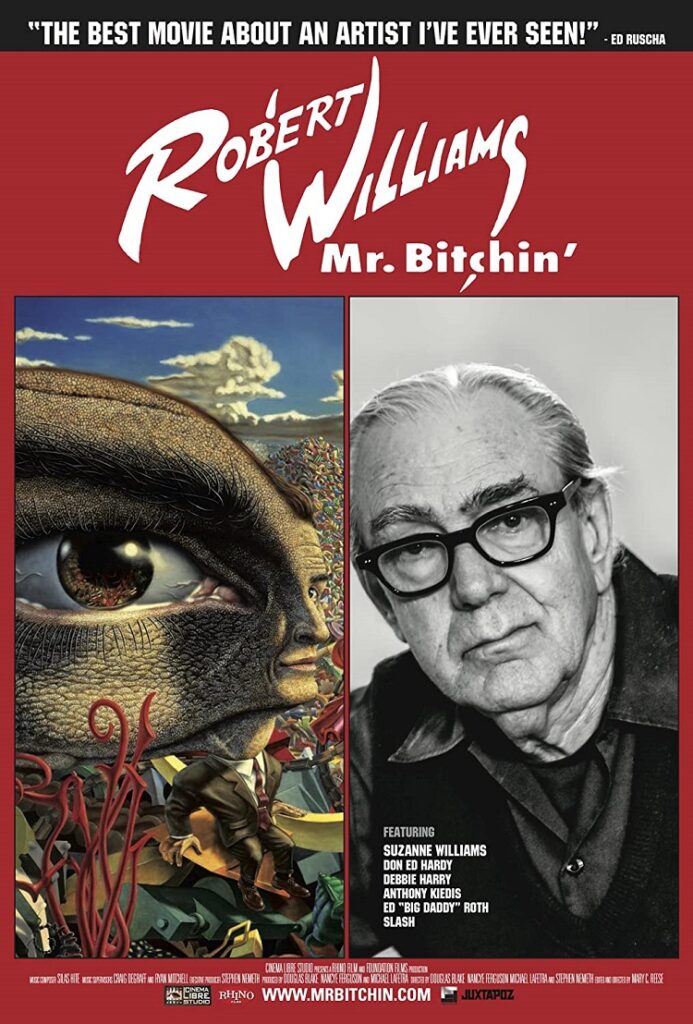 Where to begin writing about this documentary is like asking where to begin when you look at one of Robert Williams' paintings. The answer to both of those questions is that you can start in a lot of places. If you don't know what I am referencing, open a new tab, google "Robert Williams", and then come back to this review. Or if you own a copy of Guns 'N' Roses – Appetite For Destruction, go and get it and look at the artwork on the inside cover. The painting that the record company had to move from the original front of the album to the inside cover is Robert Williams.
Robert Williams: Mr. Bitchin' is the documentary by Mary C. Reese, Nancye Ferguson, and Michael LaFetra about Robert Williams, who is perhaps one of the greatest living artists today. The film started after a call from Williams to Ferguson about making a documentary about his life. Williams already had a collection of footage, but Ferguson and her team went on to collect more and put it together in this new documentary.
This documentary is definitely a love letter to Williams and his work. Robert Williams: Mr. Bitchin' includes interviews with artists who have passed on such as Ed "Big Daddy" Roth and Don Ed Hardy as well as current artists such as Mark Ryden. Williams' rocker appeal is also evident as Axl Rose, Anthony Kiedis, Deborah Harry, and many others all heap praise onto Williams for his talent. The film also traces Williams beginnings and how he met the love of his life, Suzanne. Robert Williams: Mr. Bitchin' goes on to tell the history of Zap Comix and the founding of Juxtapoz Magazine, which is the most influential magazines about art in the world today.
As a huge fan of Williams' art, and of him and Suzanne as people, it was neat to see footage of them being silly and being who they are in everyday life. The segments where Robert discusses the meaning behind some of his paintings is also fascinating. The man is 70 years old and still stretches and mounts his own canvases and the amount of research, knowledge, and technical skill that goes into each piece of art is simply astounding.
Like Williams' paintings, the documentary is a little bit all over the place. The filmmakers did not put the footage in a chronological order or really stick to a hard timeline. At first, it really bothered me, but then I thought perhaps they were trying to capture the abstract thinking that Robert Williams is known for through their film. However, what did bother me is that much of the footage and interviews were not dated.The film presented quite a few people who passed several years ago as if they had just been interviewed this year about Williams. The two most evident to me were the interviews with Ed "Big Daddy" Roth, who passed away in 2001, and bandleader Artie Shaw, who passed away in 2004. Archival footage isn't a problem; I just wish it had been presented as such because it made the film feel like this was a documentary that was made a decade ago but that has just found the light of day.
The sound mix could have definitely been better though, as I had to turn the volume down in several places due to the soundtrack being at a much louder level than any of the dialogue. However, the music chosen for this doc definitely fit its subject.
Fans of Williams and his work have a lot to celebrate and enjoy in this documentary and people who aren't familiar with his work have a lot to learn. Robert Williams and his art deserve this attention and I am surprised that no one has made a documentary about him and his life before now. I just hope that as a new generation begins to understand him, that the next generations after them will get to know and understand him as a living legend as well.