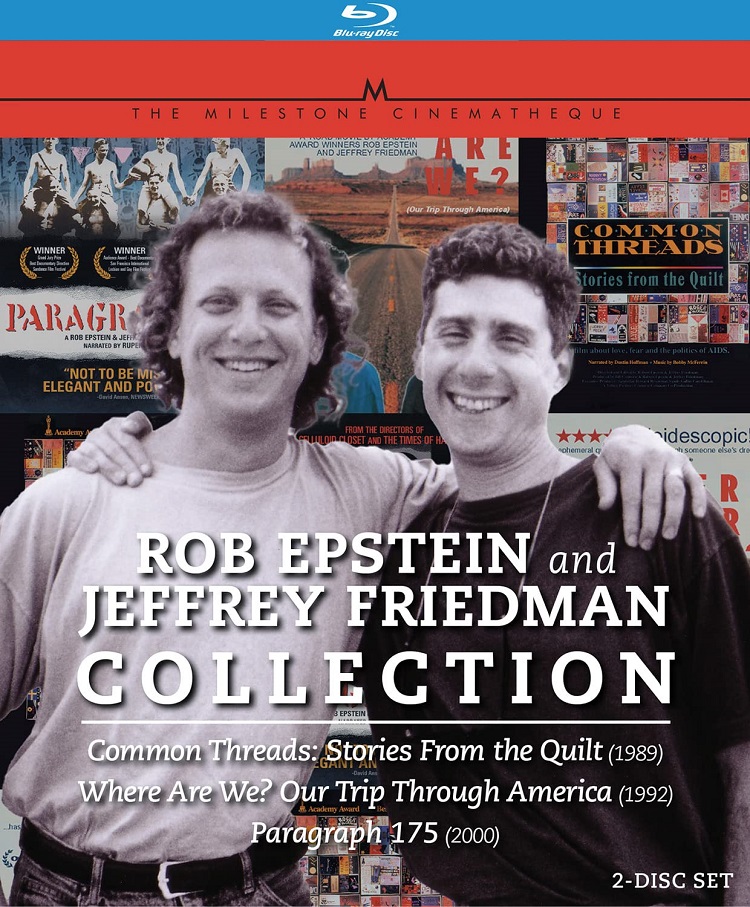 As I may have mentioned in previous reviews, documentaries (more than anything in film) have the power to move, enrage, enthrall, and make you think about the world we live in. And that includes those centering on the LGBTQ community. That's where incredible filmmakers Rob Epstein and Jeffrey Friedman come in. For over 30 years, they have made crystalline, groundbreaking, important, and still highly relevant films that deeply shine a light on LGBTQ history and the people that inhabit it. The three films included in the set: Common Threads: Stories From the Quilt (1988), Where Are We? Our Trip Through America (1992), and Paragraph 175 (2000), are definitely essential viewing.
Common Threads poignantly and devastatingly respectably explores the lives lost from HIV/AIDS, as well as calls out the stigma, prejudices, and sheer misinformation that continues to heighten the epidemic. Where Are We? enlightens viewers as Epstein and Friedman journey across the red states to interview people from many different walks of life, asking them about their fears, hopes, dreams, and regrets. And Paragraph 175 heartbreakingly and harrowingly details a very pivotal gap in history by revealing the lifelong consequences of being gay in Nazi-occupied Germany.
There's a timelessness to these three films that contribute to the overall necessity of the documentary film. Watching them myself, I feel forever changed by them, and find them to be unpretentious works of truth and reality. If you love documentaries or want to watch something substantial, then this set is a true must have.
Special features include audio commentaries for both Common Threads and Paragraph 175 by Epstein and Friedman; Vito Russo's ACT UP Demonstration (1988); Then and Now (1981-2004), a 43-minute short film by Epstein and Friedman; Russo pre-interview footage; Greetings from Washington, D.C., a 1983 short film; deleted scenes from Where Are We? (with optional commentary); additional interviews with Holocaust survivors Phillippe Swab and Kitty Fisher from Paragraph 175, and original trailer for Paragraph 175.