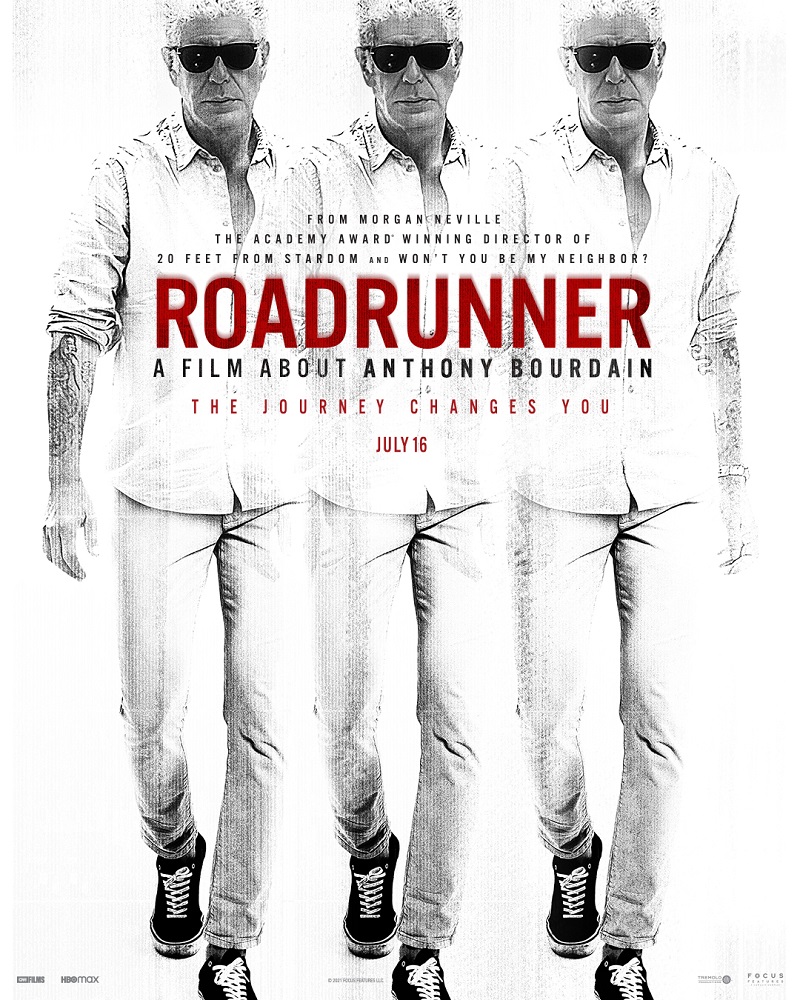 Documentarian Morgan Neville has won an Academy Award and Grammy Award for 20 Feet from Stardom, has won and Emmy Award for Best of Enemies, and earned the distinction of the highest-grossing biographical documentary of all time with Won't You Be My Neighbor? Roadrunner: A Film About Anthony Bourdain is his latest work, which had the distinction of having its World Premiere at the Tribeca Festival and was the Centerpiece Offering at the AFI DOCS Festival. It tells the story about a man whose zest for life was so intense it was ultimately his undoing as he took his own life in 2018.
Roadrunner tracks the life and death of Bourdain, a noted celebrity chef and author who went onto to even bigger fame as a travelogue host for multiple television programs. He served as a guide to the world of restaurants then as a guide to the world and here he serves as a guide to his life through narration from archival material. It's interesting that Neville chose to name the film Roadrunner because Bourdain was more like the cartoon character's nemesis, Wile E. Coyote, who was driven and undone by his obsessions.
As a young man, Bourdain's early heroes were musicians and writers, folks who "wanted to live deep and suck all the marrow of life," as Thoreau wrote in Walden, and he followed in their footsteps. He became a cook and a drug addict but cleaned up. After becoming the executive chef at Manhattan's Les Halles in 1998, he expanded his notoriety when New York Times best-seller Kitchen Confidential provided readers with a behind-the-scenes look at high-end restaurants.
His second book was to be A Cook's Tour, documenting his travels and culinary experiences. He was approached by Chris Collins and Lydia Tenaglia to turn the trip into a TV series. After making their way through a few Asian countries together, they figured out what they wanted to do with the show. His first marriage ended as fame from being a TV star enveloped him.
Continuing to show an addict's tendencies, he was constantly searching for the next thing to satisfy him. He wed again, had a child, but that marriage also ended. He moved the show to CNN but questioned the awards it won.
Italian actress Asia Argento became a disruptive force in the life of Bourdain and those close to him. He considered ending the show to focus on his new relationship. He had her direct an episode and her creative approach was different from the show's style. This led to a crew member who had been with the show for 12 years to be fired. After Asia revealed Harvey Weinstein raped her, Bourdain became an activist for #MeToo and gave himself over to her cause. Seeing her in the tabloids with another fella, let everyone known their relationship was over. None of those close to Bourdain were surprised that death was an option for him and they are still overwhelmed by their emotions for him more than two years later.
Roadrunner: A Film About Anthony Bourdain serves as a wonderful tribute, albeit one tinged with sadness. Fans should enjoy getting to reconnect with Bourdain and seeing the previously unreleased footage. For those not acquainted him, the film is a great introduction and offers life lessons that may be of interest.