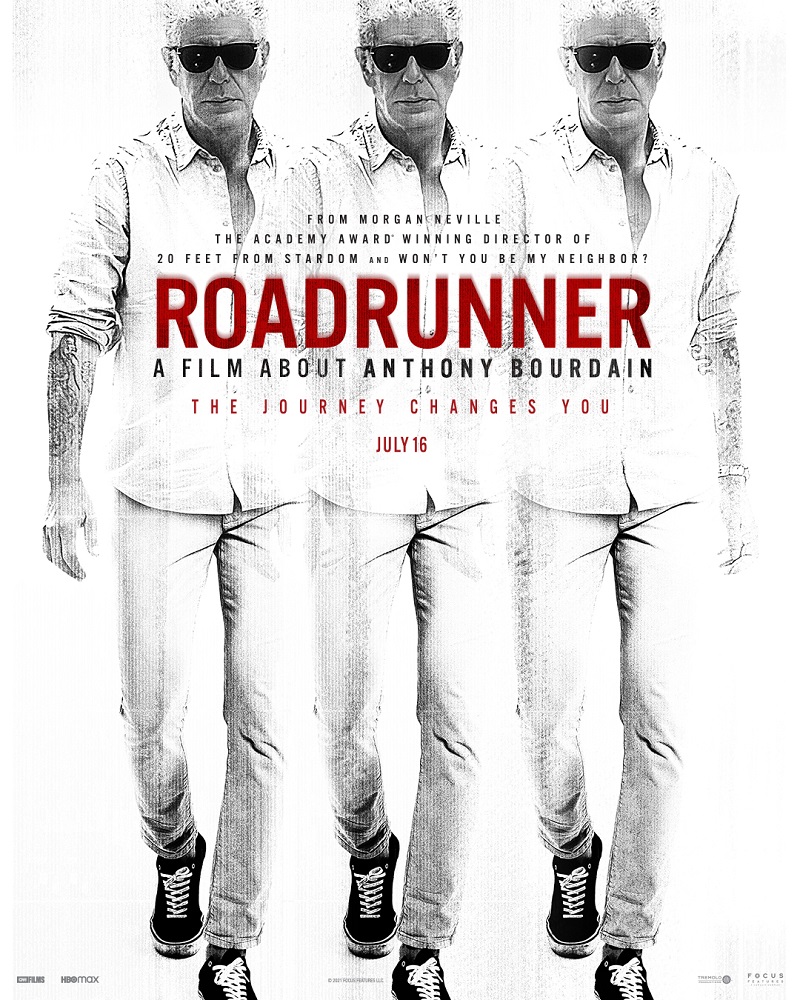 I have had to sit for a while figuring out how to write about and review Roadrunner: A Film About Anthony Bourdain because of my connections to Tony. But here goes.
I first discovered Anthony Bourdain through Kitchen Confidential and A Cook's Tour and then read and watched him through each show and new book up until the end. However, while he still worked at Les Halles, and before he became the man the world knew, I wrote him a letter and asked him to be on my radio show. Not long after I received a call from his Sous Chef Beth Artesky (who some know as "Grill Bitch") and she told me Bourdain liked my letter and wanted to do the show. So along with Greg, my partner and co-host at the time, we booked some extra studio time to interview him about work, music, food, and life. When we got Anthony on the line, he told us to call him Tony, and we did. The three of us then proceeded to talk for over two hours and the conversation could have gone on for much longer if we had had more studio time. Not only was it one of my favorite interviews, but it was one of my favorite conversations I have ever had. His work inspired me and challenged me to expand my world and my palate. 
I will never forget the morning in June of 2018, when I found out Tony was gone. The news of his suicide first shocked me, and then brought me to tears. The man I met in that two-hour interview years before was warm and welcoming. Funny, smart, and quick. So hearing that he was gone by suicide, just didn't make any sense. But then again we don't always see what is going on behind the scenes with people. Becoming famous doesn't shield you from depression, anxiety, loneliness, or feelings of failure. Oftentimes, it amplifies those things. It seems like that is what it did to Tony.
It has taken me the over three years since his suicide to be able to watch him walk across my screen again. But when Morgan Neville brought Roadrunner to the world, I thought it was time. 
Roadrunner is not the biopic that some might think. While it touches on some parts of his early life, it really chronicles the time when Bourdain began to become famous, through his massive celebrity, and then onto his end. Neville combines interviews with key players from Tony's life during this time along with personal footage and photos, interspliced with clips from his various television shows. 
For me, this was like watching a film about my own discovery of Tony. Most of the film left me with warm feelings of nostalgia and allowed me to feel like I was rediscovering him all over again. However, the end just wrecked me. I had hoped I would feel better about how he died. About the fact that he killed himself, but I didn't. And while some documentaries about those who meet a tragic end focus more on the death and circumstances around that event, Neville thankfully did not go that route.
But Roadrunner also does not try and brightside Tony's suicide. The pain, disappointment, and anger from his loved ones is very real and raw. This portion of the film also dispels rumors of drug use or intoxication as the reason for his self-exit. Both Lydia Tenaglia and Chris Bourdain speak very plainly about the fact that Bourdain killed himself and that while we want reasons to explain away what happened, the reality is that there is no reason that will make people feel better or explain away his actions. 
As a fan, if you are looking for a DVD and Blu-Ray release that is loaded with extras you are not thankfully not going to find it with Roadrunner. Outside the settings and chapters menu, the film stands alone as a eulogy to the public life of a beloved and complicated man. 
Roadrunner has a runtime of one hour and fifty-eight minutes. It is available on DVD, Blu-Ray, and on demand now.