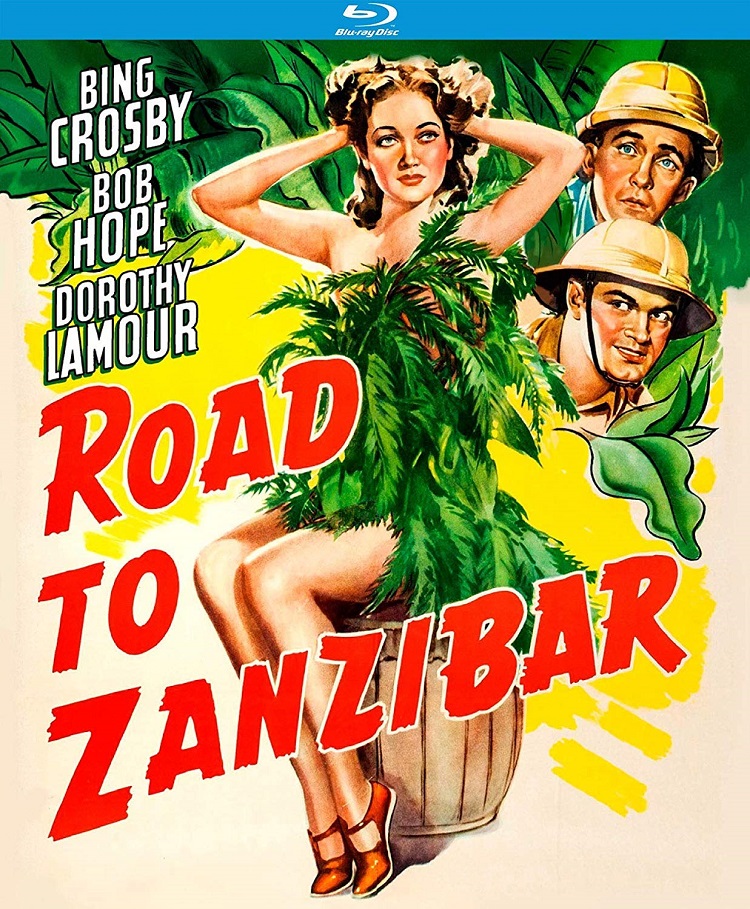 Kino Lorber Studio Classics has added to their roster Special Edition Blu-ray releases of the first four Road pictures starring Bing Crosby, Bob Hope, and Dorothy Lamour, making the first six of the seven movies now available from them.
Road to Zanzibar (1941) is the second in the series and not only sees the return of the acting trio but screenwriters Frank Butler and Don Hartman and director Victor Schertinger as well. Set in Zanzibar, Africa, the premise is basically the same. Hope and Crosby, who gets three songs, are up to their usual wacky shenanigans and rapid-fire banter, and compete for the affections of Lamour. However, this time she plays a stronger character.
The film opens with Chuck Reardon (Bing Crosby) and Hubert "Fearless" Frazier (Bob Hope) working a carnival sideshow with Chuck as a barker and Fearless as as a human cannonball. When the act sets the big top on fire, they go on the lam, working across Africa with Fearless performing different stunts.
Chuck buys a deed to a diamond mine, for almost their entire bankroll, but believe it to be phony. Fearless sells the mine to another guy, who wants the boys to accompany him to find the mine. To escape his henchmen, they start a round of patty-cake, but get bonked on the head before finishing, leading Fearless to say "he must have seen the picture," a funny meta joke about Singapore.
A boat ride later, Julia (Una Merkel) sees the fellas and asks them for help because her friend, Donna (Dorothy Lamour), has been captured by a slave trader. They buy her at an auction and set her free, but it turns out the whole thing was a con Julia and Donna set up. Donna also gets the fellas to travel through the jungle to help her reunite with her father and plays with their romantic interest. Fearless has a date with her but Chuck slips him a sedative, so he can go instead. In another funny meta joke, Donna talks about a movie she saw where a couple in a jungle and an orchestra started up. Cue Crosby singing, backed by an orchestra.
After confronting Donna about being duped, the boys find themselves on their own and find an abandoned village. They beat on some drums, unaware of the message they are sending to the natives. One tribesman thinks they are white gods, another doesn't, so they are put to the test with something called Luna, a large gorilla, which leads to a ridiculous wrestling match between Luna and Fearless. Even sillier is their escape from the natives, which succeeds because they never saw Road to Singapore.
The video has been given a 1080p/MPEG-4 AVC displayed at an aspect ratio of 1.37:1. Blacks are inky, though they crush every once in a while, and the whites are bright. The image offers a strong contrast, depth, and details, though the archival material is diminished in all areas. Film grain is more noticeable than Singapore in a negative way. The picture as scratches and black and white specks throughout. There's a flicker in the opening scene and when Donna talks to the boys about her "father". The audio is available in DTS-HD Master Audio 2.0. Dialogue is clear. Crosby's singing is limited by the mono track and sounds louder than the music. When Chuck and Donna are in a canoe, a slight hiss can be heard.
The extras include:
Bob Hope and the Road to Success (14 min) from the 2001 DVD release starts with Hope's career and then talks about their working on the film together. This is available on all four releases.
Command Performance 1944 (7 min) – Film clips of Hope doing a radio show recorded for the troops with Betty Hutton, Lana Turner, Judy Garland.
Trailers for the first four Road movies.
Road to Zanzibar succeeds as a sequel because it repeats what Singapore did well and offers enough new things to make the picture stand on its own, aside from a joke or two. This a trip worth taking from the comfort of your couch.