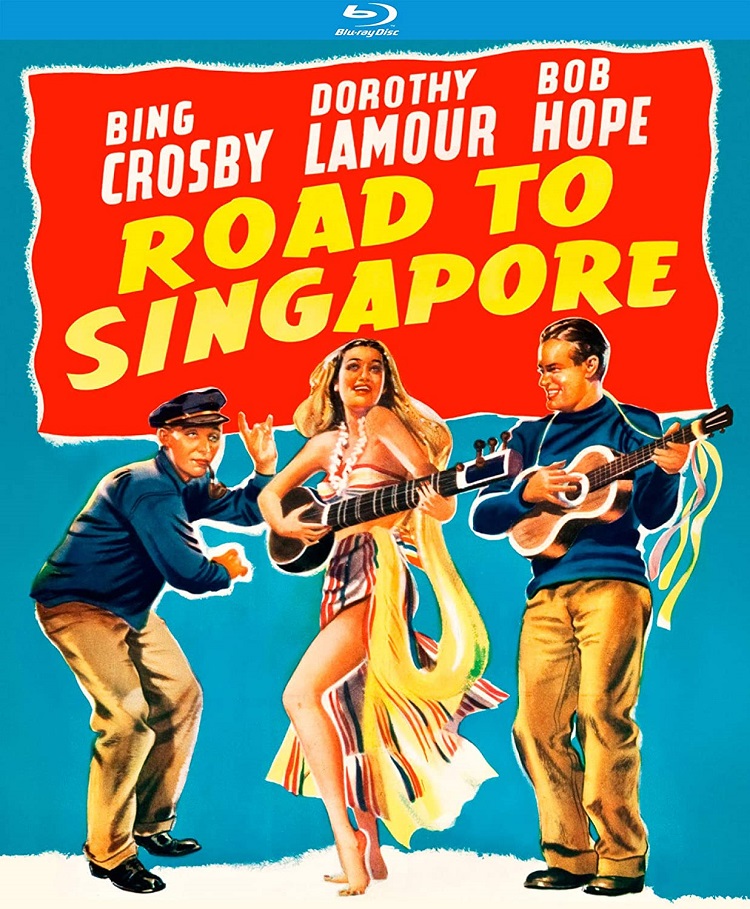 Kino Lorber Studio Classics has added to their roster Special Edition Blu-ray releases of the first four Road pictures starring Bing Crosby, Bob Hope, and Dorothy Lamour, making the first six of the seven movies now available from them.
Road to Singapore (1940) is the first in the series and sets forth the template for these entertaining, musical romantic comedies wherein Hope and Crosby compete for the affections of Lamour in exotic locations. Originally a project planned for others, including Burns and Allen, Paramount struck box-office gold when … Singapore became a vehicle for Hope and Crosby, whose ad-libs and writing teams helped shape the picture's humor.
Josh Mellon (Crosby) and Ace Lannigan (Hope) pull into a port and see how tough married life seems, which is on the horizon for both of them. Josh, the son of a shipping magnate, is supposed to get married and take over the family business. Ace is almost shanghaied into marrying a gal named Cherry whom he spent a night with, but a round of patty-cake with Josh, a recurring gag in the series, helps him escape. Together, the fellas run off to the South Seas island of Kaigoon.
After swearing off women, they go to a nightclub and set eyes upon Mina (Lamour) in an act, they change their tune. Her partner, Caeser (Anthony Quinn), becomes jealous, leading to another brawl. Josh and Ace take Mina back to their shack, where she starts to take care of them. Each man works against the other to sabotage their chances with Mina, who has to decide which one she wants to be with.
The video has been given a 1080p/MPEG-4 AVC displayed at an aspect ratio of 1.37:1. Blacks are inky and the whites are bright. Contrast is strong and a wide spectrum of grays are presented. The image displays depth and texture details are noticeable. It also exhibits signs of wear and age as faint vertical lines, specks, and scratches can be seen throughout. Film grain is apparent, particularly in the stock footage where it gets really thick.
The audio is available in DTS-HD Master Audio 2.0. Dialogue is clear but there's an occasional buzz and slight distortion, such as when Gloria shows Josh plans for their new apartment. During "I'm Too Romantic," a duet between Crosby and Lamour, there's a crackle and distortion as she sings. The fidelity of the music is pleasing because of the clarity of the instruments.
The extras include:
Bob Hope and the Road to Success (14 min) from the 2001 DVD release starts with Hope's career and then talks about their working on the film together. This is available on all four releases.
Entertaining the Troops (6 min) is a brief look at his USO work.
"Sweet Potato Piper" Sing-Along (3 min) plays full screen with the lyrics highlighted karaoke style.
Trailers for the first four Road movies.
The plot for Road to Singapore is a lighthearted, silly story, but it contains some twists that keep the outcome in doubt until the final sequence. However, the story is simply a platform for the songs and comedic banter between Hope and Crosby, who play off each other so well, it's a surprise they weren't a team with a long history of working together. It's easy to see why the trio were sent on the Road to Zanzibar the following year.