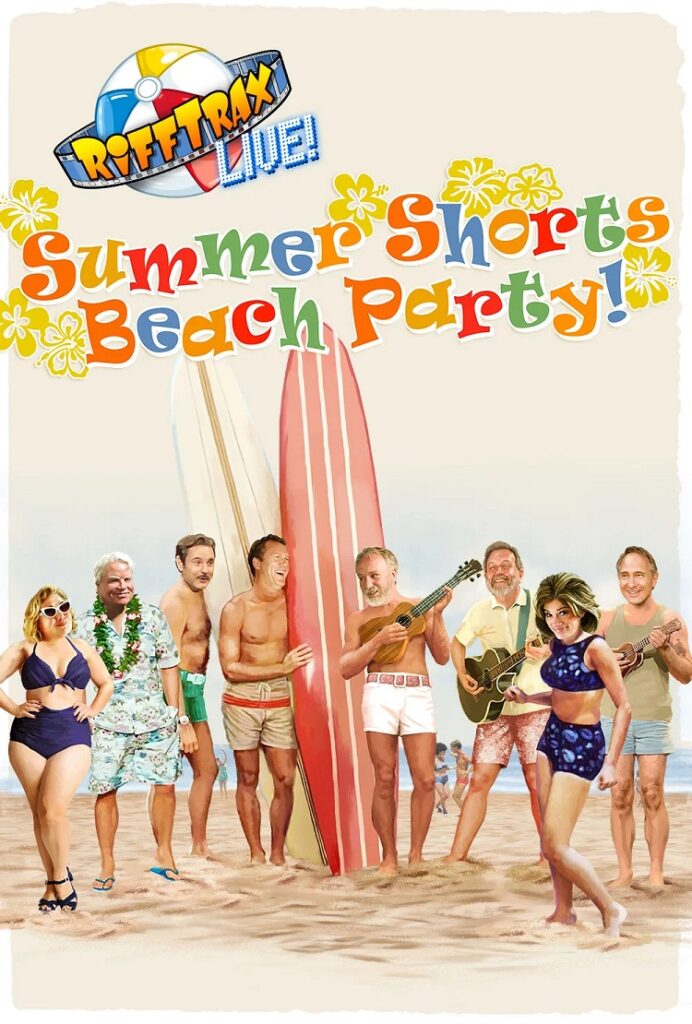 Working together on Rifftrax Live: MST3K Reunion Show must have been as much fun for for the cast as it was for audiences, as most of the gang reunited for RiffTrax Live: Summer Shorts Beach Party! which is getting a second showing on Tuesday, June 20 at 7:30 p.m. (local time). Over the course of the night, they riffed on seven shorts to varying degrees of success.
The RiffTrax trio (Michael J. Nelson, Kevin Murphy, and Bill Corbett) opened the night with a short directed at kids starring a bizarre animal mascot named Ricky Raccoon, who helps a young boy learn about safety. He has some good lessons albeit presented in an odd manner. MST3K's "The Mads" Frank Conniff and Trace Beaulieu reacted to an old short from the '50s or '60s that teaches ladies about office etiquette and had some funny jokes that would likely get them reported to HR.
The Rifftrax guys returned for a film that taught school kids "Rhythmic Ball Skills" that ran way too long in part because the jokes weren't consistently funny, which is understandable because of how boring the original short was. Bridget Jones and Mary Jo Pehl teamed up to tackle "The Griper," a film about a kid who complained about everything. The third short the Rifftrax fellas took on was Sentinels of Safety. This genre is always ripe for mocking, and they redeemed themselves with very funny riffs throughout.
Paul F. Thompkins joined them for the "A Touch of Magic," an unusual musical short created to promote General Motors cars. I would have described it as "bizarre," which it is with its main characters shifting from a Medieval knight and princess to modern-day pitchmen, but then how to describe the even weirder short run given to the entire cast during the Riff-a-palooza finale where two bags of garbage come to life and are chased by a large bearded man. It seemed like some were watching this for the first time considering the "stunned look to riff" ratio.
All in all, Summer Shorts Beach Party! is a fun night for Rifftrax fans. Although my theater in Orange, CA had a low turnout, the laughs and applause from Nashville's Belcourt Theatre audience poured in the side speakers, augmenting the experience.