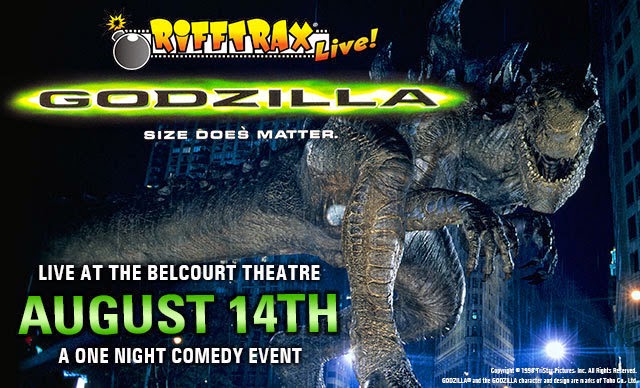 The RiffTrax boys are at it again. This time, Kevin Murphy, Bill Corbett, and Mike Nelson have chosen to skewer Roland Emmerich's 1998 take on iconic city-destroyer Godzilla. Not that Godzilla movies have been known for their gripping and detailed stories, but this iteration seems to have earned black-sheep status among fans for its departure from some series conventions and just how unlikely many of the characters prove to be.
Of course, this just gives the Riffers even more to work with. The worse the film, the better they get, and this event was no exception. Godzilla's first appearance in the film involves destroying some ships at sea, clawing and biting and tearing them to shreds. As the wreckage washes up on shore, the guys quip "Another Carnival Cruise ends just how you'd expect."
We start to meet the characters of the film and the jokesters point out inconsistencies, reference other roles (Matthew Broderick's Ferris Bueller, the unfortunate future Kevin Dunn has in store across the abysmal Transformers trilogy, a Birdcage joke for Hank Azaria, etc.), and generally mock how unlikely a troupe this is to save the world from a giant radioactive lizard. Cinematographic criticisms start to appear (and continue throughout) when Godzilla's footprints oddly change shape from one shot to the next.
Godzilla eventually shows up in New York City and starts making a mess of the joint. One of the Riffers points out that the civilians seem largely unconcerned about the wanton destruction because they assumed one of their sports teams just won a championship. The military shows up and sets a fishy trap for the nesting monster, triggering a Charlie Tuna zinger. Puns and jokes just keep coming, including references to Seinfeld, The Land Before Time, a hilarious French-accent performance of the '80s Juicy Fruit chewing gum jingle, and a whole lot more.
Given that the movie itself runs 139 minutes, the guys opted not to lead off with a short film this time around, in an effort to keep to the roughly two to two-and-a-half hour event times they're known for. Other than acknowledging some of their more prominent Kickstarter supporters and doing a pitch for their next event — RiffTrax Live!: Anaconda — they got right to work on Godzilla. They also wasted no time wrapping up when the film ended, thanking everyone who came out to the live event in Nashville, as well as all the people in hundreds of satellite theaters tuning in from afar.
As for my local theater, the turnout was relatively small compared to other RiffTrax events I've been to. This particular theater has never had a sellout crowd for these events, so I wasn't expecting standing room only or anything. Still, I thought we'd see more than 10 or so folks, considering I know other theaters do routinely have a packed house for these shows.
If you have an appreciation for mocking bad cinema, you owe it to yourself to go to at least one RiffTrax event. Their August 14th send-up of Godzilla is re-airing on August 19th, so you can still catch this one. The upcoming evisceration of Anaconda is slated for October 30th.