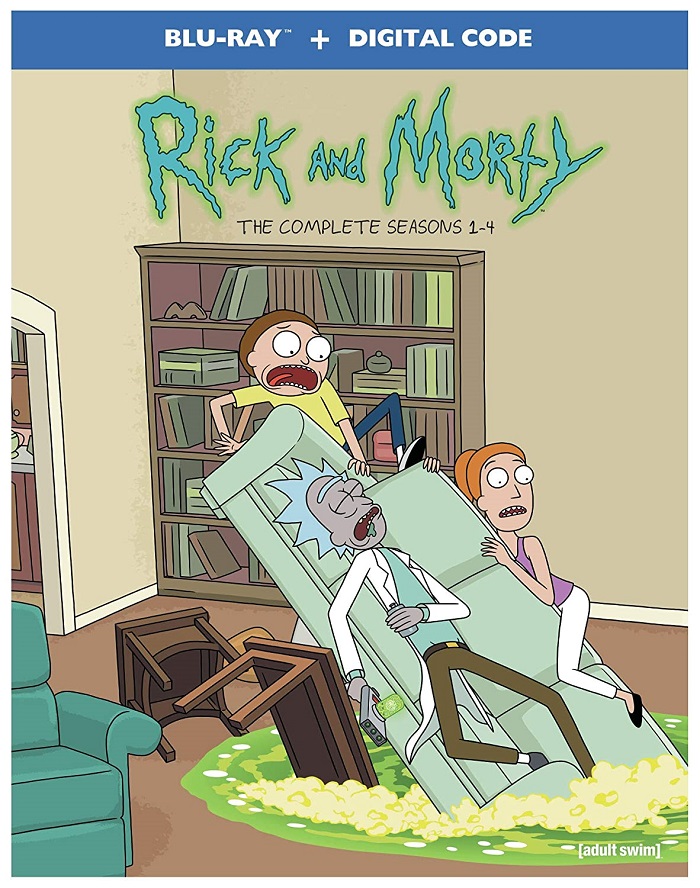 Rick and Morty was created by Justin Roiland and Dan Harmon. A series of animated shorts by Roiland that featured parodies of Doc and Marty from Back to the Future is where the show originated. It is an outrageous TV series about a dysfunctional family who go on intergalactic, interdimensional adventures. Rick (Roiland) is a brilliant scientist and inventor, the greatest mind that ever existed if you ask him and one of the most depraved. Rick's Machiavellian ways are on display in "The Pilot" where viewers see how easily he risks the life of his 14-year-old grandson Morty (Roiland) by using him to illegally transport contraband. Rick has just come back into his daughter Beth's (Sarah Chalke) life and moved in with her family to the chagrin of her milquetoast husband Jerry (Chris Parnell), who suffers great indignities as the series progress. Seventeen-year-old Summer (Spencer Grammer) rounds out the clan.
A multiverse is established in "Rick Potion #9" where Rick and Morty take the place of a parallel dimension Rick and Morty who died. The series gets even more mind-blowing during "Close Rick-counters of the Rick Kind" when Prime Rick is framed for the murder of 27 Ricks and kidnapping their respective Mortys. The season concludes with "Ricksy Business" which brings to mind The Cat in the Hat as Rick and his grandkids have to clean the house after an out-of-control party before Jerry and Beth get home. Rick affects the passage of time in order to accomplish the task. Another highlight is "Rixty Minutes," which finds Rick opening up a portal to access interdimensional cable programming. This allows for a lot of jokes, and is revisited in Season 2's "Interdimensional Cable 2: Tempting Fate."
Over the following seasons, the show expands its focus beyond Rick and Morty heading out on adventures and the family dynamics play out. Summer occasionally joins them. Rick causes turmoil for Beth and Jerry, leading them to marriage counseling on an alien planet in "Big Trouble in Little Sanchez" where it is revealed how they see each other. Unfortunately, though there is comedy derived from it, they divorce in Season 3. Although an even greater disruption for Beth occurs in Season 4 final episode, "Star Mort Rickturn of the Jerri," where she not only discovers a clone of herself, but Rick isn't sure which is the clone.
Viewers get to learn more about Rick over the seasons as well, from his past relationship with Unity, a hive mind, in "Auto Erotic Assimilation," to how immoral he is, as in "The Ricks Must Be Crazy," where it is revealed his ship's battery is powered by the people of a tiny universe within. Rick threatened them with destruction if they don't create electricity for the battery. Although he appears to care for his family, even Jerry, Rick transfers his consciousness into a pickle to escape family therapy in an amazing (and surprisingly since he's a pickle) action-packed episode.
Rick and Morty riffs on pop culture and well-known science fiction stories, such as "Rest and Ricklaxation" with Rick and Morty divided into Clean and Toxic versions of themselves when an alien machine extracts their negative traits, which happened to Star Trek's Captain Kirk in "The Enemy Within". It also gets meta such as in "Never Ricking Morty" when Rick and Morty have to escape the Story Train in an episode that refers a lot to writing.
The video of Season 1 and 2 have a 1080p/VC-1 encoded transfer. Season 3 and 4 are 1080p/MPEG-4 AVC. All displayed in the original aspect ratio of 1.78:1. Throughout the seasons, colors are appear in vibrant hues, blacks are inky, and whites are bright. The thin line work of characters and objects help separate them from backgrounds.
The audio on all seasons is available in Dolby TrueHD 5.1. Dialogue is anchored in the front channel. Ambiance and other effects come through in the surrounds, offering a more immersive experience than many animated TV shows. The action and explosions make use of the subwoofer.
The extras are plentiful for adoring fans and all are in HD. Seasons 1-3 offer a look at early versions of the episodes in Animatics, including deleted scenes. There is audio commentary on all the episodes from those seasons with appearances by notable TV creators such as The Simpsons crew; Robert Kirkman and Scott M. Gimple from The Walking Dead; Pendleton Ward and Kent Osborne from Adventure Time; and David Benioff, D.B. Weiss, and Peter Dinklage and Games of Thrones. Season 3 and 4 offer a peek "Inside the Episodes" of each episode with the creative team.
Season 3 takes viewers "Inside the Recording Booth" (6 min) with Parnell and Grammer taking direction from Roiland. "Rick and Morty Origins" Parts 1 (5 min) and 2 (5 min) is as described.
Season 4 shines the spotlight on a number of crew members. "A Day at Rick and Morty: Inside Season 4" (9 min) takes place while working on Season 4 and prepping for Season 5. There's a lot of complaining about being behind, but it didn't affect the quality of the work. Creating Snake Jazz (3 min) with Ryan Elder composing for "Rattlestar Ricklactica". Four directors talk about their approach in "Directing Rick and Morty" (3 min). Brief looks at "Prop Process" (3 min), "Character Creation" (3 min) and "Animation Challenges" (3 min). Samurai & Shogun (5 min) is a short inspired by Lone Wolf and Cub.
A couple of the extras I could have skipped. "Behind the Scenes" (19 min) from Season 1 is a ridiculous, intentionally obnoxious featurette about the creation of the show. "Rick and Morty Season 2 Premiere Party Featuring Chaos Chaos" (43 min) – Recorded live at CineSpace in Los Angeles, the band plays while people draw images projected on the screen behind them.
For those who like their humor dark, violence graphic, and characters nihilistic, Rick and Morty is the show for you. As the series progresses, the consequences of the characters' choices are diluted. There's no telling when they will time travel, jump to an alternate universe, or reveal they are in a computer simulation or one of the infinite versions of themselves to overcome any loss. But considering the writers provide so many laughs this way, it's good they have so many options at their disposal. The high-def presentation highlights the animation. Rick and Morty: The Complete Seasons 1-4 is a repackaging of the previous Complete Season collections. It comes with a poster of the family.