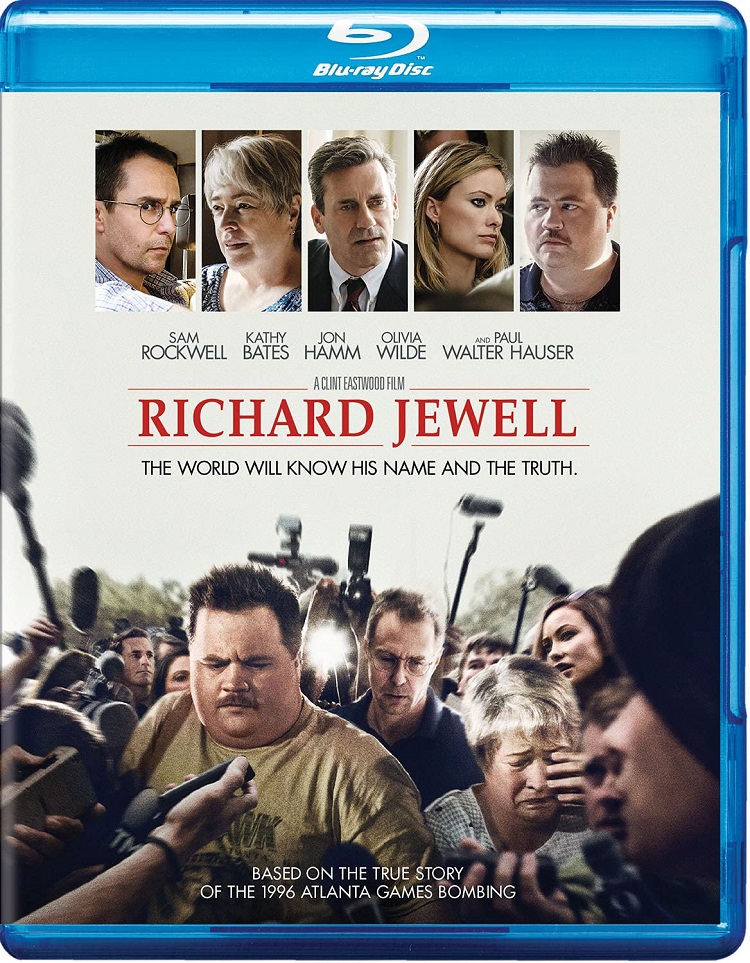 It has become more of a gamble with Clint Eastwood's late-career directorial efforts. The Oscar-winning actor/filmmaker, who is still pumping out films even as he pushes 90 years old this year, is reportedly someone who doesn't like to spend too much time trying to get the best take. "The sooner it can be done; the better" appears to be the mantra by which Eastwood follows. It doesn't always work, with The 15:17 to Paris being his most recent example and also his most embarrassing effort to date, despite it starring the real people involved in the incident. But, in some cases, Eastwood's sure-handed direction and quick turnout can result in something that is quite impactful. Richard Jewell falls into the latter category.
Back before "Fake News" became a term that is tossed around more than a football, the 1996 Olympics in Atlanta, Georgia were thwarted by a heinous attack, after a bomb exploded in Centennial Park – killing one (the movie claims two) and injuring more than 100 others. At the center of it all is a man named Richard Jewell (portrayed wonderfully here by Paul Walter Hauser). He's a security guard for AT&T and has aspirations for law enforcement. Initially hailed as a hero for discovering the bomb and distancing the crowd of concertgoers, Richard is then labeled as a possible suspect in the case, after a news report in the Atlanta Journal-Constitution ran with a story on how the FBI was investigating into how he possibly knew about the bomb's location.
That information made its way to the paper after reporter Kathy Scruggs (Olivia Wilde) bribed it out of FBI Agent Tom Shaw (Jon Hamm). Though Scruggs didn't have all the correct information needed to run the report, the story went to print and sent Richard Jewell's life into a tailspin. His once proud mother (Kathy Bates) now fears what will happen to her only child. After contacting a lawyer from his past (Sam Rockwell, just terrific), Richard prepares to restore his name and clear the misinformation that has come to light.
The controversy surrounding Wilde's portrayal of Kathy Scruggs is understandable. Eastwood and writer Billy Ray make her into a more menacing, villainous caricature – rather than properly develop her in a flesh-and-blood individual. There is a sense of humility in the Scruggs character near the end, when she realizes what she did was wrong and sees how much impact it had on the lives of others. But, by then, it's already past the possibility of investing into her character and trying to further understand her reasoning for running the story.
Aside from Wilde, the rest of the cast is especially strong. It's the best ensemble Eastwood has had for a movie in some time. Hauser, a well-respected character actor, takes the titular role and turns it into a deeply moving performance. The uncertainty and frustration surrounding everything is on full display in his performance, and nothing about it rings false.
Bates is fantastic as Richard's mother, who adores her son and always tells him how proud she is of him. Her adoration for the evening news, especially for Tom Brokaw, is a highlight of the film's lighter moments. And when she is called upon to testify, Bates' performance is undeniably involving.
While Eastwood certainly creates a "media, bad" narrative, rather than having an evenly-balanced approach, his skill behind the camera and making sure to capture the right compositions hasn't lessened. Yves Belanger exquisitely captures the scenery and quietly displays some rather crafty single takes that don't come off as showy. The lighting and color easily indicates that this is very much an Eastwood film, but it is helmed exceptionally.
The Blu-ray release of Richard Jewell comes presented in 1080p high definition with a 2.39:1 aspect ratio. The audio is a 5.1 DTS-HD master track and effectively captures every sound effect and line of dialogue well. The special features are a bit sparse. One is The Real Story of Richard Jewell, which includes interviews with the cast and crew about the true story that inspired the movie. The other feature is a short making-of segment that has interviews with Eastwood and other cast members.