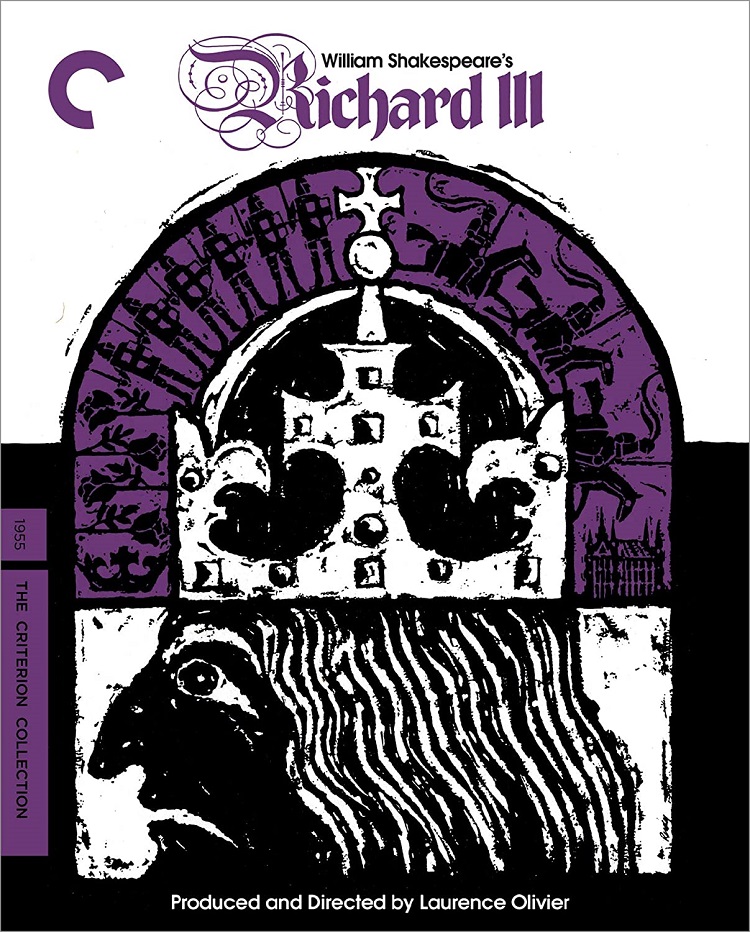 The Film
The last of Laurence Olivier's three Shakespeare adaptations, Richard III is unquestionably one of the great Shakespeare films, but its stature might be even more pronounced as one of the great Technicolor films. To call every VistaVision frame of the film ravishing isn't anywhere near hyperbole — the brilliant colors and sumptuous set design propel the film past mere "staginess" into an overtly artificial baroque fantasy-land that makes the treachery of the lead character all the more unsettling. A hard shift into location shooting for the film's final segment creates a striking contrast between Richard's thirst for power and his ultimate failure.
Populated with some of the greatest British actors of the era (John Gielgud, Cedric Hardwicke, Ralph Richardson, Claire Bloom), the film is nonetheless dominated by Olivier's portrayal of Richard III, an instantly indelible performance that is deliciously evil. Richard's deformities don't stop with a hunched back and lame arm; they bore down all the way to his soul, and Olivier gives us an unobstructed window into that black, black heart without becoming a cartoon.
Staying mostly faithful to the original text, with a few interpolations from Colley Cibber's and David Garrick's 18th Century adaptations, the film sees Richard, the Duke of Gloucester lusting after the throne of his brother, King Edward IV (Hardwicke). His plan to usurp Edward is utterly diabolical — a staggered series of betrayals that involves framing and dispatching brother George, the Duke of Clarence (Gielgud), and coercing the repulsed Anne Neville (Bloom) into becoming his wife, never mind the fact that Richard was responsible for her husband's death as well.
Richard's tale is one of desperate evil, a conniving but not always competent cretin hell-bent on achieving power and then struggling to maintain a grasp on it once it's his. The film does right by the source material, and Olivier makes it clear why he's one of the greatest Shakespearean actors ever, but it's those rapturous colors that might just make the biggest impression.
The Blu-ray Disc
And man, have those colors never looked this good on home video. Criterion's 1080p, 1.66:1 transfer of the film, sourced from The Film Foundation's recent 4K restoration, is a thing of beauty. Vibrant reds, golds and greens have the kind of tangible depth one hopes to see in a Technicolor transfer. Almost without fail, the images possess striking clarity and sharpness. Fine detail is abundant and the image is consistently film-like throughout. This is easily one of the nicest color Blu-rays I've seen this year, and I suspect it might be difficult to top.
The uncompressed monaural soundtrack is just fine, with nicely clean dialogue and music and no distracting hiss or crackle to be heard.
Special Features
New to this edition is a restoration demonstration hosted by Martin Scorsese that details the work The Film Foundation did to restore the film elements. Mostly everything else is a port of Criterion's old DVD edition (some of which was on the laserdisc first), including an audio commentary by playwright Russell Lees and the Royal Shakespeare Company's John Wilders, a 1966 interview with Olivier and a gallery of production stills and posters. The original theatrical trailer is included alongside a more extensive 12-minute TV trailer. Replacing the old essay by Bruce Eder is a new one by Amy Taubin in the included booklet.
The Bottom Line
Essential for Shakespeare fans, naturally, but also essential for fans of astonishing restoration work and gorgeous digital transfers of Technicolor films.