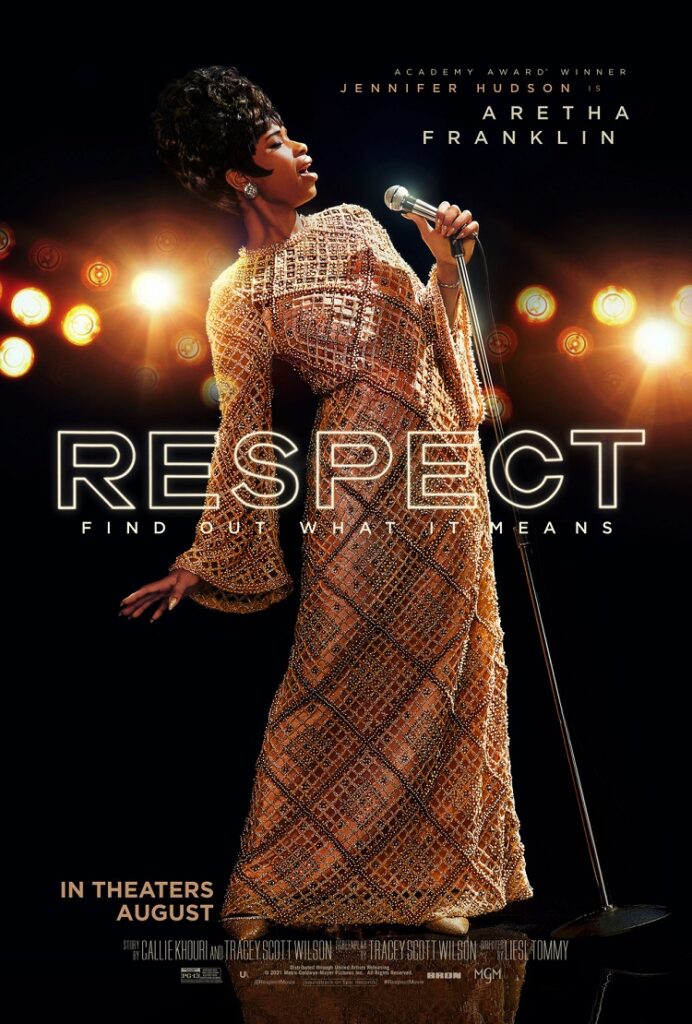 Respect, directed by Liesl Tommy making her feature film debut, from a story by Callie Khouri and screenplay by Tracy Scott Wilson, and starring Academy Award winner Jennifer Hudson as the late Aretha Franklin, is a worthy tale of the late Queen of Soul finding her voice.
Hudson is given the Herculean task of carrying this biopic and she shines from the moment she graces the silver screen. She plays Aretha with naive abandon chasing her first love Ted White, and later portrays an Aretha with all the resolve of a domestic abuse survivor.
Opening in 1952, young Aretha ("Re" to close family and friends) sings at weekly celebrity parties hosted by her father, Reverend C. L. Franklin (a dominant performance by Forest Whitaker), which are attended by luminaries Ella Fitzgerald, Sam Cooke, and Dinah Washington. At one of these parties, a close family friend enters Re's room and preys upon her off screen. After a week of not speaking because of this traumatic experience and learning of the death of her mother, Barbara (Broadway's Audra McDonald), who reminded her that she "must never fear a man and should only sing when she feels like singing," young Aretha finds her voice to sing before her father's sermon.
As young Re sings to the congregation, the film transitions to a young adult Aretha with Hudson using her own singing voice augmented with an unforgettable Franklin edge. This is a Civil Rights Movement service attended by Dr. Martin Luther King, Jr., an instrumental part of Aretha's formative years.
Eventually with the help of her father, Aretha joins the Columbia Records family and records nine jazz records with ultimately no hit record. Enter Ted White (believably played by Marlon Wayans), who is instrumental in securing a record deal with Jerry Wexler of Atlantic Records. She leaves the polished sound of New York City and records in the Deep South where her first hit, "I Never Loved a Man (The Way I Love You)" is born.
A victim of spousal abuse, Aretha returns to Detroit and with her sisters work on a new arrangement of Otis Redding's "Respect." The first syllable "Re" is emphasized and repeated by the background singers as if offering support in her request when they call out Aretha's nickname. She ends up performing her signature song at New York City's Madison Square Garden.
After a European tour arranged by her now second husband, Ken Cunningham (Albert Jones), Aretha experiences the assassination of Martin Luther King, Jr. Jennifer Hudson said on Stephen Colbert's Late Show that she was surprised how much of an influence Dr. Martin Luther King was on Franklin's life. Seeing how privileged African-Americans dealt with racism in the Civil Rights era was eye opening.
Moving to Los Angeles with Ken and her fourth son from her second marriage, Aretha battles her alcoholic demons. After pleas to record a gospel album to aid in her recovery, her record label approves her request as long as she records the process for her "atheist' fans. Text reveals to the audience that it eventually becomes her best-selling album.
When the credits roll, we are treated to archive footage of Aretha Frankilin performing for President Barack Obama at a Kennedy Center Honors gala. An already good film becomes even better then.