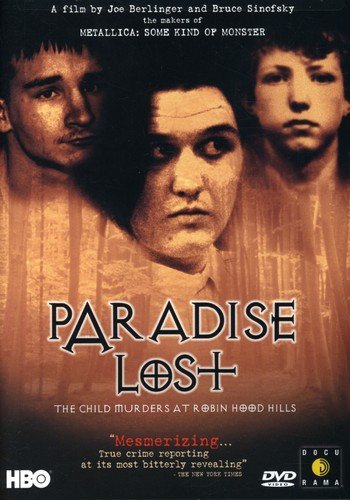 Part of the reason I tend to review a lot of documentaries for Cinema Sentries because I know, on a personal level, how the work of documentary filmmakers can change your life. The film community has lost one of its greats as I found out yesterday when Bruce Sinofsky died at the age of 58 from complications related to diabetes.
I cannot say that I knew Bruce Sinofsky well, but his worked changed my life. I only met Bruce once, and it was at the West Memphis Three benefit I put together at the Melrose Improv back in 2004. Both Bruce and Joe Berlinger were there documenting the night and the comedians that had come together for such an important cause. Bruce was nice, kind of quiet, but I think he had a good time. I was so glad to meet him and Joe because their films about the West Memphis Three changed my life forever.
In late 2001, I was working for 2.13.61 Publications when Henry Rollins came into the office right after he had returned from touring. He dropped Paradise Lost: The Child Murders at Robin Hood Hills and Paradise Lost 2: Revelations on my desk and said, "Watch these. We're gonna do something."
I stayed late at the office that night and watched both films with my co-worker Ken. I was drawn into the story of Damien Echols, Jessie Misskelley, Jr., and Jason Baldwin that was unfolding in front of me. By the end of both movies, I knew why Henry wanted to act on their behalf. I was appalled at the injustice these three were facing and thankful that Bruce and Joe had shed light on this devastating case that left a path of destruction for everyone involved.
The next morning I burst into Henry's office and asked him what we were going to do. He replied that he wanted to do an album and I told him while that was great, it would take too much time, that we needed to do something now. Henry told me if I put together a show that the Rollins Band would play it and that he would help however he could. So I left his office and began sending emails and making the phone calls that would lead to the West Memphis Three benefit that we held at the Troubador in March of 2002.
Through the planning of that event I made contact with the core of the West Memphis Three support group: Grove Pashley, Burk Sauls, Kathy Bakken Robertson, and Lisa Fancher. What began as a collaboration to help get a benefit show going turned into friendships with these four that has lasted almost fourteen years now. And since those initial emails the group has grown through marriage, Kathy married her husband Chad, Grove married his wife Na, Burk married his wife Miu, and I married my husband Shawn. Since that initial benefit, I have also worked with them on four subsequent benefits for the West Memphis Three as well as other endeavors to help raise awareness about the case.
On August 18th of 2011, I started getting texts from Lisa and Burk that things were happening and that they were all on their way to Arkansas. The next morning, August 19th, I was at breakfast with my dad when I got the message that the boys were out. In the middle of Ruby's Diner, I began to weep tears of joy that Damien, Jessie, and Jason were walking free.
On Jason's first trip to California, the WM3 support group all got together for a dinner at Kathy and Chad's house and for the first time we got to engage in a life event with him outside of prison walls. It was such a surreal time, after so many years of working hard and waiting and hoping for his, Jessie, and Damien's freedom. That day I also met Jason's love Holly, who I immediately felt a kinship with. The following May both Jason and Holly along with the others would be in attendance at my wedding. It was the first wedding Jason ever attended in his life. His being there had been a hope of mine and to have it be a reality made it all the more special. Since his release, Jason and Holly have become dear friends who my husband and I could not imagine walking through life without.
I write about all of these personal events because if Bruce and Joe had not made the Paradise Lost documentaries, my life would be very different now. More importantly, because these two had the courage to make films about injustice, three men walk free now. Yes, there is still a fight to exonerate the West Memphis Three, but they would probably still be sitting in jail without the work and films of Bruce Sinofsky and Joe Berlinger.
Granted, the three Paradise Lost films are not the only work that Bruce leaves us with, but I contend they were some of the most important. He was an artist who changed the lives of those he met and fought for as well of the lives of those he never knew. His legacy will continue to live on through his work as well as through the stories that those who knew him and loved him will continue to tell.
Safe travels, Bruce, you will be missed.