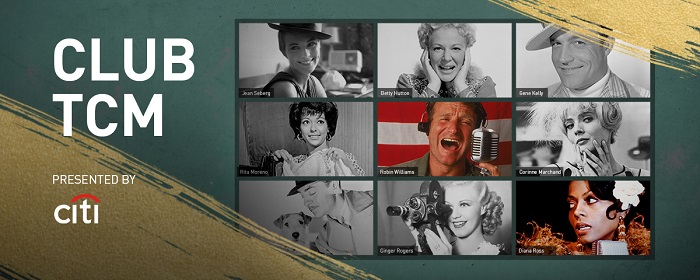 Press release: Lights – Cameras – ZOOM! Club TCM is going virtual this year and bringing you five exciting events. Join us on Zoom to hear from TCM hosts and Festival talent, learn something new and share your love of classic movies with fellow TCM fans. Space is limited and registration is required. Lineup subject to change.
CLICK HERE TO DOWNLOAD AND PRINT YOUR VIRTUAL FESTIVAL PASS
Meet TCM
Wednesday, May 5 at 6:00PM ET
Looking for some insight into the TCM network, how it is produced and what is on the horizon? Join the conversations and get caught up on all things TCM with the members of the network's leadership team.
Opening Night Toast with the Hosts
Thursday, May 6 at 6:00PM ET
Join TCM hosts Ben Mankiewicz, Alicia Malone, Jacqueline Stewart, Dave Karger and Eddie Muller to kick off the Festival as they sip cocktails, swap stories and answer your burning questions.
Curating the Classics
Friday, May 7 at 6:00PM ET
Join TCM host Eddie Muller and members of the TCM programming team as they give you a peek behind the curtain at how TCM movie magic is made.
Sight and Sound Makers: A Chat with Ben Burtt & Craig Barron
Saturday, May 8 at 6:00PM ET
Oscar-winning sound designer Ben Burtt (Star Wars: Episode IV – A New Hope, Raiders of the Lost Ark, E.T. The Extra-Terrestrial) and Oscar-winning visual effects artist Craig Barron (The Empire Strikes Back, Zodiac, The Curious Case of Benjamin Button) will join you for a live Q&A session to answer your questions about their work, like the sounds Burtt created in your iPhone or how Barron made 1970s San Francisco come to life in the film Zodiac. They will also talk about their special presentation: Jet Jockeys in Love: The Making of Chain Lightning, available for streaming on HBO Max beginning on May 6, 2021.
She May Be a Movie Star, But She's Just Mom to Me
Sunday, May 9 at 3:00PM ET
Celebrate Mother's Day with TCM as we invite Amy Stiller (daughter of Anne Meara), Carlo Ponti Jr. (son of Sophia Loren) and Victoria Riskin (daughter of Fay Wray) to talk about what day-to-day life was like with their beloved and very famous moms.