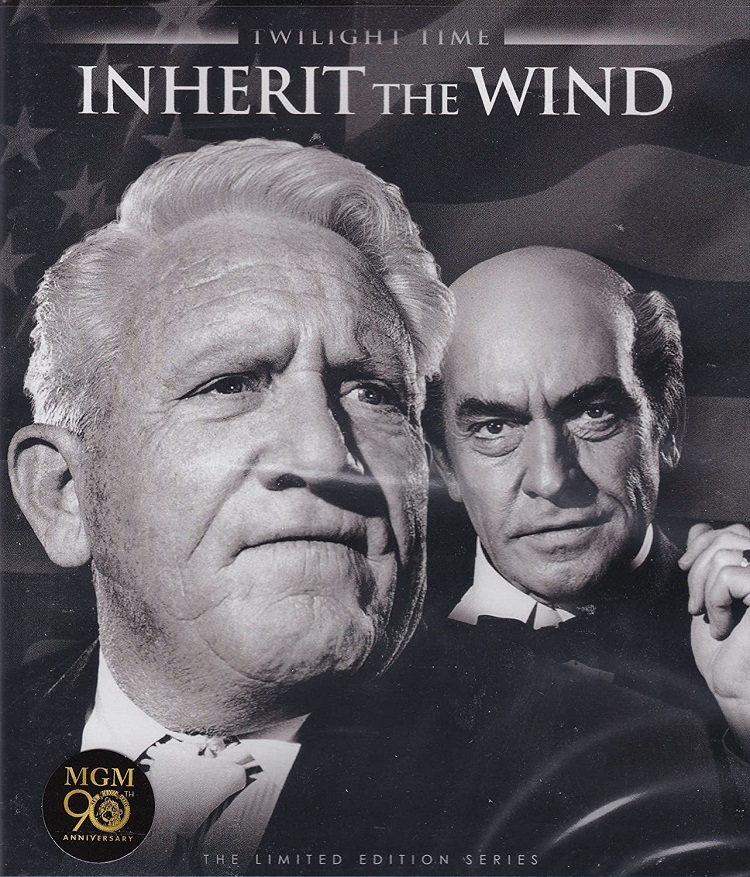 Since the dawn of mankind itself, there have been notable examples of individuals willing to break any rules that have been established, question whatever authority may be in command, and just try to have a good time in general – especially when it's all-but forbidden to do so. And that motif of rebellious folk is in fine form in the latest collection of movies from Twilight Time. Released in late December, this batch of six films ranges from highly acclaimed classics to somewhat forgotten features from yesteryear, as directed by the likes of Stanley Kramer, Oliver Stone, Mike Nichols, and even Barbra Streisand. Yes, be prepared, my friends: there area couple of musicals on this bumpy, recalcitrant road ahead of us.
But first, let's tackle what is arguably my prime pick out of the lot: the Blu-ray debut of Stanley Kramer's classic courtroom drama, Inherit the Wind. For those of you who have, for whatever reason, never heard of this 1960 masterpiece (it was recently revealed via Twitter that an entire generation may have no idea who Paul McCartney is, so it stands to reason some people have not heard of Inherit the Wind), the film brings a 1955 play to life based on the Scopes Trial which occurred in Tennessee some thirty years before (this, long before that unintentionally hilarious nitwit Megan Fox beagn auditing museums and actual, proven science).
Here, Fredric March – one of cinema's most iconic personifications of Dr. Jekyll and Mr. Hyde – trades his monster makeup in for a bald cap, but retains the evil as he plays a famous conservative lawyer called to a small, Bible-thumping Southern town to prosecute an ordinary school teacher (Dick York) who has been jailed for teaching Darwin's Theory of Evolution. But the battle for religious order proves to be stickier than he thought when the ultra-cool Spencer Tracy – one of filmdom's least-memorable Dr. Jekyll and Mr. Hyde stars – as his controversial, longtime libertarian opposite, signs up to defend the tutor who literally doesn't have a prayer.
Both leads ignite every scene they're in passionately; Tracy playing a cool-headed Leftie who believes in equal rights, while March makes for a surprisingly sympathetic character despite his urge to condemn a man for using his God-given free will. But it's Gene Kelly who gets the bulk of the snappy dialogue as a self-obsessed, hotshot atheist reporter who represents the very nadir of civilized man. Harry Morgan plays the judge overseeing the whole debacle, Florence Eldridge is March's semi-suffering wife, Claude Akins is the local overzealous reverend whose daughter (Donna Anderson) is engaged to the immoral educator whom the locals feel has left God out of the equation.
Noah Berry, Jr. and Norman Fell are also featured, Leslie Uggams sings the opening and closing themes. Twilight Time's Blu-ray of Inherit the Wind presents the classic black-and-white feature film in a solid transfer its 1.85:1 aspect ratio with DTS-HD MA 1.0 sound and optional English (SDH) subtitles. A secondary DTS-HD MA 1.0 track contains an isolated Ernest Gold score with sound effects; a post-release theatrical trailer hosted by the Judgment at Nuremberg / It's a Mad, Mad, Mad, Mad World director himself indicates why we should be grateful the late filmmaker was on the other side of the camera – as his acting leaves a bit to be desired. But hey, he was a real rebel like that!
Moving on, we find ourselves leaving God out of the equation even more as we approach the amoral shenanigans one encounters during The Prime of Miss Jean Brodie. The 1969 British drama, inspired by both a 1961 novel and a subsequently-produced play in 1966, finds Maggie Smith as the tutor of a prestigious Scottish school for junior misses (ten points if a Hall and Oates song just popped into your head) in the 1930s who, as the title suggests, is in a top-tier stage of life. And Miss Jean Brodie' prime mainly focuses on telling her students about the beauty of art and the magnificence of such romantic continental European leaders such as Mussolini and Franco.
Yes, she's that type. Also, illicit liaisons with certain male members (ahem) of the staff, such as art teacher Mr. Lloyd (Robert Stephens) to music master Mr. Lowther (Gordon Jackson). She's that type. Yes. Trouble is, her ex-lover art teacher – who happens to be a married man with several children both hither and en route – is having a hard time letting her go, while she is experiencing a difficult time "falling" for the music man. Meanwhile, Miss Brodie further "instructs" her four favorite pupils past the point of acceptable standards (even by this day and age), from brainwashing a wealthy orphan (Jane Carr) to scheming a devious way of trying to send her prettiest girl (Diane Grayson) into the ever-able strong arms of Mr. Lloyd!
But the ever-able mind of her most intelligent student, as played by the ultra fantastic Pamela Franklin, begins to see through the charade as she matures – which leads to one of cinema's greatest nude scenes ever, I might add (ten more points if that Hall and Oates song just took on new meaning to you, though it probably shouldn't need to after all this time). Director Ronald Neame constructs a wonderful (a)morality tale in this multiple global award winner, and also joins a growed-up Ms. Franklin for an audio commentary that is included in this Twilight Time release. The transfer for this film is another stellar one, presented in its original 1.85:1 aspect ratio with DTS-HD MA 1.0 audio, English (SDH) subtitles, and an optional DTS-HD MA 2.0 music/effects track. Two trailers, one of which is clearly a TV spot mislabeled as a Teaser, are also on-hand.
For all the scheming Miss Jean Brodie conducted, it doesn't hold a candle to the antics Warren Beatty and Jack Nicholson are up to in Mike Nichols' The Fortune, a 1975 comedy oddity that has all but been obscured by many, many lesser "the funny" movies (and a few better ones) over the years. Centering itself in the 1920s – more specifically, around the strict enforcement of the Mann Act during that time (the act is still in force, incidentally, so gentlemen, beware) – The Fortune finds two genuinely hapless schmucks (our aforementioned leading men) engaging in just about every other illegal act imaginable in order to bypass getting busted for transporting an unmarried woman across the stateline for little more than sex.
But there's quite a bit more than just sex at stake with their so-called victim: the sheltered, naive, young heiress (Stockard Channing, in her debut and looking pretty darn fine if I do say so myself) to a sizeable sum from her family's business of manufacturing what Jack Nicholson's dimwitted character calls "mouse beds" (think ladies' sanitary napkins, kids). As Beatty's inept ringleader is a married man, he persuades his even more incompetent pal to marry the young lady; the trio heading out to Los Angeles (where I kept expecting Jack to turn into Jake Gettes for some reason) to start anew by wallowing in sin. When the clueless girl begins to suspect things aren't all sunshine and happiness, the motives of the madmen become less benevolent, leading to more harebrained shenanigans.
It's an awkward film, to say the least – one that tries just a bit too hard to be a screwball comedy, and begins to lose some steam once it realizes it only has one joke to tell. But it's interesting to see the three leads at play; in fact, were it not for their fine performances (pay particularly close attention to the article of food Nicholson tosses onto the table during one of the film's many argument sequences and how Channing perfectly ignores the way it unitentionally lands, which is funnier than most of the movie's actual intended humorous bits). Apart from an isolated incidental score in DTS-HD MA, there are no special features for this Twilight Time release – though the 2.35:1/DTS-HD MA 1.0 transfer (with optional subtitles, naturally) is definitely a crowd pleaser.
Speaking of crowd pleasers, the 1968 musical Funny Girl – made at a time when audiences were apparently quite content with paying to see movie musicals – brought a certain Broadway sensation by the name of Barbra Streisand into the world of film. The movie proved to be an international hit, launching the motion picture career of a young woman with a voice that could definitely move a mountain. Several years later, in 1975, somebody thought that it would be a good idea to make a sequel to Funny Girl, which has since gone to be best described by the immortal words of Douglas Adams: "This has made a lot of people very angry and been widely regarded as a bad move." And I mean that from the bottom of my blackened, sunken-in little heart.
A near-eternal teeth-gritter that even an entire horse salt brick cannot prepare the average non-Streisand fan for (and one that even the writers of the decidedly mediocre '90s comedy In & Out poked fun at!), Funny Lady finds the further (mis)adventures of a fictionalized version of Fanny Brice (Streisand, older and less-wiser since she agreed to do the film). James Caan, in one of the worst casting choices ever, plays songwriter/producer Billy Rose, whom our heroine makes the mistake of marrying. Omar Sharif, looking like he was acting at gunpoint, returns as gambler Nick Arnstein, while Roddy McDowall delivers the only dignified performance, which takes an unfortunate backseat to the terrible chemistry of its leads.
Numerous, unnecessary, and sometimes bizarre musical numbers (who, in the name of all that is holy, sings in a biplane?!) lead one to believe the movie is ending when it isn't in this famous act of Hollywood rebellion against the masses. Still, it looks and sounds darn good in Twilight Time's Blu-ray presentation, which presents the film in a gorgeous 2.35:1 aspect ratio with an absolutely stellar DTS-HD MA 5.1 mix accompanying, along with optional English (SDH) subtitles in case you positively must know the lyrics to Barbra's many, many showstopper songs (of course, this whole movie's a showstopper!). Several vintage featurettes and two trailers are also provided for this release, which, surprisingly, does not feature a music-only track.
In the event you simply did not get enough Streisand in Funny Girl, Twilight Time has doubled up on Barbra's filmic offerings by releasing the substantially more popular outing Yentl on Blu-ray as well. Made in 1983, when manufacturing a movie musical was really pushing the envelope, Streisand finally made a longtime dream come true: turning Isaac Singer's story Yentl: The Yeshiva Boy into a movie. With lots of solo numbers. In fact, it's nothing but solo numbers, which is really disheartening considering Mandy Patinkin is the co-star/romantic interest. But I'm getting ahead of myself a bit. First off, the story itself is something we can all relate to: cross dressing.
OK, well maybe not all of us, but definitely anyone who has even been told "No". In a tale that took 15 years to bring to life on account of one pre-production fiasco after another, Yentl finds then-41-year-old Streisand as the eponymous teenage girl (she's a funny lady, that Barbra – as if!) who longs to learn the Talmud despite the fact that her Ashkenazi society and religion explicit prohibit such things. Though her father (the great Nehemiah Persoff, in a small but important role) is sympathetic, if a bit rebellious himself, and agrees to teach her, his inevitable passing leads Yentl to dress as a man and enter a yeshiva. Along the way, she meets – and soon develops feelings for – a handsome virile student, as played by Mr. Patinkin.
Patinkin's character has his own secrets to hide, and his longing to get all up in there with his betrothed (Amy Irving, who was nominated for both an Oscar and a Razzie for her just-sort-of-there performance, indicating just how attentive the Academy was even then) is quite the distraction to Barbra's own longings. And so, she sings. Man, oh man, does she sing. A lot. I mean, a lot! Once more, we are subjected to nothing but showstoppers – which a musical, especially one of a cinematic nature, does not need; there must be filler "songs" as well so you don't drain the audience of their energy and emotion (the score also earned a Razzie, while the Academy granted an Oscar for it). But nothing will permit us to forgive Streisand not allowing her male co-star to belt out even a single note (James Caan gets to sing, but Mandy Patinkin doesn't?!).
Honestly, I have spent too much time on this one. But the show must go on, right? While Yentl is most assuredly one of Streisand's better films, the unmistakable egotism of the lead actress/director/co-writer really bogged the film down for me (but I take considerable solace in the fact that Barbra earned a nomination from the Razzies while the Academy – thankfully – did not extend such a courtesy, which must have surely left her fuming). That said, the 1.85:1 presentation of this Twilight Time Blu-ray is top-notch, as are the DTS-HD MA 5.1 and 2.0 audio options. (No isolated score is featured here, either, sorry.) The disc features both the original lengthy theatrical cut and Barbra's extended edit from the 2009 Special Edition DVD, as well as the other bonus features from that disc.
Lastly in this lineup of social insurgents is an offering from one of filmdom's biggest mutineers himself, Oliver Stone. 1993's Heaven & Earth finds the oft-controversial filmmaker at his peak, before the likes of the vastly overrated Natural Born Killers and just about every other movie he made afterward. The title is also the last of a trilogy about the Vietnam War, based on two biographies by Le Ly Hayslip, the film finds Hiep Thi Le as the fictional filmic Le Ly, who starts out as a simple creature in a simple central Vietnamese village. From the advancement of Communist rebels fighting the French in the '50s to the eventual war with America in the '60s Le Ly sees one change after another, caught right in the middle of hard times and horrific events all the way through.
Eventually, she meets and later marries a kindly US Army sergeant, as played by the great Tommy Lee Jones, who was at the top of the charts (so to speak) at the time after his award-snatching role in big-screen remake of The Fugitive the same year. Alas, Jones' character isn't as kindly as he seems. In fact, he's the poster child for what will someday be known as Post-Traumatic Stress Disorder, turning into an eerily similar characterization of my own batty father in the '70s. But Le Ly endures it all, with Ms. Hiep Thi Le giving it her all. Joan Chen and Haing S. Ngor co-star in this somewhat hypnotizing epic, the only entry of Stone's trilogy to be snubbed at the Oscars completely.
Likewise, the film flopped at the box office, and received a fair amount of negative reactions from critics and audiences alike to boot. Nevertheless, the home video rental industry may have improved the movie's reputation over the years (it was a fairly hot item at the store I worked at in the mid '90s). I enjoyed the movie more than I did some of the others in this lot, though I am not terribly partial to Stone's films. It's certainly strange (but nice!) to see the Warner Bros. logo on a Twilight Time's Blu-ray for a change, and the 2.35:1 video/DTS-HD MA 5.1 audio aspects are quite breathtaking. Special features are identical to those featured in the 2001 DVD, and include several deleted scenes, a lengthy alternate opening, an audio commentary by director Oliver Stone, and a trailer.
Like the Streisand movies, Twilight Time's release of Heaven & Earth also goes against the grain of including an isolated score as an extra. However, in the instances of all six movies, we get something that's far more stimulating. I refer, of course, to the extensive liner notes by writer/historian Julie Kirgo, whose words and wisdom will surely fill any voids you may experience in any of the previously-mentioned films. (I say that not entirely because I know I'm going to hear from her regarding my many cracks about Barbra Streisand; it's also the truth.) All six releases are limited to only 3,000 units apiece, so get 'em while you can, kids.