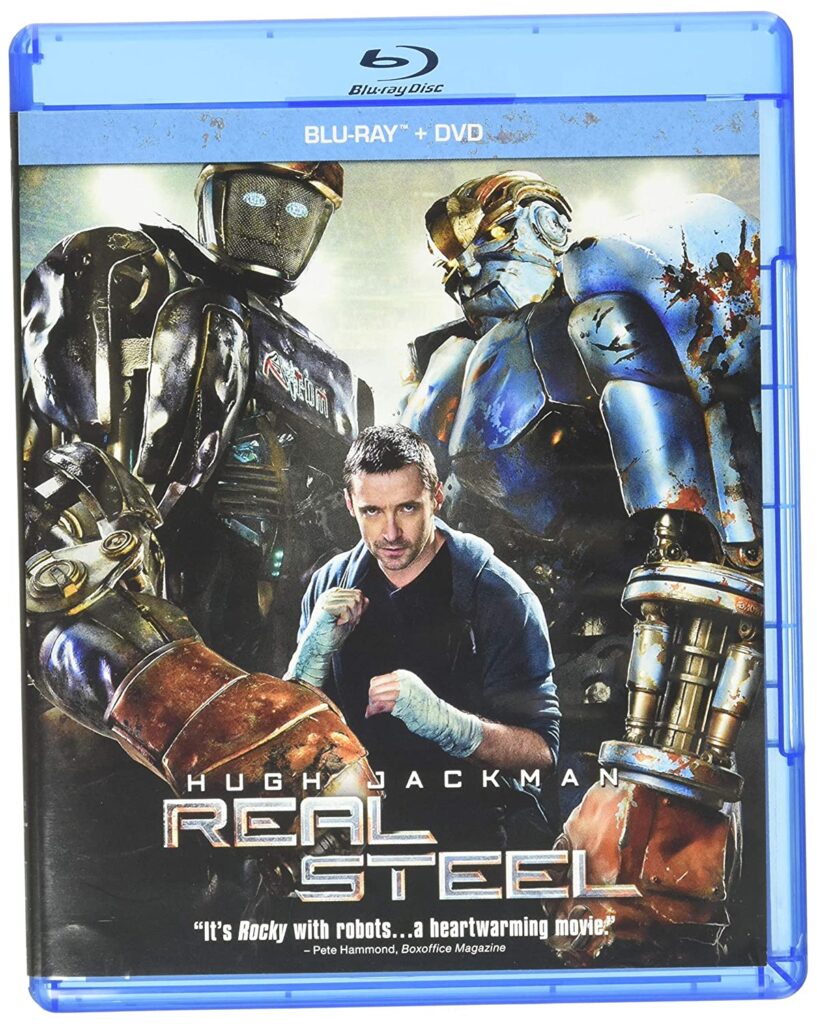 When I saw the first preview for Real Steel, my reaction was the same as many: Rock'em Sock'em Robots brought to the big screen. I had no interest whatsoever. What eventually won me over is Hugh Jackman's likability and my desire to see Evangeline Lilly in anything since Lost. The movie is very predictable and sappy but it does have some tender moments and impressive action.
In the year 2020, robots have replaced humans in the boxing ring. Charlie Kenton (Hugh Jackman) is an ex-fighter who struggles to earn a living as he travels the country to enter his fighting robot in various exhibitions. After his latest failure, Charlie learns that his ex-girlfriend Caroline has died and there is a question of the custody of his son Max (Dakota Goyo). Caroline's sister Debra (Hope Davis) wants full custody but her husband Marvin (James Rebhorn) is less enthusiastic due to a planned European vacation. Charlie capitalizes on the situation and blackmails Marvin: he will take Max for three months in exchange for $100,000. With the deal secured and the first $50,000 up front, Charlie takes Max to secure a new robot with the help of Bailey Tallet (Evangeline Lilly), whose deceased father was Charlie's old coach.
Charlie and Max hit the road with the new robot, but Charlie gets greedy and they lose the very first fight. Back to square one, they go to Metal Valley, a robot junk yard, for parts to build a new robot. Due to a dangerous turn of events, Max discovers a fully constructed sparring robot named Atom to whom he gets instantly connected. Max believes that this is their chance to turn things around and manages to convince Charlie to train the robot, sending them on a journey that changes their lives forever.
The two-disc combo pack includes a Blu-ray disc and a DVD disc along with several bonus features.
The film was nominated for an Academy Award for Best Visual Effects and it looks stunning on Blu-ray, which is presented with a 1080p/MPEG-4 AVC encoded transfer displayed at an aspect ratio of 2.35:1. The robots look phenomenal as they mesh seamlessly within scenes. To increase the realism, there's an odd bit where the robot Noisy Boy gets its arm broken off and appears to shoot oil across camera lens. This takes you out of the moment because it reminds your watching movie, but once in that mindset, you realize the robots aren't real.
The colors are very vibrant, though Mauro Fiore's cinematography makes a little too much use of orange and teal at times, as is the unfortunate style of the times for some inexplicable reason. The blacks are rich. There's great clarity of details and the picture looks pristine and free of digital artifacts.
The DTS-HD Master Audio 7.1 is immersive and demo-worthy. Great ambiance is demonstrated through screaming fans in a massive auditorium as well the echo heard when two people are talking in a small gym. The robots' movements, from high-pitched whine of gears to the thunderous, subwoofer-shaking stomps of their feet, will make the viewer feel like they are in a movie theater. Danny Elfman's score and the soundtrack also ring out throughout the system.
"Real Steel Second Screen: Ringside with Director Shawn Levy" is a commentary track with behind-the-scenes information injected into the viewing of the film. It is a cool way to illustrate how specific scenes were shot right as you are viewing it. However, the director talks way too much and the information gets lost in his incessant chatter. After watching the rest of the bonus materials, I realize that the director is very excited about this film and like a parent with their child, just wants to share as much information as possible. Additionally, the behind-the-scenes footage doesn't tie to the scene being viewed and would be better compiled into a featurette.
"Countdown to the Fight: The Charlie Kenton Story" is a fake special promoting the upcoming final fight in the film. It is a clever way to provide information not given in the movie as it gives depth and background to the main character not included in the film. I actually enjoyed aspects of this more than the movie itself.
"Making of Metal Valley" showcases this specific scene and the set construction. "Building the Bots" highlights the construction of the robots. "Sugar Ray Leonard: Cornerman's Champ" provides information on the training that Leonard provided to Jackman in preparation for filming. I admit that this impressed me because it gave the film more credibility. All of these featurettes illustrate the strides that the director went to in order to make this a realistic tale, it increased my appreciation of the film. There are also deleted scenes and bloopers.
Real Steel is a sweet family movie about redemption and the importance of the relationship between father and son. There is no sex, no gratuitous violence, and no swearing. Hugh Jackman is as charming as ever, which is a negative at times because when he behaves like a scoundrel, it isn't very believable. You know he has a heart of gold that will shine through at some point. On the other hand, he is extremely fit and got his body in a condition to be believable as an ex-fighter. Evangeline Lilly is lovely and lights up the screen whenever she is on; I just wish there had been more of her and that her character was a bit more developed. The action sequences are impressive and the robots are really cool. I didn't feel a connection to Atom and it was difficult to root for him, but the manner in which the filmmaker is able to turn this around and resolve the final fight brought in the emotion and human connection that I was missing. I was pleasantly surprised and enjoyed this movie much more than I thought I would.