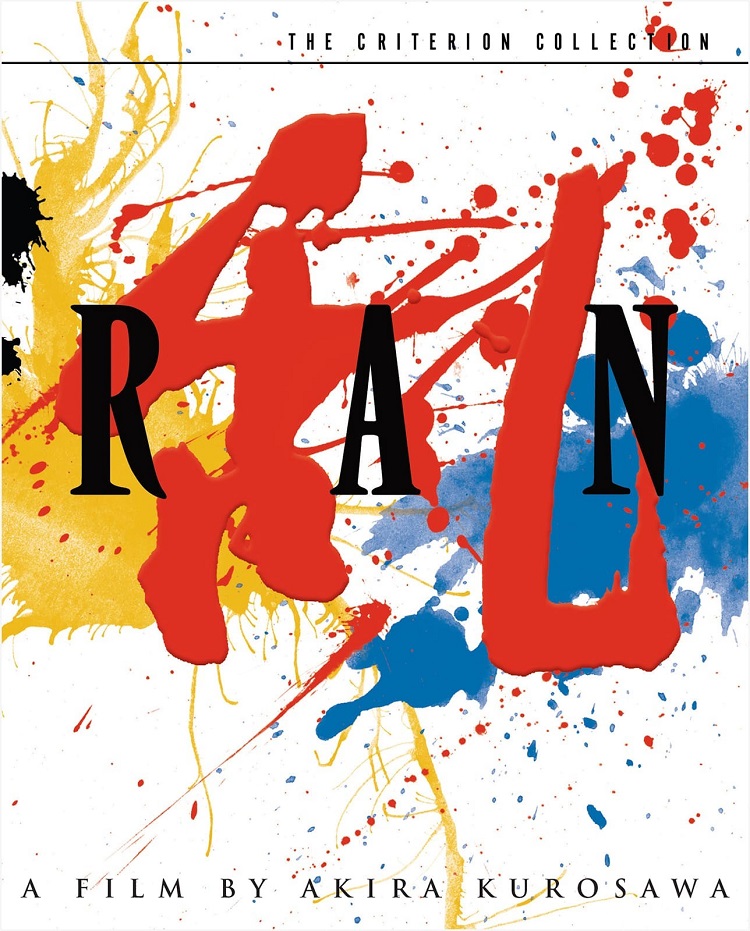 Ran is Kurosawa's last masterpiece from a man who made many. He made three more films afterwards, but none came close to the size and scope of Ran. Financing had been hard for Kurosawa to raise in his later years. Since Red Beard in 1965, he was making one film every five years and at the age of 75, Ran was quite likely to be his last, so he pulled out all the stops to make as glorious a spectacle and a statement as he could, and he succeeded mightily. He returned to Shakespeare, transporting the story's setting to 16th century Japan as he did previously when he created Throne of Blood out of Macbeth. King Lear is the inspiration for Ran and Kurosawa improves on the bard's work.
The aging Lord Hidetora Ichimonji has accumulated a great deal of power and wealth over the years with his warring ways. He decides its time to pass on his kingdom to his sons, yet he wants to retain his title and privileges. He also wants to take a small staff with him as he alternates living between three castles. Taro, the oldest, is made head of the house and is given the first castle. Jiro, the second oldest and a mighty warrior, is given the second castle. They play on Hidetora's vanity and fawn over him.
Saburo, the youngest, is given the third castle. His character is based on Lear's Cordelia. He truly loves his father, illustrated in a scene when he creates shade for the sleeping Hidetora; however, his honesty is misinterpreted by his father's vanity. Saburo calls out his brothers' false flattery and informs Hidetora that his idealistic thoughts of everyone living together harmoniously aren't realistic in the time they live nor in the way he has raised them. Hidetora sees Saburo as being contrary and disrespectful, thinking his words belie his intentions to turn on his father, which are the furthest thing from the truth. Hidetora banishes Saburo from his land for his perceived insolence.
After Taro and his wife, Lady Kaede, whose family suffered greatly at the hands of Hidetora, take over the first castle, the accuracy of Saburo's claims is quickly revealed. Taro, assisted by his wife's prodding, insults his father's honor and causes him to leave the castle. Jiro is goaded by his men to move on the weaker Taro, but he awaits an opening, though he knows he doesn't have long before his men will grow restless. When Hidetora arrives at his castle, Jiro sees an opportunity. He tries to separate Hidetora from his men, claiming that Taro told him to do this, but Hidetora discovers the truth and leaves in disgust.
As Hidetora and his men travel the countryside, his counselor, Ikoma, who has secretly switched alliances, tricks him into going to the third castle where an ambush awaits. The armies of Taro and Jiro are briefly united in a spectacularly executed battle sequence that ranks alongside filmdom's best ever. The armies storm the compound and set the castle ablaze, yet Hideotara is able to escape, unscathed physically though not emotionally as the self-awareness of his life brings on bouts of madness. Treachery and bloodshed continue throughout the film with almost no one escaping unpunished for their deeds.
Kurosawa was a talented artist who made great directing choices in Ran. He used rare close-ups because the point of view of mankind is from the heavens, so everything is at a distance. He used multiple cameras shooting on different planes, so when he cut between them it created accelerated movement and action. The shots are framed and choreographed like a painter
The first thing you notice when watching The Criterion Collection's out-of-print DVD is the colors are amazingly vibrant and pop right off the screen. The newly restored, high-definition digital transfer has returned the film to its original luster. To see the difference, compare it to the four trailers for the film that appear in the set.
The battle scenes in Ran will likely never be recreated because CGI has cut the costs. The castle set was $1.5 million dollars and its destruction is a marvelous triumph to witness in the creation of art, but no studio would ever let money be spent like that again. The armies are filled with numerous soldiers on foot and horseback, which adds to the scale and power of the film, but they too can be easily replaced with a computer. Yet, there is something striking about special effects. We are aware of them and become temporarily removed from the viewing experience, causing a film to lose its power. The reality Ran creates is one of its major strengths.
The DVD supplementals are so well done and so informative that they belong in an independent study course. It is near impossible to watch these and not become more educated in the art of cinema. They are presented in their original soundtracks with optional English subtitles.
An insightful commentary track by Stephen Price, author of The Warrior's Camera: The Cinema of Akira Kurosawa, provides a wealth of information about the film. It is a combination of his material from the 2003 DVD release by Fox Lorber and new content he recorded specifically for this Criterion release. He breaks down the story and its characters, and shows how Noh, a form of classical Japanese drama, is a major influence on the film's storytelling.
There is an appreciation by Sidney Lumet, who directed legendary films such as 12 Angry Men, Dog Day Afternoon, and Network. He compares Kurosawa's talent to that of Beethoven and considers Ran as good as a movie can get.
A.K. is a 74-minute documentary by Chris Marker, director of La Jetee, the short film that inspired Terry Gilliam's 12 Monkeys. It provides a look behind the scenes during the making of Ran, showing Kurosawa and his crew at work on the slopes of Mt. Fuji.
Toho Masterworks created a series called Akira Kurosawa: It Is Wonderful to Create that examines the director's body of work. A 30-minute segment focusing on Ran includes interviews with cast and crewmembers sharing their memories of working on this film. Martin Scorsese has a cameo, appearing at a press conference where he mentions the film's ending.
image: Kurosawa's Continuity was created by Masayuki Yui, who appears as Tango in Ran. He uses Kurosawa's storyboards to reconstruct the film. The segment begins with a quote about Kurosawa almost becoming a painter and you can see it was those skills that made him such a talented visionary. Audio from the film is matched up to the storyboards, creating a 40-minute abridged version that shows the vision of Kurosawa. It will leave you awestruck because you witness his success in bringing his vision to the screen exactly as he imagined it almost without compromise.
A new interview with Tatsuya Nakadai, who acted in a number of Kurosawa films over the years and portrayed Hidetora in Ran, was recorded in May 2005.
Ran was created at time when the destruction of the world by nuclear Armageddon was talked about as a very serious possibility as the arms race accelerated between the United States and the Soviet Union. In the film's last sequence, Kurosawa uses symbolic imagery, equal in its beauty and power, to make a statement about mankind and the folly of war.