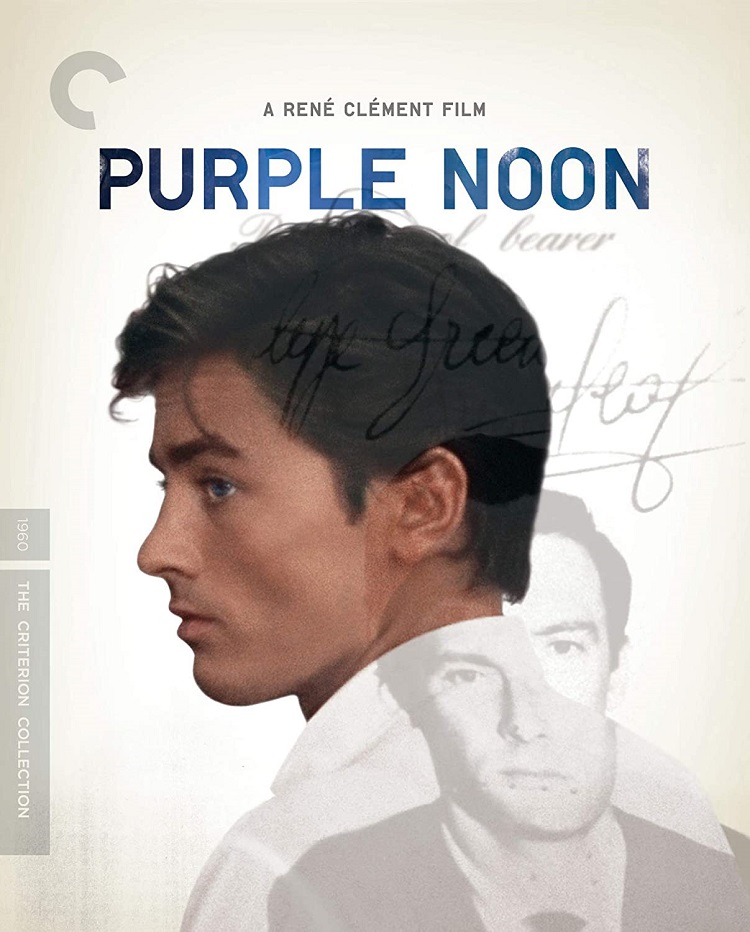 Purple Noon (Plein Soleil), Rene Clement's 1960 film based on Patricia Highsmith's novel The Talented Mr. Ripley, is more brooding and unsettling thanAnthony Minghella's 1999 adaptation. Long before Matt Damon took on the role of Tom Ripley, French actor Alain Delon's chiseled good looks and cool demeanor breathed life into Highsmith's suave identity thief. The Criterion Collection released a restored version of Purple Noon on DVD (and Blu-ray) earlier this month.
Philippe Greenleaf (Maurice Ronet), an arrogant, devil-may-care rich kid, is traveling through Italy spending his fortune. His concerned father back in America offers Ripley $5,000 to bring the young man back home. Spurred on by the father's reward, charming con artist Ripley is happy to hang out with Greenleaf and help spend his money before convincing him to return to America.
The penniless Ripley grows to envy Philippe's lifestyle and desire his girlfriend Marge (Marie Lafoet). After days of flirting and carousing on the streets of Rome, the friends take a sailboat trip wth Marge. Philippe turns on Ripley, insulting his table manners and leaving him in a dingy alongside the boat for several hours.
Once Ripley gets back on the boat, he unravels a plan to kill his tormentor and absorb his life. The tension builds as Ripley exposes Greenleaf's carousing to Marge, throwing the arrogant rich kid off-balance. The outraged Marge goes ashore, leaving the two men alone to bicker. Back on the water, Ripley tells Philippe of his murderous plans. Philippe, believing it to be another one of his friend's pranks, plays along. Philippe becomes suspicious, and offers to pay Ripley to go away. Ripley stabs Philippe to death and throws his body overboard. Cinematographer Henri Decaë had never used a camera on a boat before, and Delon suffered from seasickness during the shoot. Despite these obstacles, this pivotal scene is flawlessly executed and taut with suspense.
Ripley returns to Italy, informing Marge that Philippe has gone into seclusion and wants nothing to do with her. He then assumes Philippe's personality and siphons off the dead man's remaining money, as he moves from hotel to apartment, mimicking the dead man's voice and gestures. He murders Philippe's curious friend Freddie (Billy Kearns) when the man asks one question too many. The identity theft continues, as Ripley forges a suicide note (having practiced Philippe's handwriting for weeks) and a will leaving Philippe's fortune to Marge. It seems rather archaic to watch Ripley commit his forgeries using manual typewriter and overhead projector; before computers, forgery was indeed an acquired skill.
No one catches on to Ripley's scheme, and he and Marge become a couple. They settle in for a tryst on the beach. Down the shore, Greenleaf's sailboat is pulled to dock – with his corpse still attached to the boat by rope. Marge screams, and the police move in, ostensibly to arrest Ripley.
Purple Noon turned Delon into an international star and won almost unanimous praise from critics. Author Highsmith praised the film as a whole, but was unsatisfied with Clément's "moralistic" ending.
The digitally restored Criterion Collection DVD provides a crisp, high-def transfer culled from the original film. Decaë's flawless cinematography is awash with rich color, from the streets of Rome to the blindingly blue waters of the Mediterranean. Supplementary material includes archival interviews with Alain Delon, author Patricia Highsmith, and an original interview with film scholar Denitza Bantcheva about René Clément's career. A 30-page booklet with behind-the-scenes stories and photos rounds out the DVD package.
René Clément's knack for physical and psychological detail makes Purple Noon a treat for the eyes and a test for the nerves.