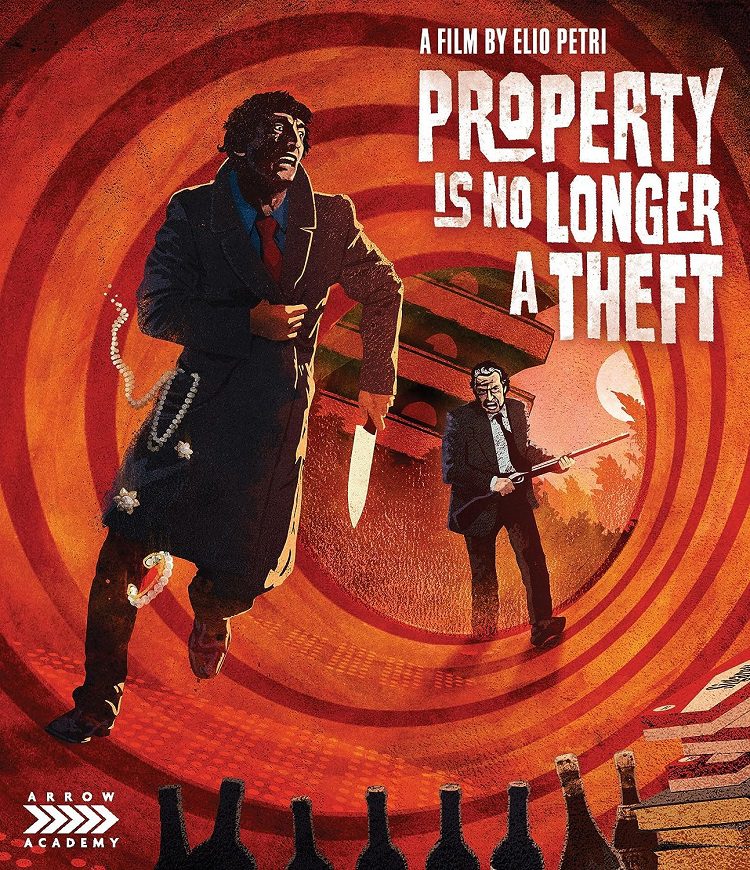 The final entry of a surrealistic motion picture trio ‒ known to fans as the "Trilogy of Neurosis" ‒ Elio Petri's strange little 1973 comedy Property Is No Longer a Theft (La proprietà non è più un furto) makes a very late US debut via the newly launched North American wing of Arrow Academy, the much more artsy side of Arrow Video. One of several titles inaugurating the Academy, Property Is No Longer a Theft is, in one word, "bizarre." But of course, that's what makes it so darn intriguing.
Complete with strange, soul-bearing soliloquies by the story's lead characters (which they speak directly into the camera for in front of a black background), Signori Petri's dark satire confronts the same subject that should truly be on a lot of people's minds these days: capitalism. Or, to be more specific, the inescapable greed caused by it. Penned by director Petri and frequent writing partner Ugo Pirro, this unrelated follow-up feature to Investigation of a Citizen Above Suspicion and The Working Class Goes to Heaven gives American audiences a rare opportunity to see the antics of Italian character actor Flavio Bucci in action.
Having made his film debut two years before in The Working Class Goes to Heaven, Bucci is mostly known in the US to Italian horror movie fanatics, having played the doomed blind pianist in Dario Argento's Suspiria. Decades before Americans briefly embraced and promptly forgot all about that Roberto Benigni fellow, there was Flavio Bucci. Inhabiting that certain je ne sais quoi (or should I say "non so che"?) only the Italians seem to be possess, Bucci effectively, with tongue-in-cheek, plays Total ‒ a young bank accountant who has the most peculiar of all hypersensitivities in society: he's allergic to money.
Unable to ask for loan from his employers on account of his social standing (he owns no property, thus is disregarded as inconsequential), Total quits his job counting the ill-gotten gains of the rich and powerful, setting his large, bulging eyes on one particular member of the local hierarchy, butcher Ugo Tognazzi. Offended by both his great wealth and clear signs of corruption (which naturally, go unnoticed by police inspector Orazio Orlando, who looks like the ugly Italian Martin Landau), Total chooses to possess the meat cutter's property bit by bit, beginning with the subtle theft of his beloved butcher knife.
But that's just the tip of the blade in Petri's flick. Soon, Total is fingering more than just utensils, apparel, and jewelry ‒ especially once he sets his sights (but not necessarily his desires) on the crass businessman's resident mistress, Anita (Daria Nicolodi, whose very revealing first big role caught the eye of Dario Argento, thus beginning a partnership that not only brought Italian horror aficionados several classic flicks, but the existence of Asia Argento as well). Mario Scaccia, who popped up in many a peplum epic and sex comedy, commits one of his most subtle performances here as a flamboyant performance artist who is also one of the city's most respected thieves.
Between Bucci's plight of self-described "Mandrake-Marixsm" and Tognazzi and Company's privileged vulgarity, Property is No Longer a Theft makes for a truly unique (as well as completely absurd and utterly outré) exercise in contemporary Italian '70s surrealism. A delightfully funky soundtrack by Ennio Morricone (if you listen closely, you may detect note some early shades of his score for Brian De Palma's The Untouchables) only adds to the fun. Likewise, Luigi Kuveiller, later provided the excellent photography for Argento's first collaboration with Daria Nicolodi, Deep Red, is just another great highlight of this weird little motion picture.
Unlike the first two chapters of Petri's trilogy, Property Is No Longer a Theft wasn't well received its release. The title never found its way to America, and apparently wasn't worth Nick Alexander's time to dub into English, either. Arrow Academy presents this lost oddity via a stellar 4k restoration from the original camera negative along with an LPCM mono audio track that comes through without a hitch, with newly-translated (removable) English subtitles, and three new 20-minute interviews with Flavio Bucci, producer Claudio Mancini and make-up artist Pierantonio Mecacci. A collectable booklet (first pressing only, kids) wraps up this BD/DVD combo release.
Complete with lots of sex, nudity, robberies, and weird bleak existentialism, Elio Petri's Property Is No Longer a Theft is the sort of intriguingly dark and unforgiving satire that only the Italians could make. Based on those focus points alone, I recommended you make it part of your Property today.