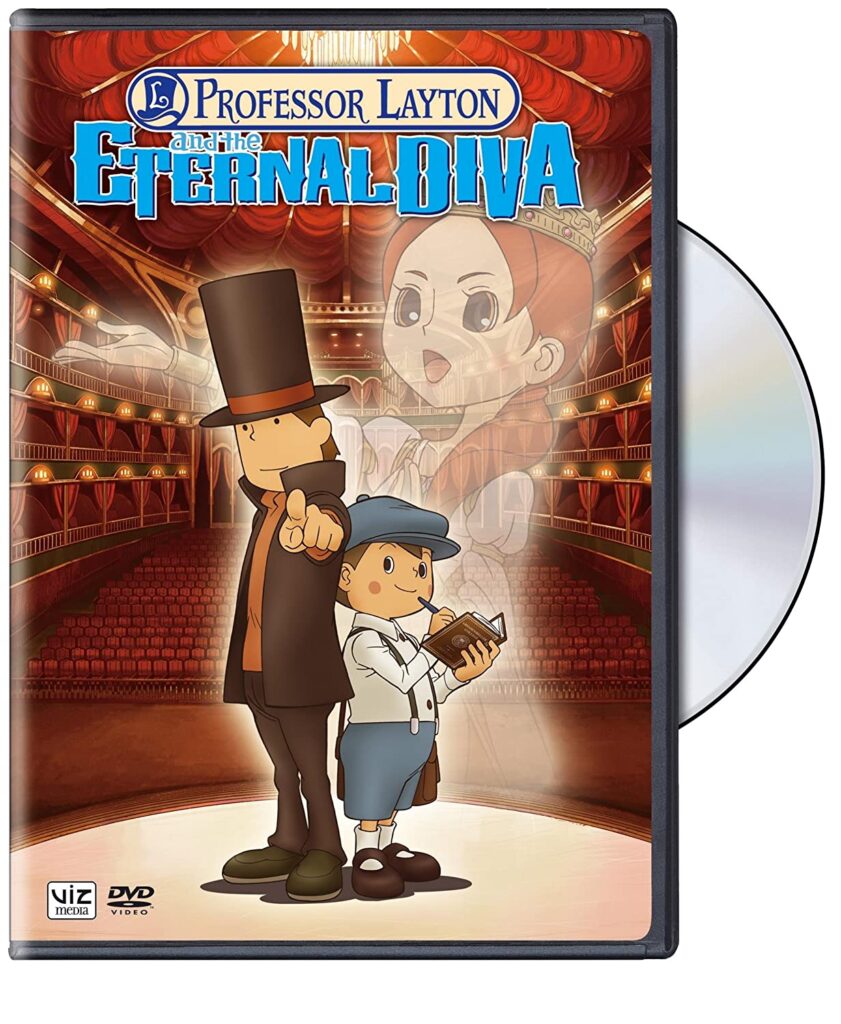 Professor Layton's Nintendo DS puzzle-game series introduced the characters carried over to this all-new feature-length anime movie. The games don't succeed just because of the varied puzzles in them, but because of the beautifully animated sequences tying them together into imaginative stories. Thankfully, the film's creators realized the rich vein to tap here for a full movie, maintaining the high animation and vocal talent standards of the games and spinning them into an entirely new tale. While the established fan base for this film is admittedly miniscule, consisting primarily of the puzzle game fans and otaku who have played the related Nintendo DS games, the film casts a wide enough net to capture the imagination of viewers from all walks of life.
Professor Layton is a brilliant and well-mannered British archeologist who puts his logic skills to use solving mysteries. He's abetted by his young charge named Luke, a bright lad who idolizes Layton and does his best to emulate Layton's puzzle solving talents. When Layton receives a letter from an ex-student, a now-famous opera diva named Janice, he takes Luke to see her performance at a legendary opera house. Once there, they become ensnared in a dangerous game with a masked villain who kidnaps the entire audience and tasks them with solving puzzles to win their freedom and their chance at eternal life. That kidnapping is a fantastic event seemingly straight out of a video game, where the opera house ends up being part of a hidden ship that sets sail before anyone can escape.
Once at sea, the villain throws more puzzles at the crowd, prodding them to successfully solve them or get ejected from the game, usually by falling through trap doors to imprisonment. The puzzles are brain teasers similar to those found in Layton's game series, and in a nice nod to those games they're even numbered the same way. Viewers have enough time to think about and solve the puzzles before Layton, adding a fun level of immersion to the film but not grinding it to a halt. There's no surprise about Layton's eventual success, but it's a great time getting to the conclusion.
As mentioned, the animation is identical to the games, meaning that the film carries the same hand-drawn look, character models, and use of lush backgrounds. This isn't a typical anime with big eyes and fast action; instead it marries a more sedate European sensibility befitting the Professor to its fine Japanese animated craftsmanship. The English vocal talent from the U.S. localization of the Japanese games is utilized as well, making this exactly what fans of the games would hope for in their fondest Layton dreams: a fully-realized, fully-authentic feature-length Layton film. For fans wanting the complete original Japanese experience, Japanese audio track is available as well. Normally, I'd opt for Japanese audio myself, but after playing three lengthy DS games with the English vocal cast I was thrilled to continue this new voyage with the voices I know.
There are no bonus features included on the DVD, but just the fact that VIZ Media is finally distributing it to the U.S. market is cause for celebration. The film is now available on DVD and digital download. For more information, visit www.viz.com.