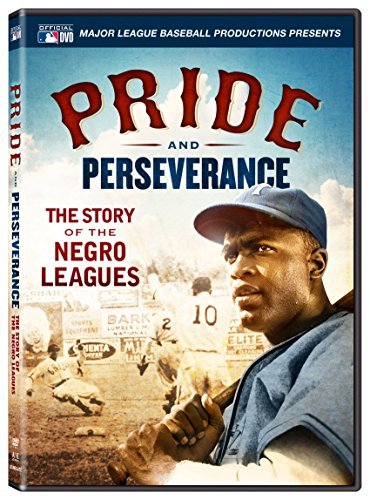 When Jackie Robinson took the field for the Brooklyn Dodgers in 1947, he broke an unwritten color rule in Major League Baseball, becoming the first African-American ballplayer to play professional baseball since the 1880s. Undeterred by the segregation prior to Robinson's arrival, African-American players formed the Negro Leagues, which featured many great players, many of who were sadly never given the chance to shine on the Major League stage. While the Negro Leagues proved popular, with the teams often playing (or barnstorming as they called it) against Major League teams, it has never been very well documented. Pride And Perseverance: The Story of the Negro Leagues, a new documentary from Major League Baseball Productions, aims to correct this injustice.
Narrated by Hall of Famer Dave Winfield, Pride And Perseverance opens with footage of Robinson before cutting to a modern-day ceremonial draft held in 2008 where every Major League team selected a living Negro League player as a posthumous thank you for their contributions to the game. The draft was more than half a century too late, as one player lamented, but it was a nice gesture nonetheless.
While Robinson's name transcends the sport, a much lesser known African-American player was actually the first to break the Major League color barrier. His name was Moses Fleetwood Walker. Walker played one season as a catcher for the Toledo Blue Stockings and while he was nowhere near the talent that Robinson or many of the other Negro League stars were, his importance cannot be understated. It is with stories such as Walker's that Pride and Perseverance shines, focusing not only on the stars, but also on players such as Walker.
Not being able to play in the Major Leagues didn't deter African-Americans from forming their own league. Andrew "Rube" Foster, a former player and manager helped to form the Negro National League in 1920. The league was a success, operating for over a decade and drawing 600,000 fans per year. White baseball began to notice, and many Negro League teams began barnstorming against Major League teams, usually with strong attendance in spite of commissioner Kennesaw Mountain Landis's attempts to curtail these games. Sadly, like many other businesses of the era, the Negro National League succumbed to The Great Depression in 1931. This was not the end of African-American baseball, however.
In 1933, a new Negro National League was formed, followed by an American League in 1937. Negro League teams started renting stadiums from Major League teams when they were on the road and some teams started considering breaking the color barrier. This, of course, did not become reality until a decade later when Jackie Robinson and, later that season, Larry Doby became the first African-American National and American League players, respectively. Many Negro League players never got the chance to play in the Major Leagues, such as Josh Gibson and James "Cool Papa" Bell, or got their chance at the end of their careers, such as Satchel Paige.
The documentary includes interview footage, both recent and archival, with both players who made the Major Leagues, such as Willie Mays, Monte Irvin and Roy Campanella and those who did not, such as Bell. It's one thing for a narrator to tell their stories, but to hear it straight from the players who lived it makes the story that much more powerful. Pride And Perseverance is only 50 minutes in length, but the archival game footage, along with the interviews and Winfield's fine narration make it a worthy addition to any baseball fan's collection.