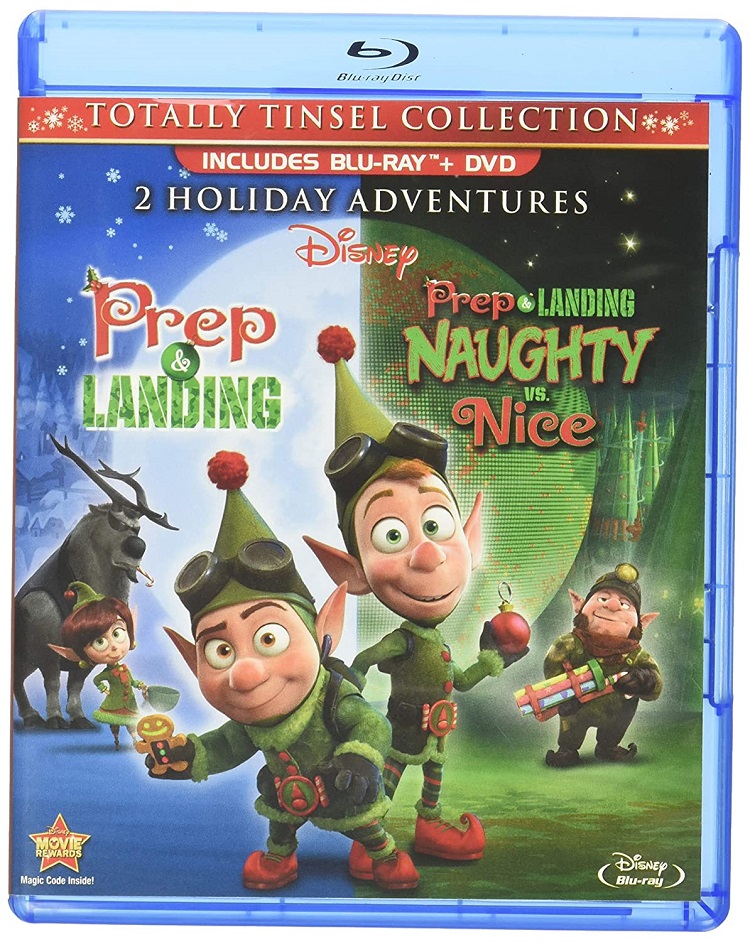 Written by Kristen Lopez
In 2009 ABC put out a Christmas special that blended the wit and animation of Pixar with the humor and heart of a Charlie Brown special.  Disney's Prep & Landing has become a Christmas staple in my house, alongside its equally good (although not nearly as perfect as the first) sequel Prep & Landing: Naughty vs. Nice.  Thankfully, families won't have to keep going back to their TIVO to replay a recorded copy as Disney has recently put out the Prep & Landing: Totally Tinsel Collection that not only has both specials, but additional "stocking stuffers" that add to the fun.  If you missed one or both of the specials now would be a great time to get everyone Prep & Landing in one package!
The Prep & Landing series follows two of Santa's elves as they prep the houses where Santa delivers toys. In the first Prep & Landing long-time employee Wayne (voiced by Dave Foley) gets sick of being passed over for promotions. When he's given a dimwitted partner named Lanny (voiced by Derek Richardson), Wayne soon discovers the true meaning of Christmas. In Naughty vs. Nice, Wayne is given another chance to save Christmas, but has to team up with his brother Noel (voiced by Rob Riggle) who works as a Coal Elf.
Prep & Landing is easily in my top ten Christmas specials. The story is sweet and to the point; quickly wrapped up in about 20 minutes. It's packed with humor, from the intricate way the elves execute their plans on Christmas Eve, to Wayne's sarcasm and disinterest in Christmas. It knows when to be funny, and when to pull back and focus on heart. The voice casting aids in all of this with Dave Foley the perfect voice for the selfish Wayne. Wayne has this need to be glorified, and yet at the same time he does understand his job is important…he could just be more important. He's complimented by the loveable Lanny who may sound like an idiot, but his love for Christmas is genuine. As with all things Disney, the side characters steal their scenes, particularly elf superior Magee (voiced by Sarah Chalke), and her diminutive assistant Tiny. The reindeers are my favorites as they get the better one-liners like "We're flying blind, man." By the end you've laughed, your eyes are moistened, and you've truly discovered the meaning of Christmas.
The story of Naughty vs. Nice feels a bit too convoluted for its 20-minute runtime. Not only do you have Wayne and Lanny again, but you're also introduced to Wayne's brother Noel and the work of the Coal Elves, along with naughty child Grace Goodwin (voiced by Emily Alyn Lind). There are too many characters in such a short time that it feels as if there's too much exposition crammed into this. Every character has a back-story, and with such a short timeframe a lot of the humor and action seems to be rushed along. There's also a lack of continuity from one short to the other. Wayne learned a significant lesson in the first short, yet in Naughty vs. Nice he's right back to being a selfish jerk. It's still a great short, but in watching these back-to-back it's apparent which is better.
The actual disc is fantastic, particularly on Blu-ray. The animation pops as it does with all Pixar films. The bright reds and greens, the twinkling lights, all of this shows that Disney really should do a full-scale Christmas movie. The detail of the Christmas trees and the interiors of spaces are enhanced on the disc. The bonus content furthers the creation of the world the elves inhabit, and while not everything has replay value, the disc is comprehensive for all fans of the Prep & Landing characters.
The "stocking stuffer" short Operation Secret Santa is a sweet, six minute mini-short that was used to bridge the gap between the two films above. It's a sweet story about Santa's first toy that includes the vocal talents of Betty White as Mrs. Claus. It's another darling story about appreciating the simple things, and it rounds out the collection of shorts that have aired on television. Tiny's Big Adventure is a one-minute short following Magee's assistant Tiny as he tries to make coffee. It's incredibly similar to the short Burn-E that was on the Wall-E Special Edition release. It's not too memorable being only a minute, but it's cute the first time. Kringle Academy is a five-minute series of videos that mimic the orientation videos of the Kringle Academy, the elite school that all elves go to. It's broken up into three parts with the option to play them all. It's filled with quirky one-liners to create the world of the elves, and the school that teaches them all they need to know about being an elf. It's a fun series of videos but again it's got little replay value. The North Pole News is similar to Kringle Academy. It's a three-minute mock news segment discussing the Elf of the Year Awards and various other elf happenings. This, Kringle Academy, and the North Pole Commercials use static, hand-drawn animation that's a significant downgrade from the shorts. The North Pole Commercials is six minutes of fake commercials for local businesses in the elf world. They all have similar animation, but some are creative like Elf-Date.com, Spa Navidad, and Yuletide Tech. You also have a selection of trailers for upcoming Disney films.
I definitely recommend picking up the Totally Tinsel Collection of Prep & Landing for the shorts! The bonus content really isn't much to write home about, they're all one-time showings. The shorts themselves are gorgeous in HD, funny, and perfect for Christmas Eve viewings alongside the Grinch and Charlie Brown!