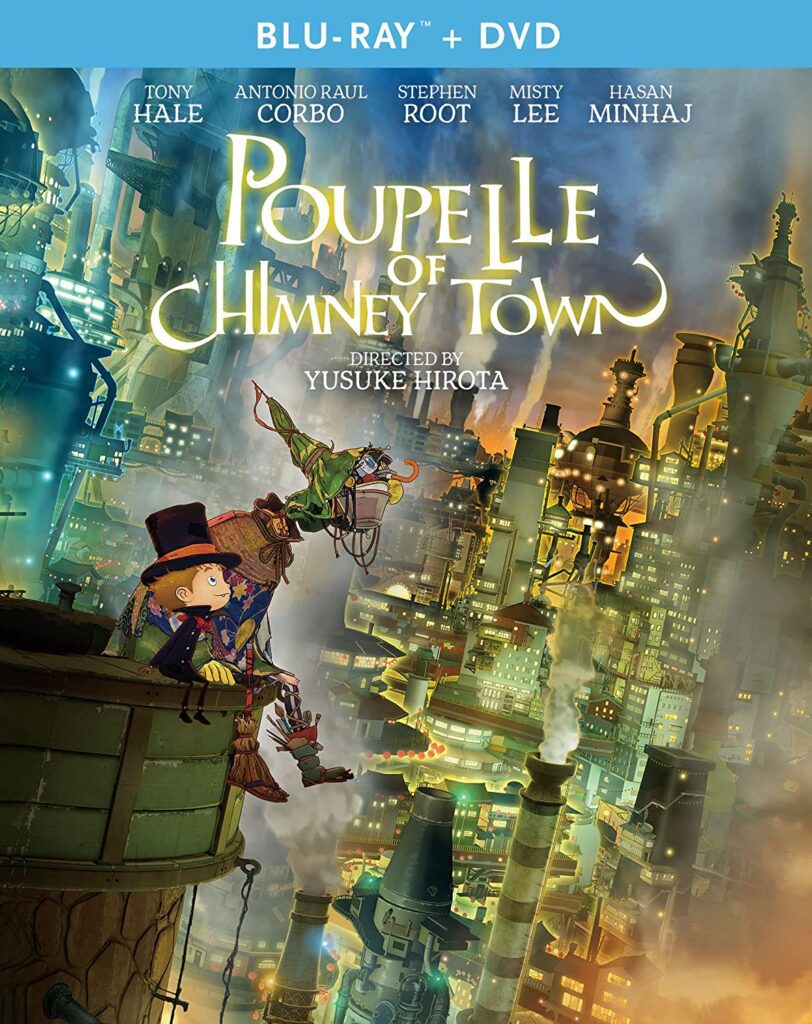 Following a brief U.S. theatrical run, this charming new anime is now making its way to home video. The story follows a strange mechanical man made out of trash heap discards as he befriends a young boy and tries to avoid capture by the authoritarian guards patrolling a dreary town veiled in ever-present smoke. 
With no memory of how he came to be alive on Halloween, he adopts the name Poupelle and latches onto the first person to show him any kindness, a young chimney sweep named Lubicchi. The boy is in mourning for his father who vanished a year ago, presumably lost at sea to a monster, so Poupelle fills the role of father figure for him as they go on adventures around the cloistered city and try to determine the truth behind rumors that stars are visible beyond the smoke. Blocking their progress is a strict government and their security forces that want to keep the city isolated from the rest of the world, primarily to allow the ongoing existence of their monetary policy that utilizes disintegrating currency, ensuring that nobody can hoard wealth.
There's quite a bit going on in the plot, perhaps too much as it occasionally comes off as disjointed and lurching from point to point. At its core, the film succeeds with its relationship between Poupelle and Lubicchi, functioning something like an update to The Iron Giant. The big ideas about the society isolated from the rest of the world and the motivations of their generations-long monarchy are mostly glossed over, as is the story behind the mysterious illness crippling Lubicchi's mother. However, the production team finds the time to include two worthless montage sequences that seem to exist solely to play soundtrack songs in their entirety. Anime fans will enjoy the winning art style and characters, presented in lush hand-drawn animation with some CG assists. While the film just doesn't flow as well as it could, the world building and character development are done with enough finesse to make the project worth watching.
The English dub of the film features recognizable talent including Tony Hale, Hasan Minhaj, and Stephen Root, which most anime purists will never know since the preferred viewing option will be Japanese audio with English subs. The Japanese vocal cast is great, in particular Poupelle's voice actor expertly conveying the character's wide-eyed innocence and depth of emotion in spite of his machine body. Both Japanese and English audio tracks are presented in DTS-HD Master Audio 5.1 (Dolby Digital 5.1 on the DVD), ensuring top-notch audio options in whichever format you prefer. The Blu-ray picture quality is as expected, although the film's palette proves to be so vibrantly color-saturated at times that one longs for an eventual 4K release to allow for true HDR presentation.
The Blu-ray bonus features are abundant, enlightening, and make one point very clear: the creator is a jack of all trades who was heavily involved in the production, even though his primary creative role was screenwriter. Starting with a 45-minute discussion between creator/executive producer Akihiro Nishino and director Yusuke Hirota, it quickly becomes evident that while the director may have been in the film's driver's seat, he had a major back seat driver in Nishino. The next 20-minute feature dives into Nishino's future plans for the IP, with him tossing out ideas that he envisions in at least two more movies set in Chimney Town. Finally, Nishino appears on stage in a 10-minute interview from a Malibu screening where he discusses his many creative endeavors that he drew on to shepherd the project to screen, starting with his career as an actor and comedian, then as a writer and artist, and now as a producer and songwriter.
It's fascinating to learn of the strange path the project took to screen, starting as a complete script written by Nishino, then partially adapted into a children's picture book by Nishino to get the concept out into the general public, then crowdfunded as a proposed anime film, before finally lining up corporate sponsors to round out the financing. Nishino reveals that he selected the film's producing anime studio because of his deep admiration for their successful adaptation of the manga Tekkonkinkreet way back in 2006. While the artistic styles of the two films are completely different, the stellar results here prove that he made a prudent choice. Nishino shows that he knows how to hustle, so if he truly wants to continue telling stories in Chimney Town, there's no reason to doubt that he will get it done.
Poupelle of Chimney Town is now available for digital rental and purchase and arrives on Blu-ray/DVD combo pack on May 31, 2022.