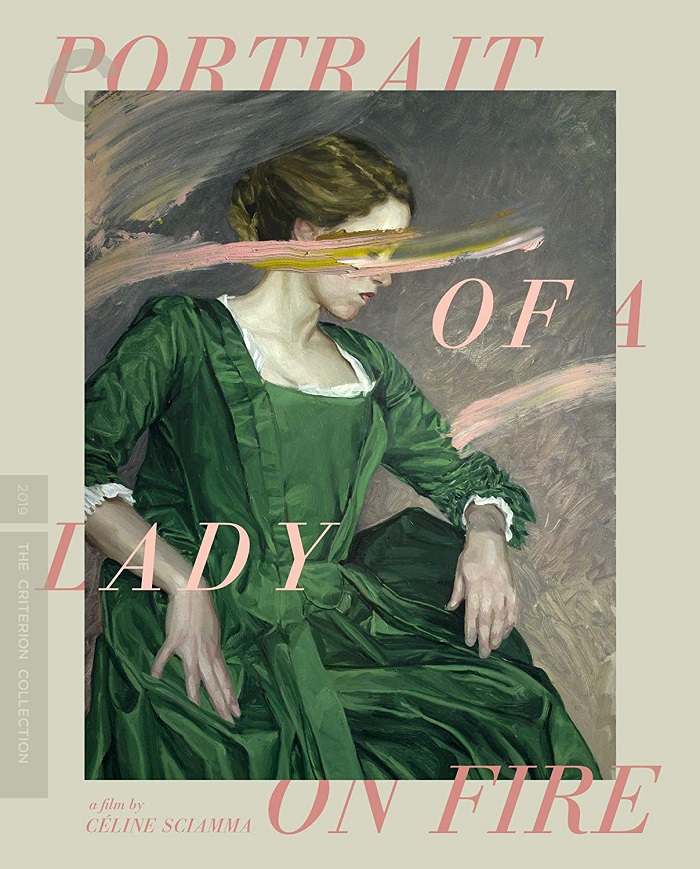 Writer/director Celine Sciamma's latest film is both exhilarating and depressing: spellbinding because of its absolute excellence and disheartening because it illuminates how far American dramas have fallen in comparison to this masterful new French work. It's immediately evident why the film was a Golden Globe nominee for Best Foreign Language Film this year, and mind-boggling that it wasn't nominated in the same category or even outright Best Picture at the Oscars, especially considering that France was instead represented by Les Miserables, a film with both significantly lower critical and popular review scores. Awards aside, the film is an instant classic, as further evidenced by its debut U.S. home release going directly to Criterion.
Marianne (Noemie Merlant) is a skilled painter who is commissioned to craft a wedding portrait of a young lady named Heloise (Adele Haenel). There are a couple of issues with the job though: it's at an isolated seaside estate requiring Marianne to reside there, and Heloise absolutely refuses to sit for a portrait for her arranged marriage, so Marianne has to work in secret. Heloise's mother (Valeria Golino) sets the terms of the job, gets Marianne settled in, and then leaves on travel for a week, leaving the ladies alone with only a maid to tend to them.
What follows is a timeworn plot of an artist and subject falling in love, but Sciamma frames it in an 18th century setting with strict social class distinctions and ideas of propriety that make their forbidden tryst all the more doomed and tantalizing. In the isolation of their seaside estate, the ladies and the maid set up their own unconventional society where they abandon all class distinctions and treat each other as equals, playing cards together and even participating in efforts to get an abortion for the maid. At its heart though, the film is a romance, tragic but somehow still completely uplifting. It's a delight to watch the leads struggle to come to terms with their feelings, getting so much mileage from simply observing each other and trying to reach common understanding via furtive glances and curious expressions. The performances are so thoroughly engrossing and the direction is so on point that the two-hour runtime flies by, leaving me wondering how primarily just two actresses so completely commanded the screen that it felt far more populated.
The actresses are entirely convincing in their roles, with Merlant putting in the best overall performance as the driven artist trying to solve the riddle of her subject. Haenel adds a bit of off-kilter danger to her role, ensuring we're never quite sure what she's thinking but also fully stringing us along in an attempt to figure her out. It's great to see Golino as the mother in the film, as she's been constantly working in Europe throughout her lengthy acting career but largely dropped out of U.S. films after her early success three decades ago in projects such as Rain Man and Big Top Pee-Wee. Sciamma elicits powerful performances from her cast and keeps the story so laser-focused that it never lags or drifts off course, making each scene essential viewing.
The film was shot on digital within the past two years, so while no restoration work was needed for this release, Criterion's Blu-ray comes from a new 4K digital master, and its 5.1 DTS-HD Master Audio soundtrack is remastered from the original digital audio files. In the bonus features, Cinematographer Claire Mathon and the director both discuss the decision to proceed with digital instead of film after tests of both formats, with digital winning in part due to Sciamma's insistence that they abandon stuffy conventions of period films. It's hard to argue with the luminous final results, further enhanced by the cinematographer's exquisite work.
The bonus features consist entirely of interviews with cast and crew. The best and longest showcases Sciamma in a half-hour conversation in English with film critic Dana Stevens recorded exclusively for this release. She proves to be a fascinating and intelligent interview subject as she shares her insight on the production of the film. Two other Criterion-exclusive interviews feature the lead actresses discussing their process. The Blu-ray also includes an interview with the cinematographer from the 2019 Cannes Film Festival, with her gesticulating so wildly with her hands that it's difficult to focus on her speech. The bonus features close out with a brief interview with artist Helene Delmaire about her creation of all of the paintings in the film.
Portrait of a Lady on Fire is available today, and should be considered a must see. The timing of its arrival couldn't be better, both for its debut during Pride Month, as well as its welcome appearance during our current pandemic-induced drought of worthwhile new movie releases. Put your streaming services aside for a couple of hours; this film will remind you why you love movies.