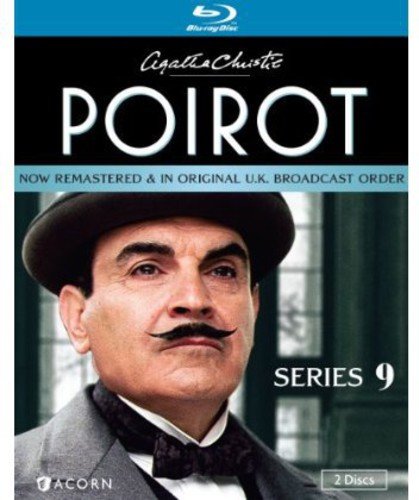 Agatha Christie was as prolific a writer as she was popular. According to Guinness, she is the best-selling novelist of all time. She has sold some four billion novels and her works have been translated into at least 103 languages. At her death, she had written 66 mystery novels, six romance novels (under the pen name Mary Westmacott), 153 short stories, 22 plays/radio plays/teleplays, and a handful of other works.
Hercule Poirot is, perhaps, her most famous and long-lived characters, and possibly her best. She wrote 33 novels featuring the Belgian detective and more than 50 short stories. He has been played by a slew of actors on television and the movies including Albert Finney, Ian Holm, Tony Randall, and Alfred Molina.
Since 1989, David Suchet has portrayed the character in 70 episodes over 13 series. With the conclusion of Curtain, which aired just last week in England, every major literary work Christie penned about Poirot has been filmed for the drama. The show has been released multiple times in various home-video formats and orders, but most recently Acorn Media has been releasing the show on Blu-ray in the original air date order.
Series 9 includes four movies which originally aired from December 2003 – April 2004. The episodes are as follows:
Five Little Pigs: Sixteen years after Caroline Crale (Rachael Stirling) was convicted and hanged for the murder of her husband Amyas (Aidan Gillen), her daughter Lucy (Aimee Mullins) hires Poirot to prove Caroline's innocence. It features a lot of flashbacks and scenes being retold from multiple points of view. Poirot proves he can solve a case simply by hearing testimony and having no access to the crime scene.
Sad Cypress: Engaged lovers Elinor (Elisabeth Dermot Walsh) and Roddy (Rupert Penry-Jones) receive an anonymous letter that someone is working their wealthy aunt (Diana Quick) in an attempt to take her fortune from them (Elinor expects to inherit the wealth.) Suspicions are cast upon Mary (Kelly Reilley,) the lodge-keeper's daughter. Romantic entanglements ensue, and when Mary is murdered, Elinor is tried and convicted of it. Poirot is hired by Peter Lord (Paul McGann) who is in love with Elinor and believes her innocent.
Death on the Nile: One of Christie's most popular novels involves multiple murders on a cruise ship sailing the Nile river with frequent stops amongst various Egyptian attractions.
The Hollow: Taking holiday in the country, Poirot stumbles upon the murder of a philandering Dr. John Christow (Jonathan Cake) as Christow's wife Gerda (Claire Price,) his mistress Henrietta (Megan Dodds), and hostess Lucy (Sarah Miles) all stand over the corpse and are possible murderers. Complicating matters is the fact that Gerda is holding the murder weapon, which is quickly disposed of by Henrietta. No one in the house seems to want to tell the truth, and all do their best to keep Poirot from solving the case.
I've only read Death on the Nile but it follows the story fairly close and from what I've read the television series takes pains to remain very faithful to the books upon which they are based. Each movie is very well done and quite enjoyable. Much like Christie's novels themselves, these stories don't work particularly well as works of art, but they are quite serviceable as entertaining mysteries.
My favorite of this set was probably The Hollow as the characters were better fleshed out and the mystery kept me continually engaged. Although Death on the Nile was also quite enjoyable, though as I've read the novel and seen another movie adaptation, it's solution is now predictable. The other two worked quite well for what they are.
I've not seen the show in its entirety, just episodes here and there sporadically. But the quality remains consistent. This is not one of the greatest dramas ever to enter one's television set. There aren't any deep meanings to be found, or deep artistic merit. But they are well-made mysteries that remain quite entertaining episode after episode. That's a pretty grand thing when you get down to it.
The video looks good considering its video source. The only noticeable defect I found was in Death on the Nile. Several of the interior scenes have a very noticeable graininess to them. The audio as well is very serviceable. I could clearly hear the dialogue and while the background nose is minimal it was crisp and clear.
There are no special features.