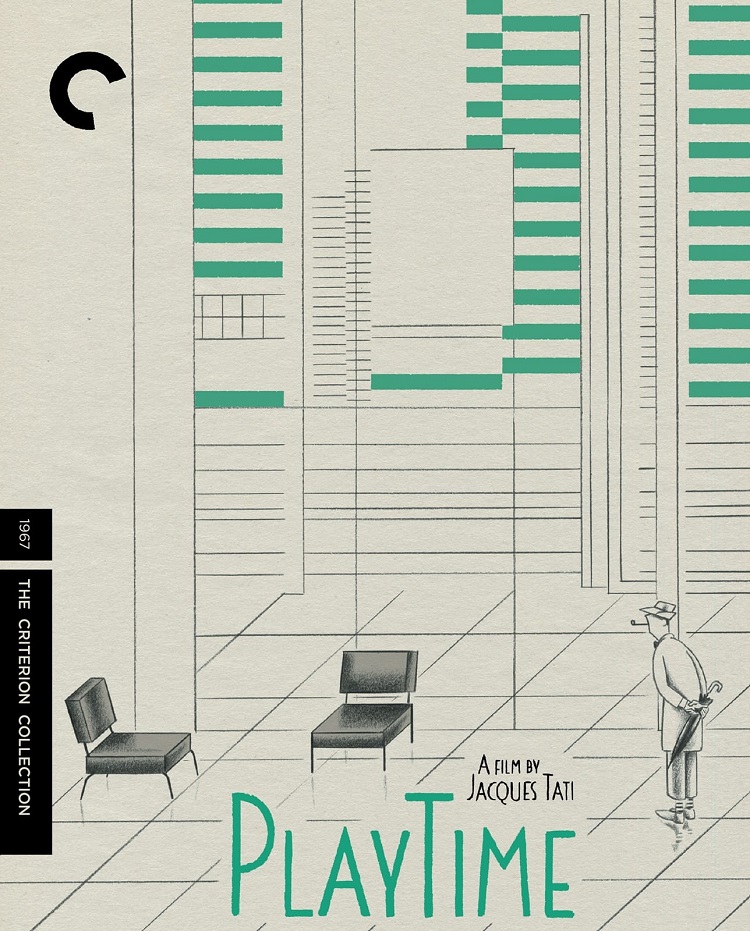 As we film buffs know the works of Chaplin, Godard, Dreyer, and Antonioni, we are able to see their versions of the stormy side of human nature, but no one in film history has quite of an effect on presenting the dark side of the mechanical age as legendary French director, Jacques Tati, whose classics somehow tend to get lost in the shuffle, especially talking about movie history. In a way, Tati is the "French Chaplin," since Chaplin's own Modern Times described the new harsh reality of the 1930s Depression era, while adding comical touches to surface the difficult situation. In PlayTime, Tati expresses in his own overt way the unsubtlely of people dealing with the mechanical nightmare.
The story of PlayTime concerns the comical misadventures that surrounds one of movie history's greatest characters, Tati's alter ego, Monsieur Hulot, as he and other lost souls try to cope with the everyday malfunctions, such as dysfunctional gadgets, urban chaos, and a new monotonous modern Paris. Although having moments of subtle dialogue and sound effects, PlayTime also works, and is really a wonderful silent comedy. Tati had played with the subject matter of a bigger but not so better urban world before in his 1958 delightful, Oscar-winning classic, Mon Oncle, where once again, his befuddled Monsieur Hulot tries to live life with overpowering mechanization as he visits his sister, her husband, and her son in Paris. They have rigged their home with weird gadgets that signify their crossover into the new, but not so improved technological age.
When watching Tati's films, especially PlayTime, everything seems to have dated less than we realize. We relate to his characters as they survive, or at least try to, the technological era. PlayTime in particular has influenced countless films, definitely when dealing with not just with bad gadgets, but with overpopulation. This theme came full circle in the 1973 Charlton Heston outing, Soylent Green, where the future is overcrowded with people, technology, and confusion. The relevancy of Tati's masterpiece continues to ask questions such as "Where, in the future, do we go from here?", "How will we benefit from technology when the future does arrive?", and most disturbingly, "What do we have to fear when technology turns on us?"
Of course, with Criterion, you have a great presentation of a classic film, with worthwhile supplements that entertain you, while also helping you to learn how that particular film was made. The Blu-ray of PlayTime is a prime example, especially in the special features, which consist of:
A wonderful video introduction by acclaimed writer/producer/director Terry Jones
Film critic Philip Kemp's very informative selected-scene commentary
Au-dela de PlayTime, a documentary with behind-the-scenes footage from the film's production
Tati Story, a biographical short of Jacques Tati
a 1976 BBC Omnibus program featuring Tati called "Jacques Tati in Monsieur Hulot's Work"
a rare audio interview with Tati, from the 1972 San Francisco International Film Festival that debuted PlayTime
a video interview with Tati's script supervisor Sylvette Baudrot
Tati 1967's short "Cours de soir," in which he written and starred in
Alternate international soundtrack
Rounding out the Blu-ray edition, is a superlative fold-out essay by renowned film critic Jonathan Rosenbaum
So, if you're looking for a way to quench your film thirst, or becoming a film lover, you should look no further than with the work of Tati, especially his extremely relevant PlayTime.